Alexander Radulov has always been a mysterious case to hockey fans, from North America at least. He was once thought to be a top prospect and budding superstar in the NHL. Then, he got homesick and became a nightmare for the Nashville Predators to deal with. Years later, he's still doing damage in Russia. In fact, he's very likely the best player outside of the NHL today.
Check out: Alexander Radulov – Heart of a Canadien
In North America
He first came to North America in 2004 after being drafted by the Nashville Predators 15th overall the previous year. He decided to adapt to the North American style of play before jumping straight into the NHL. He was playing in the QMJHL for the Quebec Remparts. In his two years in Quebec, he absolutely tore apart the league, becoming a top NHL prospect. His QMJHL stats were 127 games played, putting up 93 goals and 134 assists for a grand total of 227 points… in just two years. In the playoffs of his second year, he accumulated an additional 21 goals and 34 assists for 55 points in only 23 games. Those are incredible numbers. He was looking like the saviour of the Nashville Predators organization.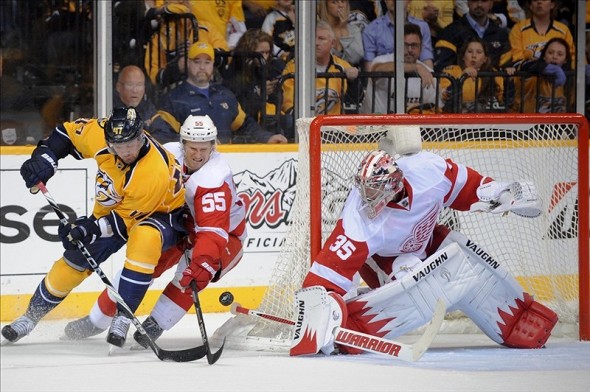 Then came his progression to the NHL. He began the 2006-07 season in the AHL with the Milwaukee Admirals. He promptly scored 18 points in 11 games, earning a promotion to the Nashville Predators roster. He put up 37 points in 64 games, a rookie season that surely would have been a 20-20 year had he played the entire season. In his sophomore season, he scored 26 goals and 32 assists in 81 games, a very good second year. He looked like he was transitioning well into the NHL, still well on his way to become a superstar in the league.
However, he then decided to take his talents back to Mother Russia, Ufa Salavet Yulayev to be exact. This had been known as a possibility from the day he was drafted, but after spending four years in North America, he appeared to be happy and destined to stay. To leave when he did was shocking and also detrimental to the future of the Nashville Predators franchise. He was supposed to be their first ever superstar, the best offensive player in their history. Instead, he went home.
Returning to Russia
Since returning to Russia, Radulov has been one of, if not, the best player the KHL has ever seen. The superstar developed his talents well and quickly became the superstar he was supposed to be in the NHL. He spent four years as a member of Ufa, setting the KHL record for most points in a single season with 80 in 2010-11.
After his fourth season, he decided to come back to Nashville for the playoffs. He scored four goals and nine assists in 17 regular season and playoff games. While some people may have thought he was back for good, they were wrong. He immediately returned to the KHL, signing a four-year contract with CSKA Moscow.
Leading the KHL
This season, Alexander Radulov is tearing up the KHL. He's already held the record of most points ever in a single season for three years, and it looks like the only player who may be able to break that record is Radulov himself. So far in 2014-15, he's already 8 points ahead of second place, despite playing in seven less games. With 58 points in 36 games, Radulov is on pace to score 87 points in 54 games, a total which would give himself a rather large gap on himself for the most ever points in a season.
As if that weren't impressive enough, get this. Radulov is also leading the entire KHL in another category… penalty minutes. With 135 PIM, he is 51 minutes up on third place. Radulov has always been known as a player who can't help but express his emotions and feelings however, sometimes he goes a little over the top. You could always ask this question though, would you really want your top player to play without immense passion for the game?  It's safe to say Radulov has been an absolute force this year in the KHL, and the Nashville Predators are only dreaming they could still have this wondrous talent on their roster.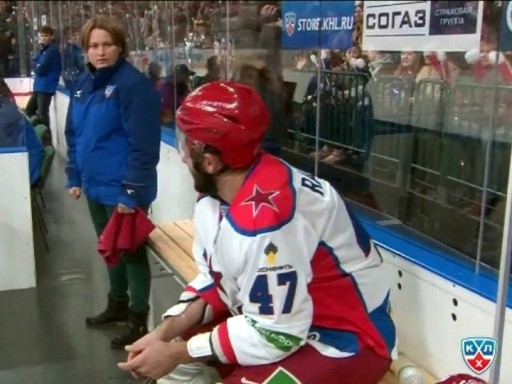 Where is Radulov's Future?
It's hard to remember sometimes, considering his multiple years in international hockey, the QMJHL, NHL and the KHL as well, that Alexander Radulov is still only 28 years of age and still has a promising future ahead of him. Where that future will be is still a question many ask today. It's no secret Radulov has a ridiculous amount of talent, and any NHL team would be more than happy to welcome him. Some teams even looked at the 2014 Sochi Olympics as a chance to see how Radulov had developed. Well, on possibly the most offensively talented hockey country on the planet, Radulov was the best. In Russia's five games, he led them in both goals (3) and points (6), proving that had Radulov been in the NHL still today, he would be one of the best players in the league.
However, his future in the NHL looks extremely gloomy. Since returning to the KHL, Radulov has had nothing but tremendous success. He's never once appeared to be unhappy with his situation, and of course, he makes equivalent to $9.2 million USD per year, a number similar to fellow Russian, Evgeni Malkin. By the time his current four-year contract is up, Radulov will be 30 years old and with the success he's been having, it's very unlikely the NHL will ever see Alexander Radulov again.
Do you think Radulov will ever return to the NHL? Discuss in the comments below!
Contributor for the Toronto Maple Leafs and Prospects. Scout with the Oakville Blades of the OJHL. For questions, concerns, or comments, contact me at devinslawson123@hotmail.com or on twitter @SlawsonTHW.