When Brian Burke joined the Maple Leafs in November of 2008, the prospect cupboard was mostly bare.   To Leaf fans, there was only one thing for Burkey to do; draft well, trade for futures and fill that make-believe cupboard.  So he did.  And he is.  Now, it's easy to scrutinize some moves that Brian Burke and his staff have made, but you have to agree that MLSE has done very well in stocking up on talent.  This off-season at the draft they will undoubtedly add one or two top prospects to that pool.
Before then, let's take a look at just 5 of the key Toronto Maple Leafs Prospects and what they have accomplished recently: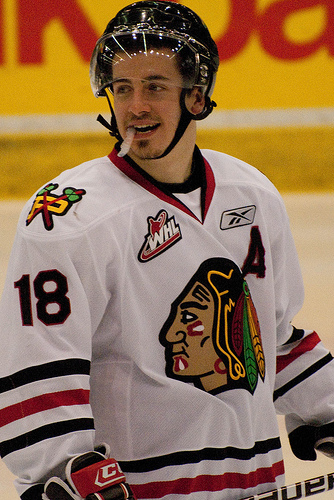 5 – Brad Ross – 2010, 2nd round draft choice, #43 overall
Despite losing his two best friends and line mates Nido Niederreiter and Ryan Johansen to the NHL, Brad Ross had a very strong season in Portland with the Winter Hawks.  He  finished 17th in scoring with 82 points in 65 games.  What impresses the scouts the most is that he isn't afraid to mix it up and is willing to fight at the drop of a hat, as he also finished 7th in penalty minutes with 163.  In fact, in his 270 career regular season WHL games, all with Portland, Ross has 656 minutes in penalties or 2.42 minutes per game.   The Portland Winter Hawks under Ross' Leadership are moving on to the 2nd round of the WHL Playoffs to face the Kamloops Blazers.  In a 4 game sweep of the Kelowna Rockets, the Lethbridge, Alberta native has 1 goal and 4 PIMs.  Ross is hopeful that his Hawks can get back to the glory that this team enjoyed as Memorial Cup Champions in 1997-98.  At 6'1, 183, Ross will need a little more size to be effective with the NHL's Toronto Maple Leafs.  Brian Burke and Randy Carlyle will both look for Ross to emerge early as a definite 3rd line checking winger and even potentially a 2nd line scoring banger.   After Burke's remarks earlier in the year regarding 'rats', one has to think that in order for Ross to stick with the big club, hewill need to play a solid game and stick up for his teammates.  This is one prospect that Leafs nation will be excited to see on a regular basis.
Brad Ross does like sticking up for his teammates as witnessed in the below clip against the Seattle Thurderbirds on March 10th, 2012.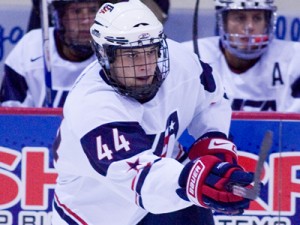 4 – Tyler Biggs – 2011, 1st round draft choice, #22 overall
Although Biggs was not able to help his Miami of Ohio team qualify for the frozen four, he did have a big impact this year as a 6'2, 200 pound freshman cruising down the wing.  In 37 NCAA Division 1 College games, Biggs managed 9 goals, 17 points and 63 penalty minutes which is great for a rookie serving mostly 3rd line duties.  Look for Biggs to take on more of a leadership role in his second year as he hopes to propel his club into the next rounds of the NCAA championship.  This is of course if Biggs doesn't jettison earlier for junior hockey or a chance to play pro like Jerry D'Amigo just a few short years ago.
Here is an example of the Freshman Power-Forward Biggs scoring a nice goal off the rush.
3 – Jamie Devane – 2009, 3rd round draft choice, #68 overall
This mammoth of a player is 6'5 and tips the scales at 220 pounds.  Thought to be a one dimensional player early in his OHL career he can certainly drop the gloves.  But in the past two seasons, Devane has emerged as a multi-talented player. If this was Baseball they would call him a 5 tool player.  He can score, pass, bang, fight and for a big man he can skate.  This is his best season offensively as he has tallied 23 goals and 45 points in just 59 games to go along a +15 rating and his 104 minutes in the sin bin.  The Plymouth Whalers finished the season atop the West Division, 22 points ahead of the next best Sarnia Sting.  In the first round of the playoffs, Devane and the Whalers disposed of the Guelph Storm and fellow Leafs prospect Garret Sparks by 4 games to 2.  In the series Devane has 3 points and 15 PIMs in 6 games.
Here is Devane in the TML prospect tourney making a bloody mess of Ottawa Senators prospect Mark Borowiecki even though it was a double knockout.
2 – Sam Carrick – 2010, 5th round draft choice, #144 overall
Go big or go home.  That's what the Brampton Battalion did, when they swept the Sudbury Wolves in 4 straight games.  They are currently rested and waiting for the Barrie Colts who defeated Mississauga in OT this evening.  Battalion captain, Sam Carrick has 3 goals and 3 assists which is good enough to lead his team in points through their first 4 playoff games.  Carrick who was a late bloomer led his club in scoring all year with 37 goals and 67 points in 68 OHL games.  The next closest Battalion was undrafted Barclay Goodrow who has 52 points.  This season was a big turnaround for the Markham, Ontario native as he has nearly doubled his stats from a year ago, his plus minus has gone from -15 to + 9 and the players around him are playing better.  Brampton head coach Stan Butler told the Toronto Star "Good Players get better every season and Sam has certainly done that.  Another big stat for the Brampton forward is that he had 103 minutes in penalties.  While he is projected to be a solid 3rd or 4th line center in the NHL, he is not without his offensive flare.  Look for him to surprise a few in training camp next year.
For the full piece on Carrick in the Toronto Star click here
Here is Carrick in action as part of the Toronto Maple Leafs prospects tourney taking on Scott Fletcher of the Chicago Blackhawks.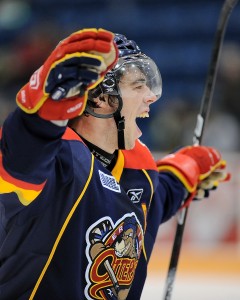 1 – Greg McKegg – 2010, 3rd round draft choice, #62 overall
After starting a little slower than he had in 2010-11, the Erie Otters traded McKegg to the London Knights.  Since that time he has flourished with 41 points in 31 games, good enough 20th overall in league scoring with 75 total points in 65 games on the season.    This will be the first time that Greg McKegg has advanced to the second round of the OHL playoffs and his play was a big part of the Knight's moving on. In the 4 game sweep of the Windsor Spitfires, the St. Thomas, Ontario native had 1 G and 3 A for 4 points.   They are now preparing to take on Chicago prospect Brandon Saad and the Saginaw Spirit.  Look for Greg McKegg to start next year with the Toronto Marlies, but he does have the kind of offensive skill that will be attractive to the Maple Leafs if he is able to produce at the pro level.  He has average size at 6'0, 185 lbs, but there is an obvious display of tenacity when it comes to his fight to get the puck.  The question will be how he is able to play without it.  In 35 games with a very bad Erie Otters team, McKegg was a -39.
For a little bit more on the guy behind the equipment, Here is "Get to Know a Teammate", featuring Greg McKegg.
Leaf fans must find some respite with the fact that there are some real talents emerging in the Toronto Maple Leafs prospect cupboard and there are more where these 5 came from.  What these young players end up becoming at the next level is far from being played out, but as the NHL season comes to an end, there is no shortage of feel good stories to pay attention to in Leafland.  You may just have to change the channel Leaf fans.
Twitter: @StonemanStephen | Email: stoneford@yahoo.com | Stephen's archive
For every Maple Leafs article on THW, follow @THW_MapleLeafs  on Twitter
Stephen is a writer for thehockeywriters.com covering the Toronto Maple Leafs and other Hockey Matters. Stephen attended Canadore College in North Bay, Ontario where he studied Broadcast Journalism and covered local sports for both Radio and Television. This included news coverage for the OHL's North Bay Centennials. In his personal time, Stephen blogs for his several fantasy hockey leagues.