Vancouver Canucks' top prospect Bo Horvat finds himself in a fairly precarious position: he isn't old enough to play in the AHL this season and if he doesn't make the Canucks straight out of camp, he's going to be sent back to the London Knights. To make matters even muddier, Horvat didn't exactly light the world on fire at the Young Stars Tournament.
A stint in the AHL makes the most sense for Horvat's development. He spent last year in the OHL and, before he makes the next step to the big leagues, he could use some time adjusting to professional hockey.
Since the most reasonable course of action isn't going to happen, Canucks' management has a hard decision in front of them.
Bo Horvat's Battle for Ice-Time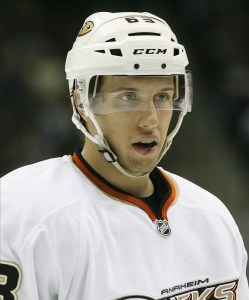 The Vancouver Canucks' deepest position is, of course, centre. There are 4 spots and 7 candidates: Henrik Sedin, Nick Bonino, Shawn Matthias, Brad Richardson, Linden Vey and Brendan Gaunce.
The first four on that list seem the most likely to take the 4 available slots, which leaves Vey, Gaunce and Horvat on the outside looking in. Gaunce, having been drafted a year earlier than Horvat, can be sent down to the AHL, which seems the most likely case.
Linden Vey, on the other hand, will probably fill the rotating roll in the bottom 6, sharing some time at centre with Richardson and playing some wing.
The next question is, of course, why can't Horvat play wing? That option is counter productive because Horvat is still a prospect that needs to develop his game at centre. The Canucks' have him penciled in as their centre of the future and an extended period at wing will slow down his development more than an extra year of junior will.
Horvat could force management's hand with a very strong preseason, but in the lead up to game action this seems unlikely.
Horvat Has Left a Little to be Desired
The Hockey Writer's own Bubba Lackey succinctly summed up Horvat's performance in the Young Stars Tournament:
The real test of Horvat will be in the main Canucks training camp set to start in a few days. However he displayed very little offensive flair in the tournament. Horvat's game is very reminiscent of Sami Pahlsson. The question will be can Horvat do enough to silence his critics early in his career before the high pressure hockey market of Vancouver turns on him. – Bubba Lackey, The Hockey Writers
This analysis leaves fans with an underwhelming implication: Horvat didn't do anything overly impressive in the tournament, and this fact is worry some for his case to remain in the NHL.
The real test comes today in the form of Vancouver's split squad preseason matchup with the San Jose Sharks, where Horvat is centering the third line between Derek Dorsett and Mike Zalewski.
Playing on the third line with a grinder in Dorsett and a more skilled winger in Zalewski gives Horvat the reps in a position he most likely will fill if he makes the roster. Horvat can make up for his Young Stars Tournament with a strong preseason, an opportunity the former London Knight has been patiently waiting for.
JAMIESON: 'All my junior career I've been that 200-foot guy': Top prospect Bo Horvat targets main Canucks camp http://t.co/HOrAz6aCNa

— Steve Ewen (@SteveEwen) September 16, 2014
Where will #53 be Playing Come October?
Bo Horvat should at least be given the 9-game tryout once the regular season starts. He is a talented enough prospect and real NHL action will be a better metric to gauge his ability than a three game tournament or even preseason action.
That being said, the Canucks, as a franchise, find themselves stuck in the middle of winning now and building for the future. Sitting at the crossroads of this mantra is Bo Horvat.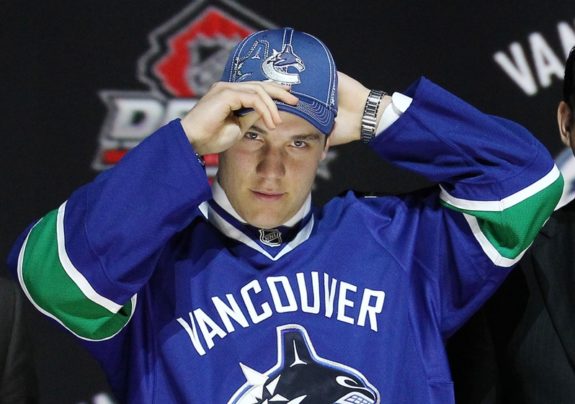 General Manager Jim Benning has put together a competitive enough roster to challenge for a playoff spot, and this fact has the team pointed towards a win now mentality. Therefore Bo Horvat will find himself back in junior after his 9 game tryout, unless of course his play makes him impossible to send down.
But, at this moment, Horvat could use the time to better fine-tune his offensive game. Another year in London, along with a stint at the World Juniors, will not be detrimental to his future and makes more sense than having being rushed into the NHL by playing 8 minutes a night every other game in a position other than centre.