The huge smile on his face during the awkward post-game interview with Pierre McGuire said it all. Phil Kessel is having fun. This exciting playoff run in Pittsburgh, of which Kessel has been an integral part, is a far cry from his days with the Maple Leafs; days where he was frustrated with reporters in the dressing room, or implicated in the infamous salute gate. Kessel loved playing in Toronto and wanted to make it work, because despite all accounts to the contrary, he's not a bad guy.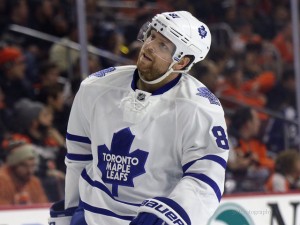 I know some Leafs fans may be lamenting the fact that they practically drove this guy out-of-town. But unless the Leafs planned to surround him with other stars and leaders, it wasn't going to work. Trading him was their only option. Kessel is at his best when he's the star of his own line, but not the star of the whole team. He never fit in on Sidney Crosby's wing. There wasn't much chemistry alongside Evgeni Malkin. But with fellow cast-offs Nick Bonino and Carl Hagelin, magic is happening. It shouldn't come as a surprise, considering he had his best games in Toronto playing with Tyler Bozak.
Phil Kessel wasn't the first and he won't be the last player miscast, and then forced to wear the mistakes of his General Manager. Just because a guy is talented and has game-breaking skill, it doesn't mean he's the player you build around, or make the focal point of your team. The Leafs learned that the hard way, and people criticized everything about the guy because they didn't know what else to do. Was it frustrating when Kessel's goal production dried up? Of course, because he didn't really give you much else in terms of contribution. But that's Kessel's game. Boston knew it, Brian Burke should have known it, and Pittsburgh knew it when they traded for him.
Amazing to me that a player as fast as Phil Kessel has been dogged by conditioning questions basically his whole career.

— Аrpon Basu (@ArponBasu) May 19, 2016
The difference now is, the Penguins already have superstars on their roster. When things went wrong, Phil wasn't the first guy getting the finger pointed at him. He wasn't the second. He often wasn't even the third. Phil wasn't the guy getting a microphone shoved in his face and expected to answer for the team's shortcomings. He didn't have to explain to the media why the team was losing in the early going. He wasn't the first guy blamed for the coaching change, though he still does wear the "coach-killer" hat in some circles.
Jon Cooper: "Phil Kessel doesn't get near the respect he deserves."

— Chris Johnston (@reporterchris) May 19, 2016
For the most part, Kessel can go about his business quietly, and submit to the alpha-dogs in the room. He's quite comfortable in that position, and it's showing in his game. He went through dry-spells this season, as did the rest of his teammates. But he has come through for the Penguins in a big way during these playoffs, right when they needed him the most. If he hadn't scored a goal in nine games, he would probably be getting criticism right now instead of praise. And if the Penguins bowed out in the second round to the Capitals, everyone would be pointing at Crosby and Malkin's lack of production, or Mike Sullivan's decision to bench a healthy Marc-Andre Fleury.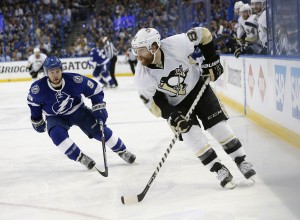 But, to his credit, Kessel is doing exactly what he was brought in to do, and that's provide secondary scoring. Considering the plight of his teammates, however, it almost feels more like primary scoring. But nonetheless, he's doing his job, and he deserves the good press. After all, he didn't get a whole lot of it in Toronto. I love the fact that Phil Kessel is the hero of the hour. We're taking about a guy who at one time was a projected first overall pick. He battled cancer and came back.
Over the course of his career, Kessel has the seventh best point totals in the NHL among right wingers, behind the likes of Martin St.Louis, Patrick Kane, Marian Hossa and Corey Perry. His 273 goals over that span ranks third, behind only Perry and Jarome Iginla. Exclusive and elite company. Kessel wasn't appreciated by all in Toronto. The reality is, he wasn't afforded the opportunity to be appreciated. The Leafs decided that he was going to be their star, and their franchise player. It was a foolish decision. Everyone in Toronto wanted Phil Kessel to be something he wasn't. They wanted him to be a leader. They wanted him to be the rock in the dressing room. They wanted him to be their long-awaited savior.
He scored a boatload of goals for the Leafs. That wasn't enough. Because a skilled right-winger does not a successful team make. Either you build around a top centerman, an elite goalie or a stud defencmean. But no, the Leafs decided they could buck the system, and fast-track the rebuild. It literally blew up in their faces. I would like to believe Kessel's story would serve as a warning to all GM's moving forward, but you know someone out there will be stubborn enough to believe they can do what no one else could.
Even acquiring Kessel, a player Toronto didn't just say goodbye to but good riddance, has looked better and better with each game. That first-round pick Rutherford sent to the Maple Leafs may now be 29th or 30th in June's draft. [TSN]
There's a reason Jim Rutherford has a received a nomination for GM of the year. Despite a rocky start, he put together a team, and found a coach, that works. Did he get a little lucky in some aspects? Maybe, but that's part of the game, because every transaction carries with it some risk. Luckily for the Leafs, they're about to get their franchise player in Auston Matthews. They have a lot of good young players. Moving Kessel needed to be done. But it was a sad tenure for such a great player. I think this quote from Yahoo Sports says it all:
Kessel now has 16 points in 14 games, tied for first in the postseason with nine goals. The sight of this man, whom the Toronto media treated like a fat kid too lazy to reach up for an open cookie jar, raising the Conn Smythe is now a possibility.
Wouldn't it be something if the next part of Kessel's legacy would include some hardware? There is a really long way to go for that to happen, as the battle for the Penguins will continue to get harder. But Kessel has reminded us of the reality that we all should have known from the get-go. Not every player fits in every environment. Sometimes, you luck into the right situation. At the end of the day, the successful teams know exactly who their players are, and don't expect them to be anything but.
Marcy, a former hockey player, is a hockey correspondent on CTV News and TSN radio. She began her career as a Sports Journalist in 2009 and has been part of The Hockey Writers since 2010, where she is currently a senior writer and editor.