Most of the players who wear a Pens' sweater deserve to make the honor roll when grading the Pittsburgh Penguins' forwards. There are a number of forwards having career years. The Pens have four forwards ranked in the top-15 of the league in goal-scoring, and this does not include Evgeni Malkin.  Injuries or not, goals are never much of a problem for the Penguins.
Offense is what drives the hockey team in Pittsburgh. The way in which the Pens play in the offensive zone influences every other aspect of their game. The players will admit that the results of their games depend upon driving the puck north as often as possible. Offensive zone pressure and puck possession is a religion taught behind the home team's locker-room doors in the Consol Energy Center.
[Also: A Look at the Penguins Defensemen]
With a group that seems to make the game look like pond hockey at times, the forwards on the Penguins are unlike any other group in the NHL. By season's end, they will lead the league in goals-for per game for the second straight season. They sit atop this category averaging 3.46 goals per contest, only scoring more than three goals once in their past seven games. They are also tenths of a percentage point away from owning the top power play squad in the league. Here are the grades for the team with the most talented group of forwards in the world.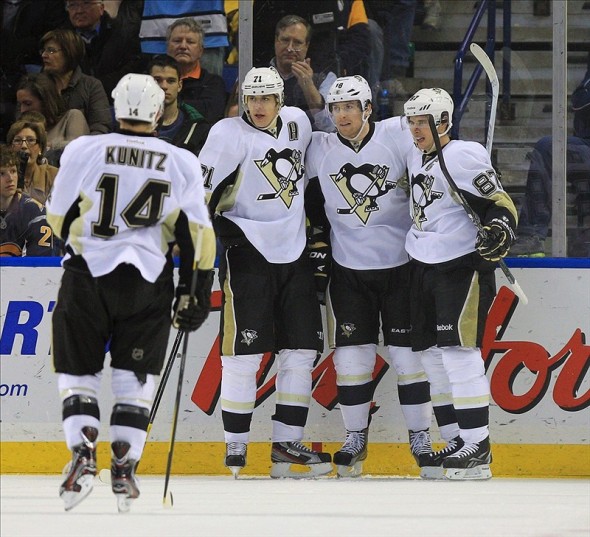 Pittsburgh Penguins Forwards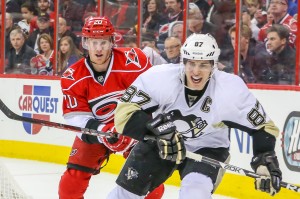 Sidney Crosby – A+
Crosby has been sensational. He leads the NHL circuit in points with 53, which is 12 clear of second place. Without a doubt, Crosby is making his line-mates significantly better this year. Crosby's wingers are having career years due in large part to Crosby's passing ability. Crosby is second in plus-minus rating on a Pens team that is notoriously known for not paying close attention to defensive details. Crosby has been leading by example and playing defense which is proven by his +23 rating. He will take home the Art Ross and is the unanimous Hart Trophy favorite.
Evgeni Malkin – B-
Malkin hasn't been terrible, but he hasn't been playing at an M.V.P. level when he's been healthy enough to play. Geno has struggled to light the lamp. He has created plenty of scoring chances and is averaging better than a point per game during an injury riddled season. Malkin was the key component behind Neal being the second highest goal-scorer in the league before going down with what is believed to be a shoulder injury. Malkin has a ton of worth to the Pens even when he isn't scoring. Malkin still creates match-up problems and can burst out of his goal-scoring slump at any moment upon his return.
James Neal – B
Neal is living up to his career M.O. this season. He started the season on a tear but has recently cooled off. Neal has gone seven games without a goal. At the beginning of the season, Neal scored every time he threw a puck at the net. Without Malkin's guidance, Neal has been much less effective but who can blame him. Neal has proven that he is dependent upon a quality centerman to feed him the puck to be a top sniper in the league. He needs to find a way to be more effective when Malkin is out of the line-up. Once Geno returns, Neal will become much more confident and start climbing up the goal chart.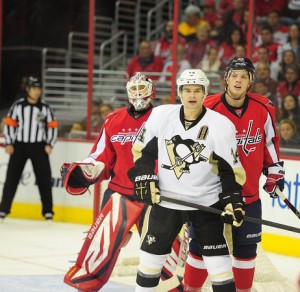 Chris Kunitz – A+
The real Honey Badger is having the best season of his career. He ranks second in the NHL with 19 goals and 41 points. Kunitz may possibly break career highs in goals and points in this lockout shortened season. There hasn't been a word created to describe how well Kunitz has played. If the Pens have needed a big goal, he's dished off the primary assist or has scored it. This season, Kunitz has shown versatility unlike any other playing on the best line in hockey.
Pascal Dupuis – A
Duper has done what the Pens are lacking in each game this season. If the Pens were lacking a physical presence, Dupuis has stepped up to provide it. If a huge penalty needed to be killed, Duper has made his mark successfully killing the infraction. Duper has proven that he possesses and all-around game. He can play on any line, from the first to the fourth, and be effective. Mostly playing on the first line, Dupuis has scored some huge goals this season while leading the league in even-strength tallies (14). Dupuis is another player having a career season as he currently has one more goal than Crosby on the year. If this were an 82-game campaign, Duper would have a breeze breaking his career highs in goals.
Brandon Sutter – B
Sutter is playing at the same pace for the Pens as he did for the Carolina Hurricanes. His numbers would eventually end up looking very similar in every category if this were a full season. Sutter has done the job asked of him for the most part of this season. He's won key face-offs, been a valuable penalty killer, and every goal he has scored seems to be huge. Brought here from the Hurricanes to fulfill Jordan Staal's role, many people predicted Sutter would not play as well as Staal. Sutter has more goals and a better plus-minus rating than Staal. The Pens' were looking for a third line center to play solid defense and Sutter has been the answer.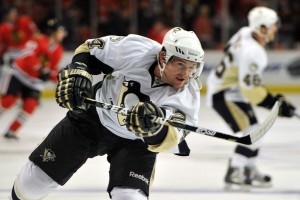 Matt Cooke – C
Cookie has been average for the most part of the season. He is unnoticeable at times, and every so often, Cooke will have a great game. He needs to be commended for continuing his clean play. Players have tested Cooke's patience time after time this season to see if Cooke would snap. Cooke has kept his cool all season. He is a guy that the Pens will not win without in the future. He accomplishes the gritty tasks that most players do not enjoy. Cooke blocks shots, plays a hard-hitting brand of hockey, and will sacrifice his body whenever the time calls. He's done these things all season.
Tyler Kennedy – D
Kennedy is experiencing a season he would rather forget. He is the sixth-highest paid player on the Pens and has five goals and three assists to show for in 32 games. During the Pens 12-game winning streak, TK has been a minus player in six of those games. TK needs to pick up his game. He is obviously lacking confidence right now. If he keeps grinding it out, he will eventually snap out of his slump. TK would love to play against the Flyers, a team he has three goals against this year. Hopefully, the turning point will be the overtime winner TK scored against the Flyers Sunday night.
 Beau Bennett – C
Bennett hasn't done much. He's been average at best. If Bennett had more time playing on Malkin and Neal's line with Malkin in the line-up, his grade may be different. During his time, he's shown he needs to mature physically and become much stronger along the boards. If Bennett works hard to gain muscle mass and quickness, he will improve. Currently, he hasn't made any glaring mistakes, but hasn't done anything to stick out either. With newly acquired Brenden Morrow to play on Malkin's line, Bennett's days on the second line may be numbered.
Craig Adams – C
Many people have given the fourth line grief this season. Adams centers the fourth line. When Adams is placed under the microscope, he's had a decent season. Many times, he's found himself playing in his defensive zone against the top lines of the Pens' opponents. Adams, similar to the rest of his teammates, had two bad games this year against the Hurricanes and Canadiens in back-t0-back contests. Besides those two games, Adams has been very serviceable. Every season Adams is the team's best shot-blocker and a key penalty killer. This season is no different.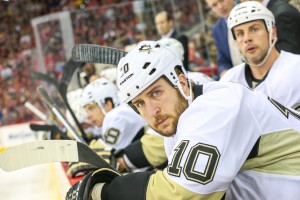 Tanner Glass – D-
Glass takes a lot of negativity due to the fact that he hasn't scored a goal this season. While this is true, Glass isn't paid to score goals. He is paid to bring a physical presence to the team. Glass leads the Pens in hits with 81. On the other hand, he does not have a single point on the year playing in every game for the highest scoring team in the NHL. He also has the worst plus-minus rating on the team with a minus eight rating. Glass needs to play better defense and find another way to make his presence felt on a regular basis.
Dustin Jeffrey – C-
Jeffrey does his job and keeps a positive attitude while churning along every year. He doesn't find his way into the Pens' line-up every night, but he can play on any line when called upon. He's filling in on most nights when a Pens' player is out with an injury. He has been pretty invisible while filling in for Geno not scoring often. On the other hand, Jeffrey's adaptability is the best aspect to his game. He doesn't score much but Jeffrey isn't a liability by any means. Every team needs a player like Jeffrey who can fill a spot anywhere up front.
Joe Vitale – B
Joey Vits has been on fire of late. He's scored two goals in his last four games. Vitale's two goals would account for his season total in 28 games. Struggling to find his way into the line-up earlier in the season, Vitale seems to have found Dan Bylsma's good graces. He brings speed to a fourth line that doesn't have much. Vitale has the highest face-off winning percentage on the team (62.1%). Face-offs become so important when it comes down to crunch time. This makes Vitale a valuable piece of the Penguins' puzzle.
If you missed out, see what you think about the grades handed out to the Pittsburgh Penguins Defense up to this point in the season.