A historic OHL trade that saw the Windsor Spitfires trade goaltender Jack Campbell to Sault Ste Marie is still paying off for one team.
Drafted in the sixth-round of the 2008 OHL Priority Draft by the Spitfires, Campbell was known as an elite young goaltender with a winning resume. He had committed to the US Development Program for two years, but Windsor hoped he would arrive once that was over. In July 2010, the Spitfires signed him and brought him in for the 2010-11 season. After winning back-to-back Memorial Cups in 2009 and 2010, expectations were high and the fans would settle for nothing less than near perfection. After all, when you win back-to-back Cups, you're used to having success at both ends of the rink.
That's not quite how it worked out, though. While Campbell had his good moments, expectations were not met and tensions started to rise. Campbell was used to all-star-like numbers in net. However, Windsor's roster wasn't what it had envisioned and it caused frustration in the crease. The results were a goals-against-average of nearly 1.60 more than Campbell had the year before, while his save percentage dropped from .917 to .884. Fans were not amused and the team tried finding solutions. The Sault Ste Marie Greyhounds were looking to make noise that season and the Spitfires were rebuilding. A trade was the best option for all parties.
Pack Bags for Great White North
On Nov. 2, 2011, the Spitfires dealt Campbell to the Greyhounds for forward Mackenzie Braid, defenceman Patrick Sieloff, Kington's third-round draft pick in 2012, Windsor's second-round pick in 2013, Erie's third-round pick in 2013, Owen Sound's second-round pick in 2014, Saginaw's second-round pick in 2014, Sault Ste Marie's second-round pick in 2015 and a conditional 15th-round pick in 2016.
While Campbell on the Hounds was supposed to be big for their team's success, Sault Ste Marie failed to reach their potential. The team actually finished a point behind Windsor and out of the playoffs.
For the Spitfires, the trade proved valuable right away. Braid played in 21 games for Windsor before moving on to Sudbury and eventually Wilfred Laurier University for three years. Sieloff joined the Spitfires for the 2012-13 season and became an instant fan favourite with his hard-nosed style. He has since moved onto the pros, playing regularly in the AHL.
Picks Prove Prime for Windsor
It was the picks for Windsor that really made their mark and will continue to provide assets for years. Let's take a look at those:
The Kingston third-round pick in 2012 turned into forward Ryan Verbeek, who Windsor dealt to Kingston for forward Sam Povorozniuk and a fourth-round pick, which wound up in Mississauga.
Windsor's second-round pick in 2013 became forward Ryan Moore. The Spitfires had Moore for one-and-a-half seasons before dealing him to Oshawa in January 2015 during a three-team deal involving Oshawa and Plymouth. In the end, Windsor got Oshawa's second-round draft pick in 2021 and a third-round pick in 2018, along with the rights to forward Chase Pearson, who is NCAA-bound.
The Erie third-round pick in 2013 became defenceman Liam Murray, who was a reliable defender and tough guy for Windsor before being traded to Kingston for a third-round pick in 2017.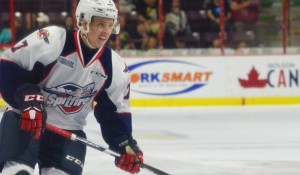 The Owen Sound second-round pick in 2014 was Daniil Vertiy, who was dealt later to North Bay for a sixth-round pick in 2016 and a fourth in 2017. That sixth-round pick in 2016 became forward Tyler Angle, who looks to have a pretty solid future for the Spitfires starting this season.
The other second-round pick in 2014, originally belonging to Saginaw, wound up in Niagara.
Windsor used the Sault Ste Marie second-round pick in 2015 to draft defenceman Kyle Auger.  He was traded to Barrie this past off-season for veteran forward Julius Nattinen. Windsor also picked up a 12th in 2017 from Barrie.
Finally, that conditional pick was used by Windsor and they selected forward Jack Bowler, who is currently playing in LaSalle Jr B. He could see time on the Spitfires' roster with Angle in 2017-18 when the team rebuilds. His father, Bill, is Windsor's all-time leading scorer and is currently the Head Coach and General Manager of LaSalle.
Spitfires Shine in Deal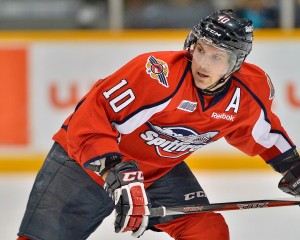 When analyzing this deal, it's easy to pick a winner. Campbell was supposed to be the catalyst that brought Sault Ste Marie together on their way to a successful playoff run. Unfortunately for the Greyhounds, it failed to materialize. The good news for Campbell is he has become a solid NHL prospect. He played in the Dallas Star' system after leaving the OHL and is signed on to play this season with the Ontario Reign (L.A. Kings) of the AHL.
For Windsor, even if they had acquired Sieloff alone, it would have been a successful trade. He was a rock on defence and gave the team everything they had hoped for. The picks, though, were used well as every player made an impact on the Spitfires and there are more picks to come. Nattinen is going to be a key factor with the Spitfires' this year during their championship run. Angle will be a big part of the rebuild that follows in 2017-18. Bowler could certainly see time with the club in the years that follow, too.
It's clear to see that Windsor has won the Jack Campbell trade. Even if the picks fail down the road, the players they brought in have done more for the team than Campbell did for the Greyhounds. Anything now is simply gravy for the Spitfires and their fans.