From a roster management perspective, the Detroit Red Wings should take a page out of the Detroit Lions' playbook.
No, really. They should do as the Lions do.
In this spring's NFL Draft, the Lions followed through on a new management goal and selected a quarterback—the most valuable football position—in the draft, even though Matthew Stafford is firmly entrenched in the starting role. After watching teams like New England draft and develop quarterbacks, then trade them "for a profit", new Lions GM Bob Quinn made sure the team would begin to stockpile QBs for the future.
Following the Lions' lead (sounds crazy, right?), the Red Wings should make drafting, and developing goalies a higher priority. Though focusing more time on a single position, this new draft strategy will help the Red Wings become a stronger and more diversified team in the long run.
Look no further than the Red Wings prospect tournament team as evidence of a need to develop goalies. Former third-round pick Jake Paterson has allowed ten goals through three games and the other two goalies on the team are camp invites. Connor Hicks and Stephen Dhillon—not to be confused with Game of Thrones actor Stephen Dillane (Stannis Baratheon)—have yet to see any ice time during the tournament.
Before diving into how the Red Wings can accomplish a better "draft-and-develop" strategy for goalies, let's look at their recent draft history.
Recently Drafted Red Wings Goalies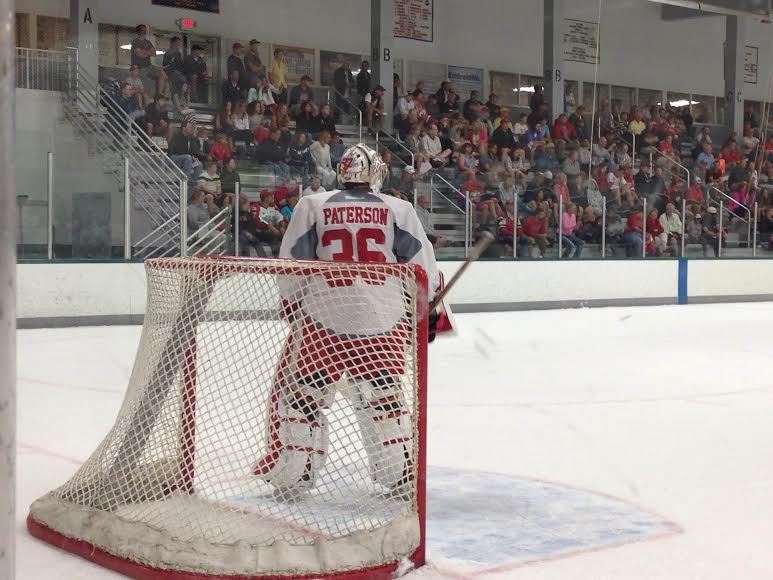 In the chart below, you can see that, of the goalies drafted in the modern butterfly era, only Jimmy Howard and Petr Mrazek have had any success at the NHL level:
| | | |
| --- | --- | --- |
| Goalie | Year Drafted | NHL Games Played |
| Jimmy Howard | 2003 (64th overall) | 375 |
| Daniel Larsson | 2006 (96th overall) | 0 |
| Tom McCollum | 2008 (30th overall) | 3 |
| Petr Mrazek | 2010 (141st overall) | 94 |
| Jake Paterson | 2012 (80th overall) | 0 |
| Chase Perry | 2014 (136th overall) | 0 |
| Joren Van Pottelberghe | 2015 (110th overall) | 0 |
| Filip Larsson | 2016 (167th overall) | 0 |
Going back further, the Red Wings have mostly bought goalies at a premium in the free agent market, rather than developing them on their own.
Qualifying Goaltending Prospects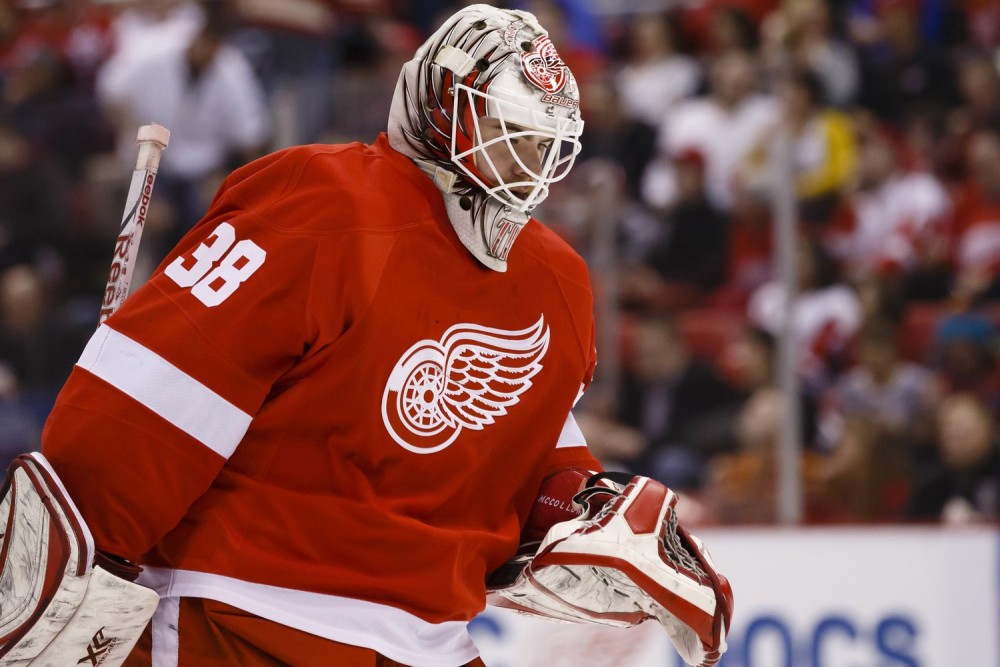 Excluding GM Ken Holland, the Red Wings currently have zero former goalies on their scouting staff. Having a well-trained former goalie assess prospects could help the Red Wings' evaluation process substantially. They can more accurately evaluate a prospect's lateral movement, save selection, skating, positioning, and compete level—aspects a former player or analyst would not have advanced knowledge of.
Additionally, former goalies can identify lower-rated prospects with tremendous raw skills that—when combined with further teaching—could transform a late-round pick into a star (see: Lundqvist, Henrik). Pavel Datsyuk is an analogous player comparison of this sort of development.
Goaltender Development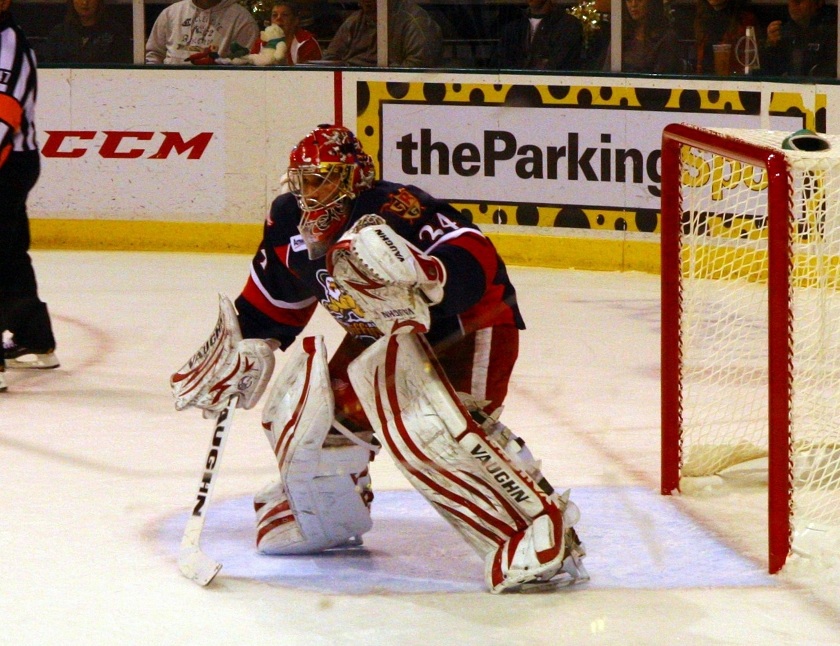 In life, continuing your education is key to further personal development. In hockey, the same can be said for goaltender development.
If the Red Wings can find high impact ice time for each of their goalie prospects and combine that with great a goalie coach, plus time to review and correct bad habits, they can easily create a pipeline of solid goaltending prospects.
Goalies do not need to play for the best team to be the best. In fact, goalies get better at a quicker pace when they face more shots from tougher angles. Goals may go in, but the goalies are put in more game situations that help their development. For example, a young Petr Mrazek had an outstanding World Junior Championships as a member of an average Czech Republic squad. He faced an onslaught of American and Canadian shots in two high-impact games and benefitted from his team's inadequacies. Advancing in the tournament only helped Mrazek's confidence grow.
The same was true during the Grand Rapids Griffins' run to the 2013 Calder Cup. With Mrazek facing top AHL competition and coming out on top, his game grew from all the difficult situations he had to face.
Goaltenders' Value
Even if the Red Wings already have an excellent goalie entrenched as their starter, having organization depth is always a positive. Look at Anaheim, for example. They just traded Frederik Andersen, who helped them to the 2015 Western Conference Finals, for 1st and 2nd round picks. Not bad for a former 3rd round pick. Los Angeles and the New York Rangers have also sold high and traded solid, young backups for a premium in recent years as well.
Having a number of talented goalies fuels competition. Goalies want to be the best. They want to play all games and not allow anyone to take their starting spot. Or, in the case of backups and prospects, they want to claim that starting spot and hold onto it. And when there are too many quality goalies to afford or carry, there is always a team needing a good, affordable goalie that is willing to pay a premium.
In Detroit's case, they should continue to develop Filip Larsson, Jake Paterson, and Joren Van Pottelberghe into well-rounded goalies. They should also look to draft a goalie high in future drafts—though they shouldn't reach if the right pick isn't there. This way, they can always have options down the road and be able to trade someone to help fill a need elsewhere.
NHL team management is really just basic economics. If you have a surplus of a valuable commodity, other teams will pay handsomely to acquire part of that surplus to address their own organizational insufficiencies.
Should the Detroit Red Wings draft a goalie every year in the NHL Entry Draft? Comment below with your opinion.