Caedan Bankier has been a Kamloops Blazer for the past four seasons, where he has developed into an intriguing prospect. He has continued to see increased offensive production, posting a career-high 85 points in 57 games this season while rounding out his two-way game and physical play. While he is not the Minnesota Wild's top prospect, he is one that fans should be paying attention to as he makes his way to the American Hockey League (AHL) next season.
A Third-Round Pick By Minnesota
Bankier was drafted by the Wild in the third round of the 2021 NHL Draft. He showed well during the bubble season, recording 23 points in 22 games, but went into the draft as the 102nd-ranked North American skater according to NHL Central Scouting. While his ranking was low, the Wild liked what they saw and made him the 86th overall selection in the draft.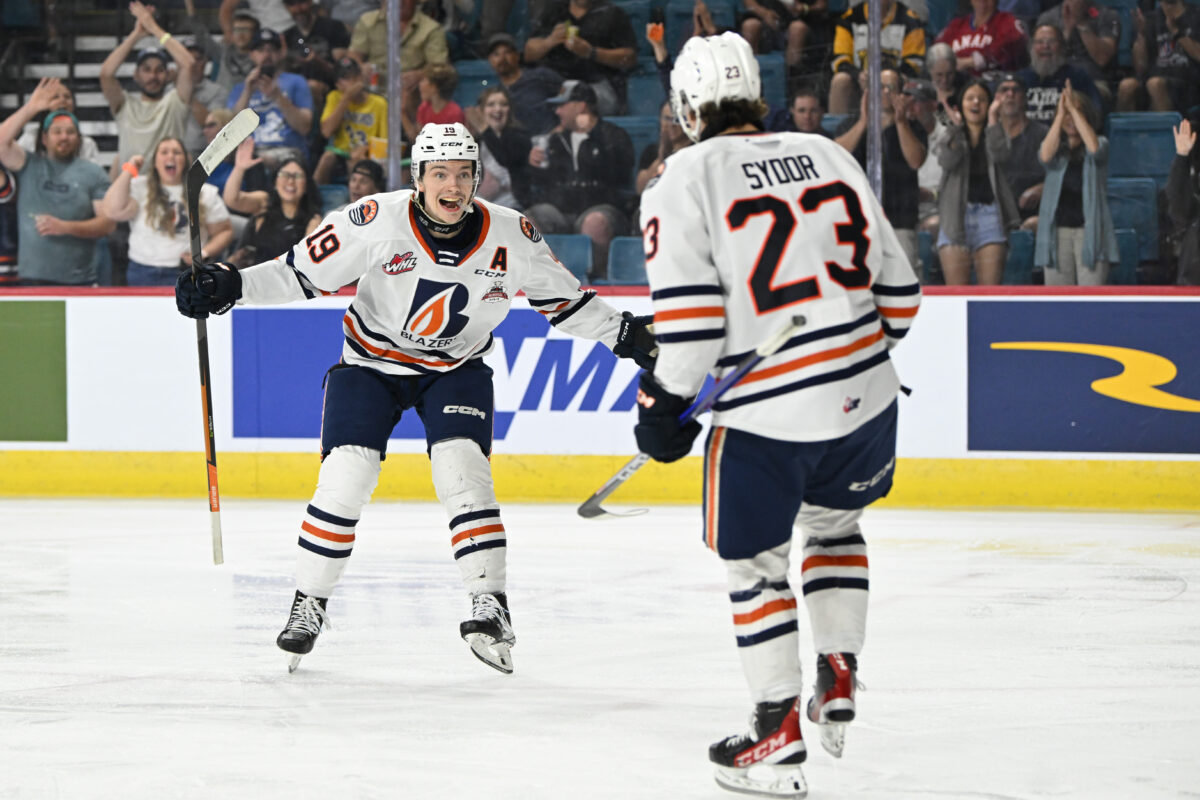 "It was pretty surreal," said Bankier. "You grow up wanting to be drafted and get picked by an NHL team, so when that happened, it was a cool moment. I was at home with all my family and friends, so for them to be a part of it was pretty cool as well."
Related: Wild Continue to Stockpile Young Talent with 2021 Draft Selections
Since he heard his name called, all Bankier has done is produce, recording 145 points in his last 125 games. As mentioned, he has also rounded out his game, becoming a better skater, which was one area of concern heading into the draft. It is clear that he is motivated and willing to put in the work to become a better player, which has already paid off as the Wild rewarded him with an entry-level contract earlier this season.
Getting The Call To Represent Canada
This season, Bankier had the chance to represent Team Canada at the World Juniors. It was the first time he has represented Canada on the international stage, and he did not disappoint, helping the Canadians capture a gold medal. While winning the gold was special, playing with friends he grew up with is a memory he will hold onto for a long time.
---
Latest News & Highlights
---
"It was pretty cool. You get to watch the tournament every year at Christmas time, so it was pretty awesome to finally put the jersey on and skate around with a lot of my friends."
Related: Minnesota Wild's Top 3 Prospects From the 2023 World Juniors
While he only recorded one assist, Bankier was impressive as he adjusted to playing a fourth-line matchup role. He recorded a shot in all but one of his seven games and demonstrated a willingness to do whatever it took to win the gold medal. It was clear the tournament win also had an effect on his Western Hockey League (WHL) season, as once he got back to Kamloops, he recorded points in eight of his first ten games and helped the Blazers win their fourth consecutive B.C. Division title.
Life As A Kamloops Blazer
Since Bankier arrived in Kamloops during the 2019-20 campaign, no player has played more games for the Blazers. He also sits third during that time in goals with 76 and second in points with 188, showing just how important he has been to this organization over the past four seasons. One of the best Blazers over the last decade, he also got the chance to play in the 2023 Memorial Cup as Kamloops hosted the tournament for the second time in their history.
"Since I have been here, our team has been really good. We have always strived to get to this point at the Memorial Cup, each year slowly chipping away at it. To finally be here is a pretty proud accomplishment, and we just want to keep playing for as long as we can."
During the mid-90s, Kamloops was one of the best teams in the Canadian Hockey League (CHL), winning three titles in the span of four years. Led by NHL superstars Jarome Iginla, Scott Niedermayer and Shane Doan, those teams set the standard for what it meant to be a Blazer. While there was plenty of pressure on his group heading into the Memorial Cup, Bankier was ready to live up to the benchmark set by the stars of the past as well as soak in any advice they give him.
"It was pretty awesome. We heard stories about Kamloops hosting the Memorial Cup, so to finally be playing in it is pretty awesome and something you will remember forever. You watch some of those guys on TV all those years, and they are doing pretty cool things, like winning gold medals and Stanley Cups. Them sharing their experiences is pretty helpful for me personally, and I know helpful for our group, so we just try and listen to it and soak in as much as we can."
With the Memorial Cup tournament in Kamloops, it gave Bankier the opportunity to reflect on his WHL career and how the city has embraced him from day one. Whether that be through billets or conversations with fans on the street, living in the city will be a memory he holds onto for the rest of his life. It is clear that they love hockey and are willing to help their team be successful in any way they can.
"It's awesome. It has been like that all year and the four years since I have been here. They just cheer for the team as much as they can and stop you on the streets when they see you and talk about the game. They are very passionate and love Blazer hockey. "
Related: 2023 Memorial Cup: 3 Takeaways From Blazers' Win Over Petes
While the Blazers did not make it to the Memorial Cup Final, Bankier stepped up, recording a goal and three assists in four games. He recorded multiple shots a game and wasn't afraid to stand up for his teammates when called upon. The tournament was a culmination of all the hard work he has put in over the past four seasons as he demonstrated what he could bring to the Wild in the future.
Represented Kamloops With Pride During His WHL Career
Ever since Bankier arrived in Kamloops, he has represented the city well on and off the ice. He has developed into an intriguing prospect while becoming a fan favourite during his time as a Blazer. A player who is always looking for ways to take his game to the next level, he has all the traits needed to one day play in the NHL.
---

---