The Boston Bruins made a big splash on the first day of free agency by signing former St. Louis Blues captain David Backes to a 5-year, $30 million deal. The big-bodied center has been called a perfect fit for the Bruins, and a much-needed hard-nosed upgrade that could help solidify the Bruins quite a bit – at least for now.
However, Backes' signing leaves the Bruins in a bit of a weird spot. As of now, Boston's top-three centers are David Krejci, Patrice Bergeron, and David Backes – a killer trio – if it stays that way. In all likelihood, Ryan Spooner would take on the fourth center spot, which would make the Bruins pretty deep down the middle.
While David Backes has said that he's expecting to slide into the third line center spot behind Krejci and Bergeron, some have pointed out that Backes may be better suited in one of the top two lines. Assuming the Bruins want to utilize him as a center, that means that someone has to go – and you can bet your beans that it isn't Patrice Bergeron.
That leaves David Krejci as the odd man out in the situation.
W/Backes signed for 5 yrs, I would expect that Bruins might step up efforts to move David Krejci for an impact transitional D-man. We'll see

— Joe Haggerty (@HackswithHaggs) July 1, 2016

Many have speculated that the Bruins may put David Krejci on the trade block, with the hopes of swapping him for some much-needed help on defense. Krejci is currently headed into the second year of a six-year, $43.5 million contract that will have him locked up until 2021. While some teams may be hesitant to take on a $7.25 million annual cap hit for a player with hip issues, he would certainly draw some attention from teams purely due to his past production with Boston.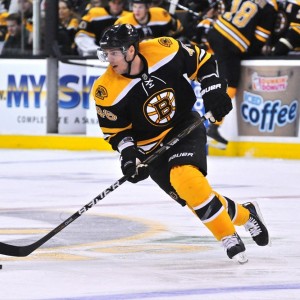 Before acting rashly, however, the Bruins need to consider just how much they can squeeze out of a David Krejci trade. It only makes sense to move Krejci if you can gain some substantial help on defense – which was Boston's obvious weakness last season. While getting rid of Krejci's cap hit would be nice, it would be an absolute waste to give him away at a low price, just because you picked up Backes. If you can't get a good deal for Krejci, then you simply keep him. Sure, that would be a big cap hit for Bruins centers alone, but it would give you what is probably the best centerman trio in all of the NHL. Boo hoo.
Some have also pointed to trading Ryan Spooner, however, given Boston's options, this seems less likely than a move surrounding Krejci. Spooner, while being a productive centerman, won't quite draw the same attention that Krejci would on the trade market. The Bruins wouldn't be able to swap him for any big help on defense, so it doesn't make sense to rid yourself of one of your younger, more talented players who still is hitting his upside (Spooner is only 24). On top of that, Spooner's $950k cap hit isn't something the Bruins need to get rid of.
If the Bruins want to trade one of their centermen, it looks like David Krejci is the guy. Don Sweeney just needs to make sure he's getting something solid in return.