For Chicago Blackhawks fans in the salary cap era, the offseason means unwanted trades. With star players like Jonathan Toews and Patrick Kane taking up a large amount of cap space, fan favorite players are often cut. From Brandon Saad and Patrick Sharp in 2015 to Andrew Shaw and Brian Bickell in 2016, several players are likely to be added to the list for 2017.
Richard Panik stood out in the 2016-17 season with the Hawks but is set to become a restricted free agent come July 1st. His successful season shows promise, but can they afford to keep him on the team?
Before 2016-17
Panik was drafted 52nd overall in the 2009 NHL Entry Draft by the Tampa Bay Lightning. He made his debut in the 2012-13 season with 25 games played, tallying five goals and four assists. He was traded to the Toronto Maple Leafs in the 2014-15 season after a mediocre two years with the Lightning before being traded to the Blackhawks in the 2015-16 season. Prior to the 2016-17 season, Panik's career best was 11 goals and six assists in his 2014-15 season with the Leafs.
The 2016-17 Season
Prior to the start of the 2016-17 season, the Hawks signed Panik to a one-year deal. Panik looked forward to his season with the Hawks and felt the team was a good fit for him.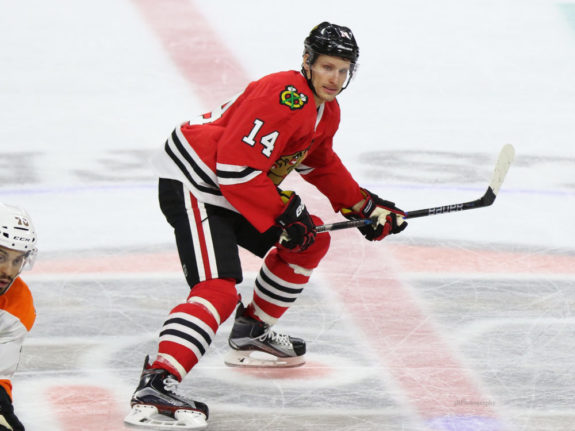 He told Mark Lazerus of the Chicago Sun-Times:
"They gave me a chance right away," Panik said. "When I got traded here, I was in the AHL and the organization brought me right up to the first team, so that helped with the confidence and how I felt on the ice. You feel like the organization cares about you, you know? They know how you can play and they try to help you. You've just got to take that shot and repay them for trusting you."
Assistant Coach Kevin Dineen was optimistic about Panik's future, for he also told the Chicago Sun-Times:
"I'm excited about [Panik] because there's a lot of potential there that he really hasn't tapped into," assistant coach Kevin Dineen said. "We've talked about some of the younger players, but that happens for players who also have a few years of professional [experience] under their belt. All of a sudden, it really clicks in."
The self-esteem boost helped Panik's performance on the ice. He had the most successful season of his career with 22 goals and 22 assists in 82 games. The Hawks appear to be the perfect team for Panik, as he shined throughout the season while playing on the same line as Toews for the majority of the season.
Panik himself attributes his success to his linemates: "''I always knew I had the ability to be an NHL player,'' he said. ''But in Toronto, I played two minutes a night. There's not much you can do. But if you have an opportunity and good linemates, the points will come. I think it's happening right now.''
What's Next?
The question for Panik is if he is a one-season wonder who got lucky or someone worth keeping. Signing him on for another year may be a risk, but it is definitely a risk worth taking. However, Panik's 2016-17 performance is worth much more than his cap hit of $875,000. History shows that players who deserve a raise upon becoming free agents are traded to a team who meet their needs. The Hawks could do what they did with Artemi Panarin and give him a smaller contract, but only time will tell what Panik's future holds with the Hawks.