With an election coming up this year to decide the leader of the United States, it seems like the running narrative is that this country is more divided and indecisive on opinions every year. The same can be said for us predicting who should win the Stanley Cup every year because of hundreds of reasons.
One of the two explanations that stand out the most is that the salary cap that was implemented after the 2005 lockout changed the balance of competition within the NHL to what it is today. Along with that, the addition of the "loser point" has diluted the standings and has given too much credit to teams who gain a win just by playing well in a shootout or 3-on-3 overtime that doesn't follow the majority of how a hockey game is normally played.
Outside of the usual complaints of hoping for the good ol' days, there are other reasons why NHL hockey has gotten so competitive over the last decade. Goaltending around the world has gotten much better, whether you think the size of their equipment has anything to do with it or not. Fewer penalties are getting called every year, so even strength play in regulation and overtime matters that more than ever. That means the amount of chances to have as much space to make the perfect shot has dwindled and makes goal scoring harder than it has been in recent memory. Most importantly, the gap between the best player in the world to worst player in the NHL decreases every year and the influx of non-Canadian talent, whether it is the increasing populous of hockey players throughout the United States or imported talents from Europe, has played a major part in that.
Still, every NHL team plays 82 regular season games every year. Each one of them takes six months to complete and plenty of injuries, coaching changes and player call-ups will happen along the way. There will be plenty of storylines, good and bad, oozing through each team's season that will be big enough to write novels. But instead of crowning a champion for such an arduous journey, we decide to eliminate 14 of the 30 teams in the league and have the rest start from scratch, past accomplishments and sacrifices be damned, and play a two-and-a-half month-long tournament that will decide the careers and fates of all involved. Should any of that make any sense? If not, why do we excuse it? That's how every Washington Capitals fan should feel about another playoff run that most fans, if you get their most honest answer, are dreading more than any fan base in the league.
They've seen the story before. The team reaches over 100 points in the standings, seems to finally "figure it out" from past mistakes only to have a seven game stretch ruin all the hard work. It's like building the most fragile yet most detailed model ever only to have some stranger stomp on it and turn it all to nothing. Why should any team feel like that?
The Past is Told by Those Who Win
http://gty.im/518297300
This year has been nothing short of magical for the Capitals. Alex Ovechkin has surpassed Sergei Federov as the all-time leading Russian goal scorer in NHL history. He became the 42nd player to reach 500 career goals at one of the youngest ages in NHL history. Oh, and he reached 50 goals in a season for the seventh time in his career; joining Mike Bossy and Wayne Gretzky as the only players to achieve that in NHL history.
Meanwhile, Braden Holtby tied Martin Brodeur's record for most wins for a goaltender in a regular season with 48 but accomplished it with smaller amounts of games played (Holtby played 66 games while Brodeur played 78 games in the 2006-07 season). As a result, Holtby has solidified himself as one of the best goaltenders in the world and one of the greatest in team history. Evgeny Kuznetsov and Andre Burakovsky are among of the best young players in hockey and the trades and acquisitions to get T.J. Oshie, Justin Williams, Daniel Winnik and Mike Richards could not have worked any better.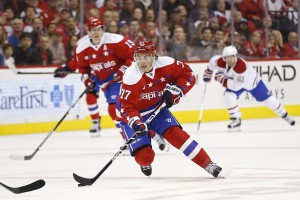 With that, the Capitals finished the year with 120 standings points and a franchise record 56 wins. Only the 2010 team achieved more standings points and the 1986 team achieved a better winning percentage. Still, none of them made it past the second round of the Stanley Cup of playoffs and neither did all but two iterations have in Washington's 41 years in existence.
Now, they start all over again, playing a Philadelphia Flyers team that will come in with little disregard for their opponents. They will also play with heavy hearts but extra motivation to play well for their long-time owner, Ed Snider, who passed away yesterday. Even if the Capitals never lost more than three games in a row all season, all it takes is a losing record in seven games to put an end to a wonderful regular season. Like always, if they fail to get anything less than a Stanley Cup, the hockey world will mock them for all their misery. Just like they always do, fairly or not.
Forget for one moment that I am asking for sympathy towards these Capitals. What if you were a New York Rangers fan rooting for last year's team or a Boston Bruins fan for the year before that? How about those that cheered for the 1995-96 Detroit Red Wings? Sure, that team won the Stanley Cup the year after, but not without failing to win one after an NHL record 129-point regular season and a desperate need to revenge some past playoff misery. Again, with hockey's nature of unpredictability, it should be understandable why only eight of the previous 29 winners of the Presidents' Trophy have won the Stanley Cup.
A Presidential Nomination
In England, Leicester City are about to do soccer's unthinkable and win the country's Premier League title for the first time in the club's 133 year history with one of the smallest budgets and longest odds in the competition's history. Is it achieved by being the best in a head-to-head elimination tournament? No. It is accomplished with the most standings points in a 38-game season. Do Leicester City fans give a darn about other competitions that have the same format as the Stanley Cup Playoffs in either the F.A. Cup or League Cup? Absolutely not. How about the NBA's Golden State Warriors? This year, they are pulling off the unthinkable by challenging for the best season set by the 1996 Chicago Bulls in league history with 72 wins and 10 losses. Do you think their fans appreciate having to go through a postseason to prove that their the best of all-time again? I hope not. So why should the NHL?
This isn't to blame the most popular hockey league in the world as other countries determine their champions by a playoff format as does other sports throughout the United States and around the world. Along with that, having a champion based on the regular season can result in plenty of teams playing for nothing the rest of the way. Still, hockey is a grueling sport that changes constantly over such a long period of time. Shouldn't we reward who is the best in the league to go through such a hard task? If that is the case, the best team all year without any need to change coaches, go through horrifying injury lists and make many midseason acquisitions to completely alter the entire roster has been the Washington Capitals. Now it's time to prove it again for another two-and-a-half months.
Ben covers the Washington Capitals at the hockey writers. He has been blogging about the NHL since March 2013. Follow him @DCSportsDork