It is no secret the Montreal Canadiens are pretty blessed at the centre ice position with David Desharnais, Tomas Plekanec, Lars Eller and Manny Malhotra as the current centres. However, the presence of youngster Alex Galchenyuk to the organization complicates that.  Galchenyuk is a natural centre playing the wing and has star potential. There have been countless debates about who will eventually be moved to accommodate Galchenyuk. Even though it's only been two games into the 2014-15 season for the Habs, Plekanec is showing so far he doesn't want to be the one moved.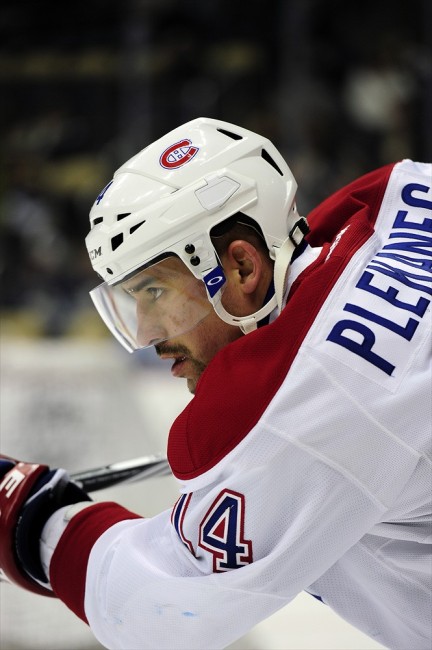 Offense
With three goals in two games, Plekanec has been dominant so far on the score sheet. The presence of faceoff specialist Manny Malhotra has taken some of the defensive responsibilities off of Plekanec, allowing him to take on a more offensive role. His first goal of this season was this slick breakaway goal on Jonathan Bernier:
The goal displays the underrated offensive ability of Plekanec. He may not have the hands of Galchenyuk or the power of Max Pacioretty, but Plekanec is certainly no slouch when he gets the chance.
Another big change that can a long way for Plekanec would be the presence of better linemates. So far, it looks like he and Galchenyuk have some solid chemistry as Galchenyuk's playmaking ability has benefited Plekanec. He also spent some time with Brendan Gallagher and fellow Czech Jiri Sekac. In Plekanec's time with the Habs, he usually doesn't have the best of linemates. But to his credit, he doesn't complain and makes the best of each situation.
Defense
Plekanec has been relied on heavily defensively for much of his career. He logs big minutes versus the other team's top lines and is a fixture on the penalty kill. It's hard to say if Plekanec's offense has suffered because of his defensive responsibilities, but his career high in points came in 2009-10 when he had 70 points and he hasn't been close to matching it since. Either way, it appears coach Michel Therrien is letting the reigns off of Plekanec with Malhotra and Eller taking on some of those defensive minutes.
Leadership
The offseason saw the Habs name four alternates instead of a captain and Plekanec currently wears a permanent 'A' alongside fellow long time Hab Andrei Markov while Pacioretty and PK Subban currently alternate the other 'A'. While Markov has refused the captaincy on several occasions, it is presumed that Pacioretty and Subban are the most likely candidates to assume the role. But could it be the ever-quiet Plekanec wants the captaincy?
Plekanec flies under the radar but he is a consummate professional. He always shows up, plays his game and never complains. When it has come to the captaincy after the departures of Saku Koivu in 2009 and Brian Gionta this year, Plekanec's name has been in the conversation but not as a serious candidate.
New Heights
This season, Plekanec has a tremendous opportunity to reach new heights personally. Pairing him with young offensively gifted linemates is a boost for him and he has showed great energy and tenacity so far. He won't be as relied on defensively with a guy like Eller growing into a similar role and the veteran Malhotra being a key guy too. Plekanec brings the entire package and the team has been as good as it's ever been in a long time. Plekanec has been the definition of a pro for the Montreal Canadiens and it looks like he is starting to reap the rewards of being a loyal member to the team.
I have a Bachelor's Degree in Journalism from Ryerson University. I am a freelance journalist and a Montreal Canadiens writer for The Hockey Writers. I previously wrote for Simcoe.com and Last Word on Sports as well as interned at TSN.