The injury bug has made its way into the Washington Capitals locker room. Fridays' 1-0 win over the Detroit Red Wings was more of a sacrifice than a victory, as they lost three players to injury: Andre Burakovsky, Lars Eller and most importantly, T.J. Oshie.
The 29-year-old winger was injured after taking a huge hit from Detroit's 6-foot-3, 226-pound forward Riley Sheahan. Washington announced Saturday that he is out week-to-week with an upper-body injury.
Oshie has eight goals and 12 points so far this season, and is tied with Ovechkin for the team lead in goals. He is also tied for third in team scoring. With him out of the lineup, the Capitals are going to have to make do without him. Thankfully, they have enough to survive without his services.
Tom Wilson Has Big Skates to Fill
With Oshie out of the lineup, the Capitals have said that they will recall another forward from their AHL affiliate in Hershey. That player will likely be a bottom-six forward, and the Capitals' wingers will be promoted one line up, meaning Wilson will likely be the replacement for Oshie on the second line.
Given that Wilson has just a single goal in 17 games this season, he is going to need to fill big skates when it comes to offensive ability. In the end, the 22-year-old is going to need to take more shots and make the most of the time and space he is given on the attack.
Not only that, but Wilson will likely have to sub in for Oshie on the PK, where the American-born forward has been playing heavy minutes. Though Wilson has played on the PK this season, there are places where he needs to improve. Sure, he provides great physicality, but blocking shots is also a factor when short-handed. Also, he struggles with puck possession much more than Oshie does, as evident by his -2.2 relative Corsi and -3.9 relative Fenwick.
Through better defensive awareness and taking better care of the puck, as well as pacing himself and using his whole frame and effort on the back check, Wilson will become a better penalty killer in no time.
The Great 8 Must Step Up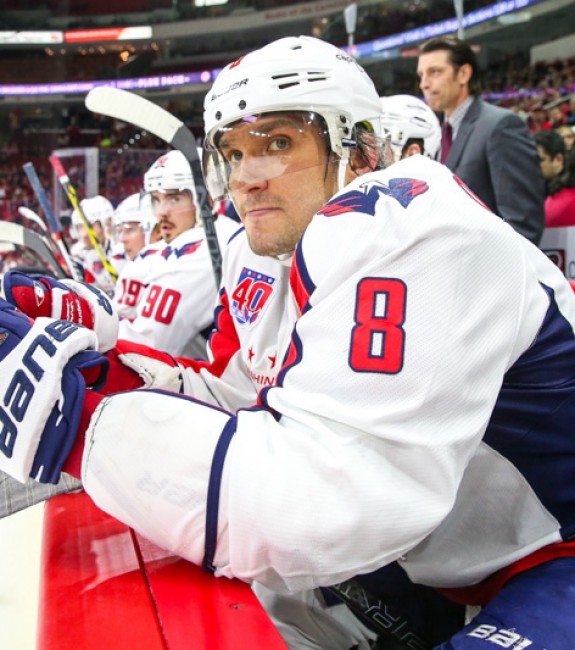 Alex Ovechkin is the only other person on the team with as many goals as Oshie. However, of late, the Russian winger has been struggling. In his last six games, Ovechkin has scored just one lone goal against Pittsburgh, where he had a head full of steam and showed off his lethal talents when given too much space.
If the Capitals want to continue to win hockey games, the Great 8 is going to have to pick up the slack. That means that he will have to get more creative on the power play to fill the new void on the man advantage, as well as create more scoring chances and get more pucks on net.
Oshie has the ability to snipe the puck and score in creative fashion, and the only other winger with the potential to fully replace him while he is out is the Capitals' captain.
If Ovechkin picks up the scoring pace and gets his touch back, the Capitals should fare well with his offensive ability, and have no problem generating offense in Oshie's absence.
Overall, if the Capitals simply step up their game and make significant improvements and strides while Oshie is on the shelf, this team should be set without him.