The Windsor Spitfires have secured a spot in the Mastercard Memorial Cup final for the first time since 2010.
Thanks to a hat-trick from forward Jeremiah Addison, and timely saves from goaltender Michael DiPietro, the Spitfires took down the Erie Otters 4-2 on Wednesday evening at the WFCU Centre.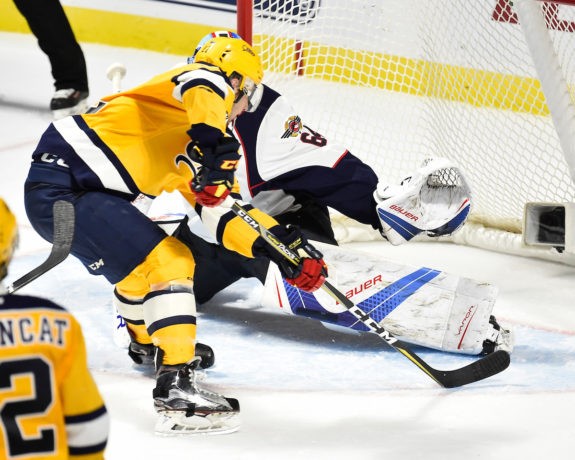 Coming into the contest, both the Spitfires and Otters had 2-0 records and were coming off big wins. Windsor defeated Seattle 7-1 on Sunday, while the Otters had a historic win against Saint John on Monday.
On Wednesday night, the crowd of 6,136 was eager to see this matchup between two OHL powerhouses. They weren't disappointed. Windsor took control early and used the crowd's energy to their advantage. It paid off as Addison took a pass from Gabriel Vilardi in front of the net and promptly put it over Timpano's blocker.  Windsor was up 1-0 less than six minutes in.
Before the period ended, Vilardi made another pass to Addison, this time from 40-feet out. Addison put a quick wrist shot on Timpano and it found the back of the net to give Windsor the 2-0 lead after 20 minutes.
It wasn't long into the second frame before Windsor would add to their lead. The Spitfires started the period on a two-man power play and Mikhail Sergachev made them pay. At the 0:43 mark, he wired home a shot from the point to give the Spitfires a 3-0 lead.
The Crease that DiPietro Built
Enter Spitfires' goaltender Michael DiPietro. After the third Windsor goal, the Otters' offence took over, peppering him from all angles. DiPietro, a top prospect for the 2017 NHL Draft, refused to back down. He made key saves in the second and third periods, including a toe-save on Anthony Cirelli, and frustrated the Otters at every turn. Cirelli gave DiPietro credit after the game.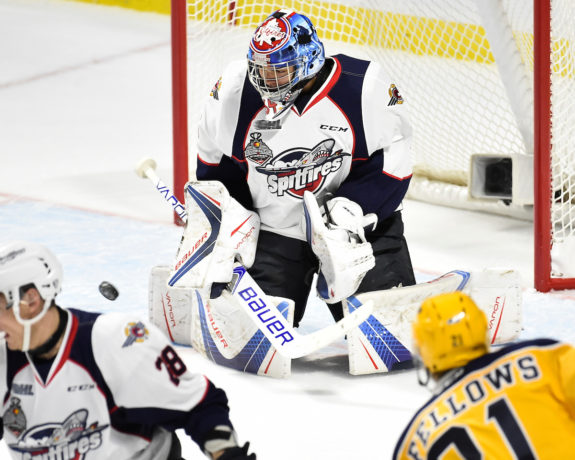 "He played outstanding tonight," he said.
"We had a lot of chances. That's on us to bear down and finish some of those chances, but give all the credit to him. He played really well tonight"
DiPietro was gold, but he couldn't stop them all. Just before the midway point of the third, the Otters found the answer. Kyle Maksimovich got his own rebound in front of DiPietro and put the puck over him to cut the lead to 3-1.
That momentum didn't last long, though. At 13:31, Spits' forward Gabriel Vilardi battled behind the net, got the puck to forward Julius Nattinen, who promptly slid it to Addison. He made no mistake on the glove side for the hat-trick to make it 4-1 Windsor. Addison said that puck is going to a special place.
"That'll go to my dad," he said.
"I gave him the hat-trick puck and I gave him my first goal puck in the OHL."
The Otters still didn't back down, though. They pulled Timpano with a few minutes left, hoping for an answer. Erie found themselves on a power play with 2:32 remaining and took full advantage. Taylor Raddysh found a hole through DiPietro and it's a two-goal game.
Finishing the Job
During the final two minutes, Windsor used their grinders to hold the lead. Players like Luke Boka, Adam Laishram and Aaron Luchuk, who have been key to Windsor's bottom six all season, sacrificed their bodies until the buzzer went and Windsor had the 4-2 win.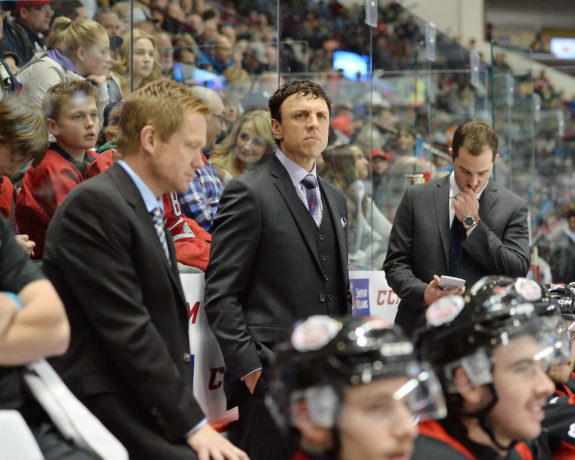 After the game, Spitfires' head coach Rocky Thompson called the Laishram, Boka and Luchuk line "unsung heroes."
"They were trapped out there, they were doing a great job, but they were tired," he said.
"I already burned my timeout because we were fatigued going into the last two minutes of the game. They had to find a way to dig deep. You can't give them enough credit. (Defencemen Jalen) Chatfield and (Mikhail) Sergachev were out there, too. They found a way to get it done. They've been doing it consistently."
Otters' head coach Kris Knoblauch said the team expected a big crowd and lots of energy from Windsor. While he liked how they played in the final two periods, the first period wasn't up to par. He pointed to their work ethic.
"I think we felt really good about ourselves after the 12-5 game," he said.
"We had probably three of our lines play some of the best hockey they've played in that previous game. I don't think our work ethic was where it had to be. We had to make sure we came out strong. That's something we did not do. I thought we did a lot of things well tonight, but our start … we dug ourselves a hole that was much too big to recover from."
Memorial Cup Streak Snapped
The Erie loss marked the first time an OHL club has lost in the round robin since 2014 when London went 0-3 as the hosts. Oshawa and London went 3-0 in 2015 and 2016, respectively, while Windsor and Erie had both gone 2-0 this season.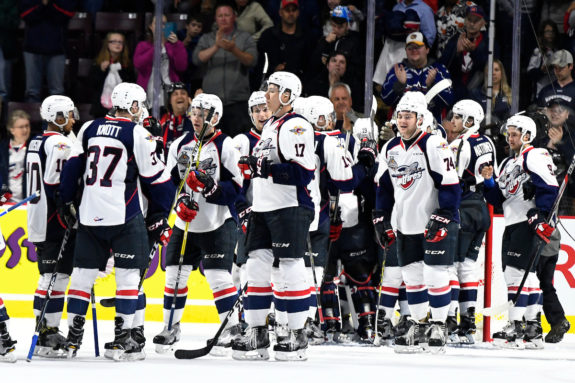 Spitfires now get ready for the Mastercard Memorial Cup final on Sunday at 7 pm. They become the first team in CHL history to make the Memorial Cup final after losing in the first round of the playoffs.
Their opponent will either be Erie or Saint John. Those two battle it out on Friday at 7 pm in the semifinal. You can get your tickets on the Memorial Cup website.
Scoring:
1st Period
Spitfires – J. Addison (3) – Assists: G. Vilardi, L. Stanley – 5:50
Spitfires – J. Addison (4) – Assists: G. Vilardi, J. Nattinen – 16:08
2nd Period
Spitfires – M. Sergachev (1) – Assists: G. Vilardi, J. Bracco – 0:43 – PPG
3rd Period
Otters – K. Maksimovich (2) – Assists: W. Foegele, A. Cirelli – 8:10
Spitfires – J. Addison (5) – Assists: J. Nattinen, G. Vilardi – 13:31
Otters – T. Raddysh (3) – Assist: D. Raddysh – 17:34 – PPG