The Windsor Spitfires made a big splash on Monday afternoon, acquiring offensive star Jeremy Bracco from the Kitchener Rangers.
Bracco, a Toronto Maple Leafs prospect, heads to Windsor along with an eighth-round pick in 2017 and a 13th round pick in 2018, in exchange for forward Cole Carter, defenceman Andrew Burns and second-round picks in 2023, 2024 and 2025.
TRADE NEWS: Spits add Jeremy Bracco from @OHLRangers https://t.co/8IeyaySVW5 pic.twitter.com/r08ij4zyE3

— Windsor Spitfires (@SpitsHockey) January 10, 2017
The 5 foot 9 inch, 181-pound, 19-year-old came to Kitchener in 2015-16 after spending two years with the US National Development Team and five games at Boston College. In 76 games for the Rangers, Bracco had 38 goals and 77 assists for 115 points. He added five points in seven games this year for the gold-medal winning Team USA at the World Junior Hockey Championships. Last season, Bracco had 10 points in the first-round of the OHL playoffs as Kitchener eliminated the Spitfires. Now, he'll be suiting up for them as they battle for the Memorial Cup.
In Burns, the Rangers get a 19-year-old defenceman who was Windsor's third-round pick in 2013. He played 173 games for Windsor with two goals and 28 assists. A third-year veteran, Burns became a player who didn't get noticed on the scoresheet often but provided valuable depth to the team.
Carter was a fourth-round pick by the Spitfires in 2015. The 5 foot 10 inch, 170-pound winger came into the league advertised as an OHL-ready sniper and he didn't disappoint. He had 34 points in his rookie season and had 19 points in 28 games this year before a shoulder injury. The 18-year-old Carter was vital on the penalty kill and used his speed to slip in-and-out of traffic.
Check out this video of Carter's multi-point game during Windsor's home opener this season:
Spitfires Continue to Add Firepower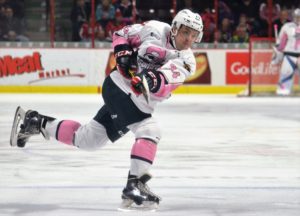 Windsor is hosting the 2017 Memorial Cup and has been doing everything they can to create a proper roster. They acquired veterans Graham Knott, Sean Day (pictured, right), Julius Nattinen and Jeremiah Addison earlier this season to help both up front and on defence. Knott, Nattinen and Addison have provided much-needed offensive depth, however, Windsor lacked a pure goal scorer.
Teams like Erie, Sault Ste Marie and London have all excelled in that area. By bringing Bracco in, Windsor allows its playmakers to play their own game. It also helps that Windsor's offensive depth is top-notch. Bracco doesn't have to be the primary focus but an elite secondary factor.
While the Rangers are a highly offensive team, with Bracco and Adam Mascherin leading the way, it's been a very tough year in the Western Conference. They currently sit sixth in the conference, six points back of fifth place Owen Sound, who has won 10-straight. Bracco was a big trade chip for the team and getting young talent and picks will only help their future. Carter and Burns will both be back for the Rangers next year. They can also use the picks to acquire immediate help if they make a run over the next two seasons.
This is also not the first time the teams have made a big deadline trade. In 2009, the Spitfires sent goaltender Brandon Maxwell and picks to the Rangers. Windsor got back forward Scott Timmins, defenceman Ben Shutron and goaltender Josh Unice in the deal. It was a key deal for Windsor as Timmins and Shutron were essential parts to winning the 2009 Memorial Cup.