Wings' Management Dropped The Ball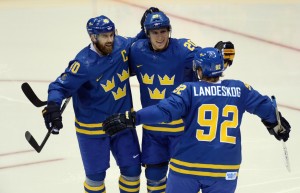 The Detroit Red Wings have put their season in peril by sending their two best players to the Sochi Olympics with serious injuries. Instead of demanding that forwards Henrik Zetterberg and Pavel Datsyuk skip the games to nurse their ailments, Wings' management allowed their franchise players to board international flights to compete in the most intense hockey tournament on the planet.
One game in Zetterberg's tournament is over just as soon as it began.  The Swede has been dealing with back problems all season and was reportedly in so much pain that he couldn't even attend the team picture on Thursday.
According to Zetterberg the pain in his back is now 20 times worse than it was before. GM Ken Holland stated that Zetterberg will head back to Detroit to receive treatment as soon as possible.
Datsyuk's prognosis isn't much better. It's uncertain whether or not he will suit up for Russia when they take on the United States Saturday as he is still struggling with a leg issue that has forced him to miss 21 games for the Red Wings this season.
Yet, Detroit's GM Ken Holland will have you believe the players know what's best for them health wise. Before the games began Holland stated that he trusted his players would make the right decision concerning their health. 
News flash Ken: players cannot be trusted to make the right decision concerning their health. Do you honestly believe there was any chance that Datsyuk would skip the Sochi games after being named team captain of Russia? Zetterberg wanted to compete so badly that he grinded his way through an entire game with a herniated disc.
Henrik Lundqvist says that replacing Henrik Zetterberg at these Olympics will be "impossible" for Sweden.

— Chris Johnston (@reporterchris) February 14, 2014

Of course they chose to go to the games because that's what hockey players do, that's who they are, and that's what we love about our game. Hockey players are some of the toughest most determined athletes on the planet.
They fight their way through the pain and refuse to give in. There are no better representations of hockey's perservance over pain philosophy than Datsyuk and Zetterberg.
These two will play through anything and that's why the decision to participate in the games should have never been left up to them. Detroit's management group should have bit the bullet and made the decision for them.
Putting the best interests of the Red Wings' organization ahead of the desires of Pavel and Henrik was not the easy decision, but it would have been the smart one. After all it is the Detroit Red Wings who pay their salaries.
Do you think cutting Martin St. Louis from Canada was an easy task for Steve Yzerman? Of course not,  but he did it in the best interest of his team.
Telling Steven Stamkos he couldn't compete in Sochi could not have been a walk in the park, but the Tampa Bay Lightning did what was best for their organization. And, if Holland didn't want to take the heat himself he could have done what the Lightning did with Stamkos… just blame the doctor.
Hindsight Is Not 20/20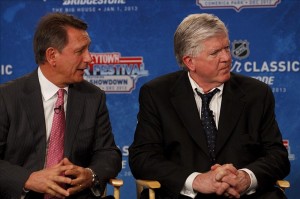 Now if the Red Wings tell you they sent a healthy Zetterberg and Datsyuk to the games then they just lied on the witness stand. They have missed a combined 34 games this year and it's a small miracle the Wings are clinging to a playoff spot considering the amount of hockey these two have missed.
They might also have you believe if they could have forseen the outcome (i.e. Zetterberg coming home after the first game with a herniated disc) they would have never let them go in the first place. Once again I will respectfully call bullcrap on that as well.
The bottom line is the Wings didn't have the cahonas to tell Datsyuk and Zetterberg no. Spare me the Rod Stewart I wish that I knew what I know now baloney, and admit that you completely butchered this thing.
Detroit's management group wagered that these guys would make the best decision for the Red Wings' organization, but instead they made the best decision for themselves. They're hockey players… what did you expect?
I love NHL players in the Olympic games as much as anybody and I'd hate to see them not participate in 2018 in South Korea.  Yet, I'm starting to think that Flyers' owner Ed Snyder may have a point.
There are no two players more important to the Red Wings than 13 and 40. If the Wings want to keep their consecutive playoff streak alive it's imperative these two are healthy heading into the stretch drive.
Yet, in the case of the Detroit Red Wings the potential risks of sending players to the Olympics far out weigh any benefits the game of hockey receives for two weeks in February. Unfortunately, the reality is that the decision to let Zetterberg and Datsyuk decide their own fate may have just sealed Detroit's.