When I wrote this same article last season, it was filled with disappointment as the Winnipeg Jets were sitting 12th in the Western Conference and failing to live up to their expectations. Fast forward one year, and you could not have scripted a better start to the season for the organization. They hold a record of 26-14-1, which is good for second-best in the Western Conference. They have seemingly weathered the injury storm, as Blake Wheeler, Cole Perfetti, Nate Schmidt and Nikolaj Ehlers all made their return on Jan 6.
Amidst the successful season, certain players are standing out above the rest. Here are your 2022-23 midseason awards for the Jets.
Team MVP: Josh Morrissey
Josh Morrissey finds himself amongst the NHL's best defenders halfway through the season. He was recently named to his first-ever All-Star Game, and deservedly so. What he is doing this season is truly remarkable. At the midway point, he has already shattered his career-high in assists and points and is on pace to comfortably set a new high in goals as well. With 39 assists and 46 points in 41 games, the Jets' alternate captain is well on his way to being within the top five of Norris Trophy voting at the end of the season, and perhaps even number one.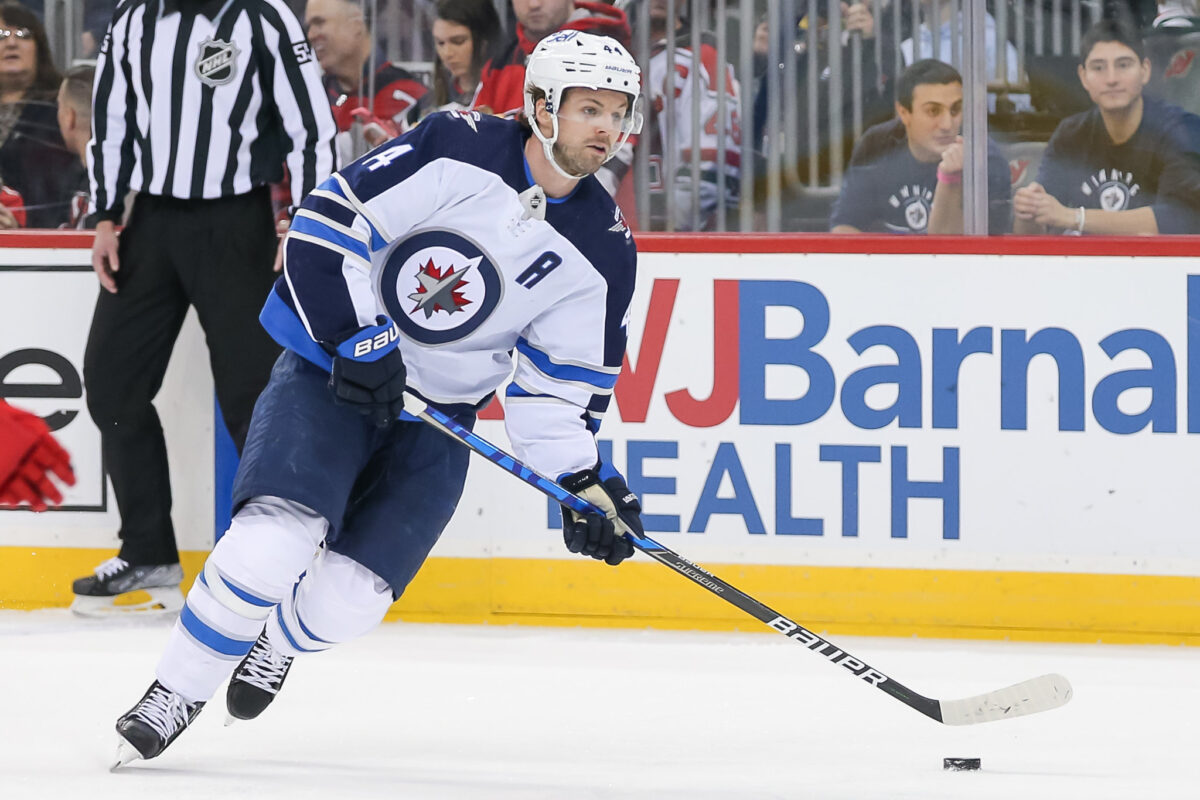 Head coach Rick Bowness' system gives defenders the "green light" to jump into the rush, and with all of the injuries that the forward core has sustained, it is no fluke that Morrissey's offensive talent has been on full display. He has been asked to play more of a shut-down, transitionally sound game in the past, but a new coaching staff has seemingly unlocked a portion of his game that nobody knew he had. Because of these abilities, he finds himself headed to the 2023 NHL All-Star Game.
Related: Jets' Morrissey Is an Early-Season Norris Trophy Favourite
---
Latest News & Highlights
---
After the poor numbers he put up in 2020-21, some people questioned whether or not his contract would become a burden to the organization, and at the time, those questions were valid. Fast forward two years and Morrissey's $6.25 million per year deal might be the best value on the team, and it is one that spans all the way until the 2027-28 offseason. The franchise has been proven correct by believing in their former 13th overall pick, and it has paid off in a big way to start the new season.
Most Improved Player: Cole Perfetti
After having his 2021-22 season cut short due to an upper-body injury, Perfetti has looked like a legitimate top-six forward to start the new season. He has recorded 22 points in 36 games and looks much more comfortable making plays under pressure.
The 10th overall selection from the 2020 Draft has always received high praise for his playmaking abilities, and those abilities have been on full display to start this season. He is just returning from an injury of his own and may need a few games to get back up to speed. He is 21 years old and has handled the responsibilities of playing a top-six role very well to start his career.
Perfetti will likely find himself atop the Jets' forward core for the next decade, so it is a great sign for the organization to be seeing such rapid improvement from what was their top prospect. Right after being drafted, he proceeded to put up 26 points in 32 games with the Manitoba Moose, which is very impressive given how young he was. The skills that he possesses work at every level, and it is only a matter of time before he starts to put up monster numbers in the NHL.
Money Puck's underlying numbers for Perfetti are staggering. A 56 percent Corsi percentage, combined with a 55.4 percent expected goals percentage, is all the evidence you need to support what the eye test is saying. He may be only 21, but he is already one of the most talented forwards on the roster, and the underlying numbers back it up.
Most Surprising: The Top 3 Centres (Scheifele, Dubois, Lowry)
The biggest surprise goes to the top three centres, as they are all set to break a career-high of their own choosing. We already know that Mark Scheifele is an outstanding player, but going into this season, we didn't even know if he would be a Jet never mind him playing some of the best hockey of his career. He has recorded 24 goals so far and is on pace to set a new career-high, all while playing some of the most inspired defensive hockey of his career.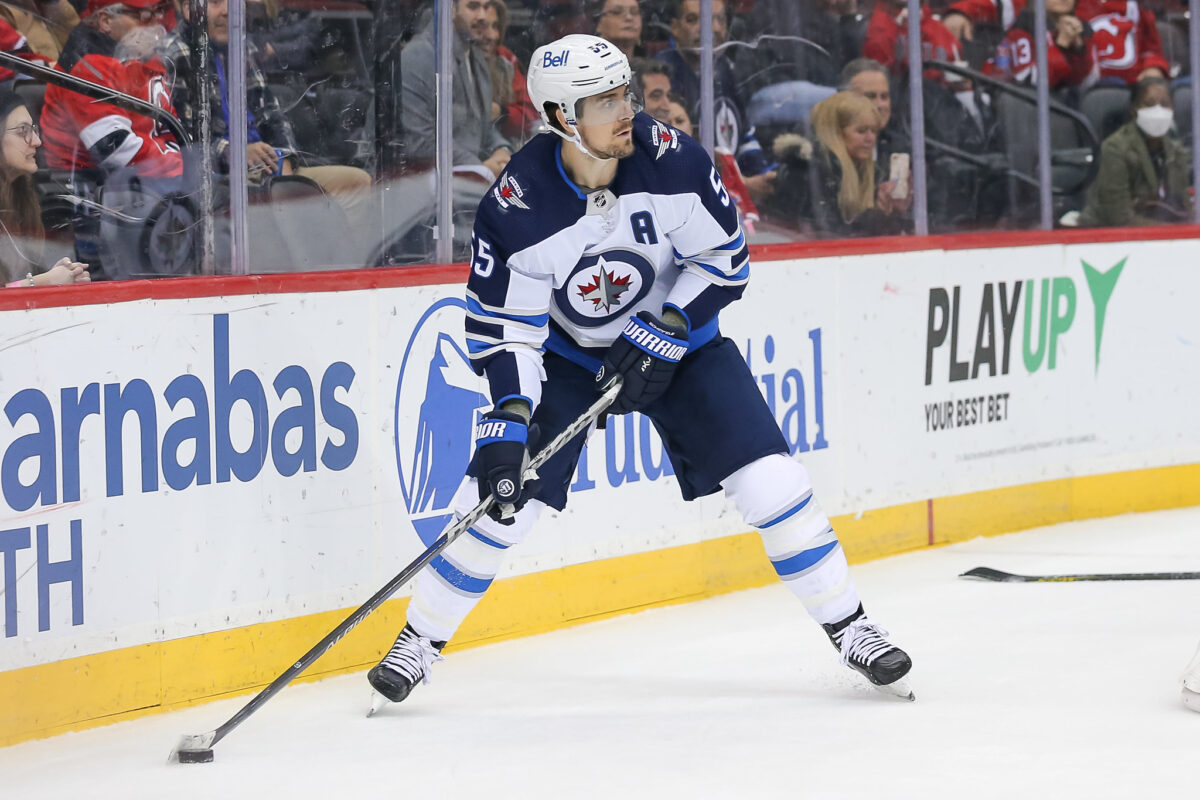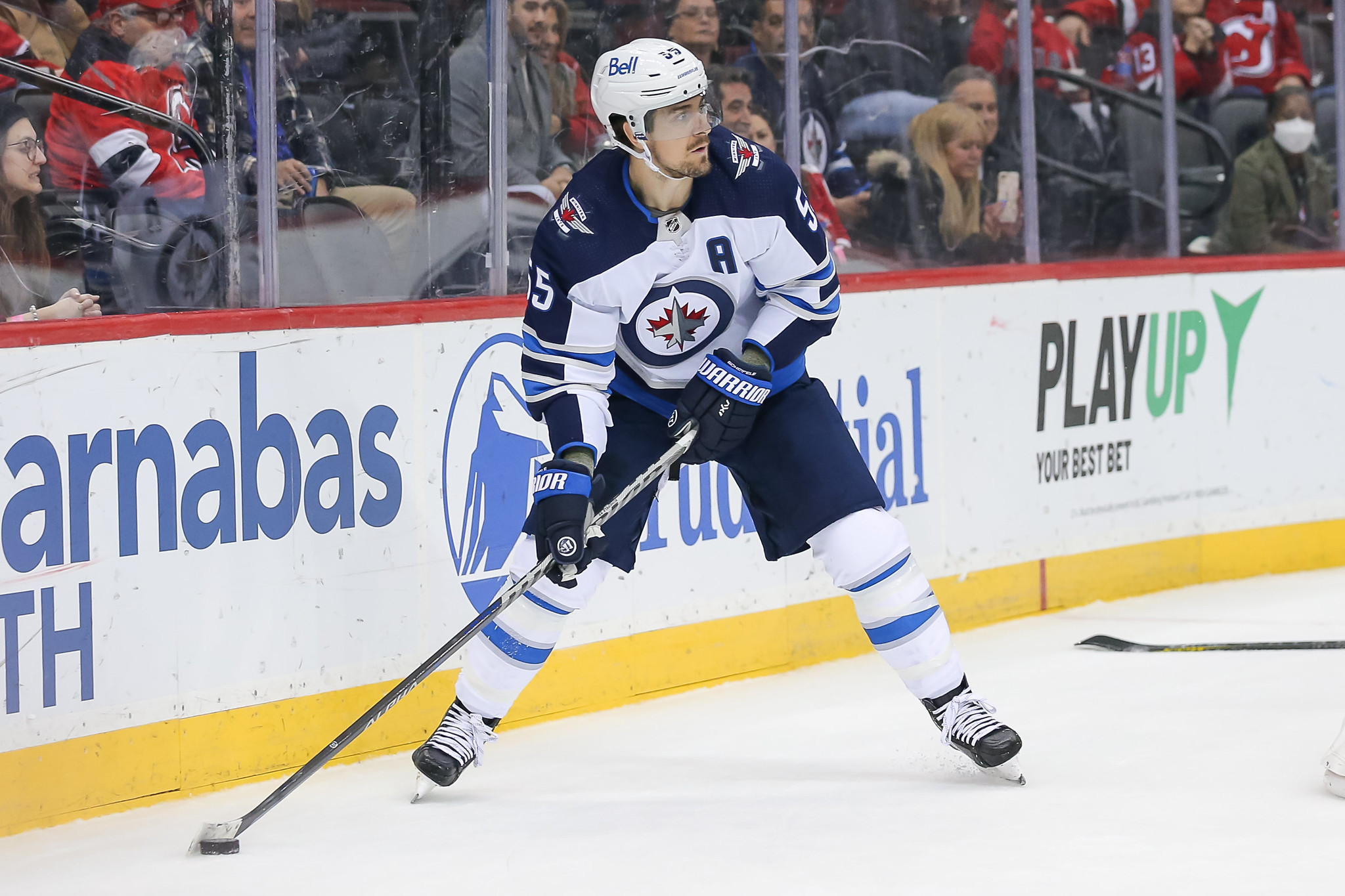 Pierre-Luc Dubois is over a point per game and is also set to smash all of his career highs for point totals. He's got 19 goals and 29 assists so far this season, which is good for 48 points. His previous high in points is 61, which came all the way back in 2018-19. He is playing the best hockey of his career, and it is not particularly close.
Adam Lowry has recorded 23 points at the midway point of the 2022-23 season, and his previous season-high is 29 points. All the while being the leader of one of the best penalty-killing units across the entire NHL, he is also playing arguably the best hockey of his career at the age of 29.
All three of these centres are set to crush their previous career highs in a certain stat, all while playing responsibly defensively. Bowness has gotten the most out of them as their success has been heavily dependent on their play. As the previously injured wingers start to find a rhythm offensively, look for these guys to remain the consistent element of their lines and provide a matchup problem that most teams across the league cannot handle.
Most Disappointing: Neal Pionk
After a rough 2021-22 campaign, fans and the organization were hoping for a bounce-back year from Neal Pionk, but that has failed to materialize so far in 2022-23. At the beginning of the season he found himself paired alongside Morrissey, and that pairing had no issues generating offence.
Jump ahead to the 41-game mark of the season, and Pionk's defensive metrics seem to be falling by the game. The pairing of Pionk and Brenden Dillon has failed to work, as both players have posted significantly better numbers while accompanied by another defenceman.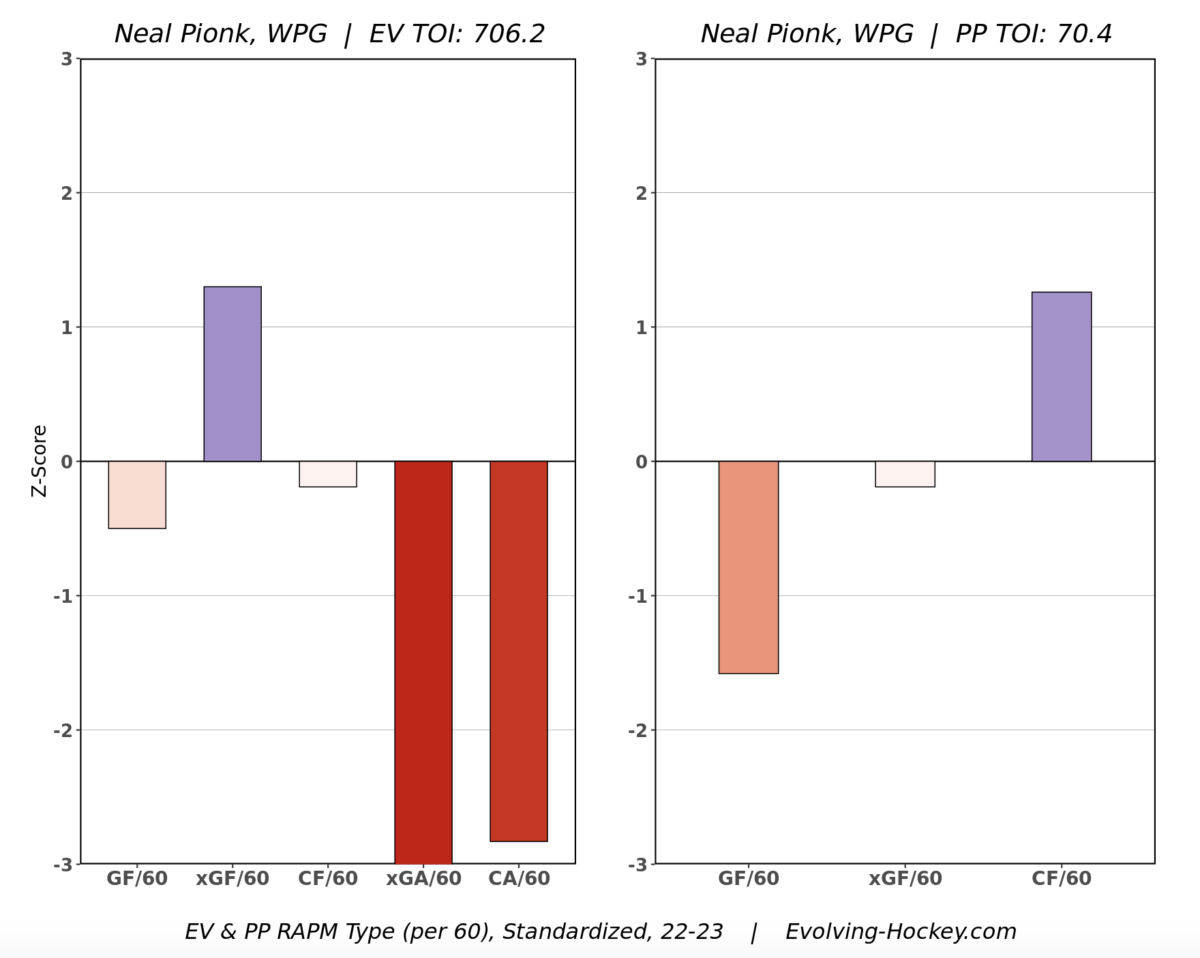 While Pionk has been able to score six goals, which ties his career-high, he finds himself with a plus/minus of minus-8, which is last on the team. The next closest player is Scheifele at minus-3, which is quite the jump for a staple in the Jets' top-four.
There is still plenty of time to turn this season around, but if these trends continue, Pionk's $5.875 million contract may become a question mark. Bowness may be able to help him the way he did with Morrissey, but it seems as though that process is taking longer than expected. His play will be something to monitor in the back half of the season, as he has displayed the talent necessary in the past in order to be a stellar top-four defenceman.
Second Half Expectations
The Jets find themselves firmly in contention within the Western Conference and their potential action or inaction at the trade deadline could shape the rest of their season. While they are likely to make the playoffs, their goal right now has to be getting all of their injured players back up to speed for the second half of the season.
They have been in a battle for first place in the Central Division for 41 games, but their main goal should be obtaining that seed in the back half of the season. The difference between potentially playing the Colorado Avalanche or Minnesota Wild in the first round, compared to playing one of the middling Pacific Division teams, could prove to be huge as the organization looks to make a deep run into the playoffs.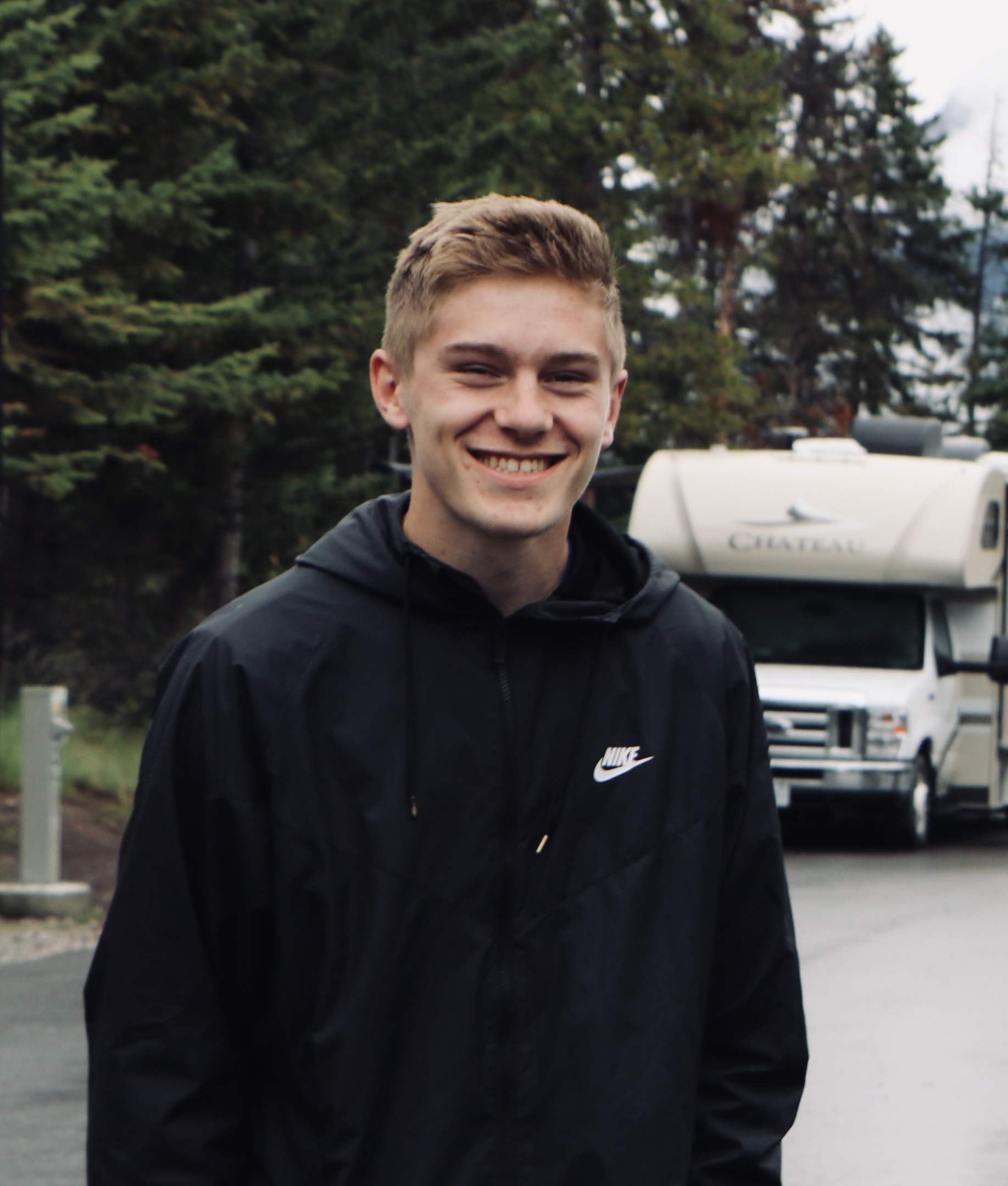 Connor Hrabchak is 20 years old and is currently covering the Winnipeg Jets and Ottawa Senators for The Hockey Writers. He is working towards completing his communications and media degree. He was born and raised in Winnipeg, Manitoba. He's been watching hockey ever since the Jets moved back to Winnipeg in 2011, and that has inspired him to write about the sport and attempt to make it into a full-time career.