For the Winnipeg Jets, size certainly matters.
It's a reality well-known by fans, pundits, and NHL teams alike — when you play the Winnipeg Jets, be prepared for a tough, physical matchup.
The Jets are one of the toughest teams in the entire league to play against, and a big part of that is because of their tremendous size. They have a number of massive men who strike fear into the hearts of their opponents and like nothing better than to grind them down and smack them around.
Here's a look at the biggest current Jets and some large lads in their prospect pipeline.
Dustin Byfuglien – 6-foot-5, 260 pounds
The brawny "Big Buff," the human embodiment of a cement truck, is perhaps the NHL's best at using every inch and pound of his frame to his advantage. A vicious, tenacious player, a big part of Byfuglien's game is imposing his will on guys who are big but seem small next to the 33-year-old Minnesotan.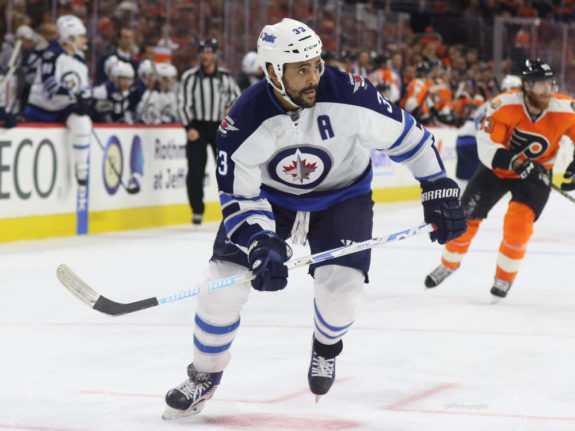 Over the course of his 567-game NHL career, Byfuglien has dished out 1,299 hits, many of which have been bone-rattling and earth-shaking. He sometimes seems more like an on-ice bouncer than a hockey player. For example, in one of the Jets' most memorable 2018 playoff moments, he plucked two Vegas Golden Knights players simultaneously out of a scrum like it was just another day at the office. In the round prior, he rag-dolled two Nashville Predators with undeniable ease.
ICYMI | Dustin Byfuglien levels Mark Stone cleanly, but meanly. Ottawa Senators defeated the Jets 2-1 on Wednesday pic.twitter.com/0g5rGB3obD

— Hockey Night in Canada (@hockeynight) March 31, 2016
Called "the great equalizer" by his teammates, Byfuglien's size makes him unstoppable at times, and he is often regarded as the league's strongest player. There's no other in the NHL who possesses the same skill set as the Jets' number 33. The Jets have Byfuglien locked up for the next three years and should expect nothing less from him than what he's shown in his seven seasons in Winnipeg.
Tyler Myers – 6-foot-8, 229 pounds
The towering Tyler Myers can't be mistaken for anyone else when he's on the ice.
Myers, one of the tallest players in the NHL, uses his size in a different way than Byfuglien. Lean and lanky, Myers only had 68 hits in 2017-18 — sixth among Jets defensemen. However, he uses his size and surprising speed to his advantage both with and without the puck.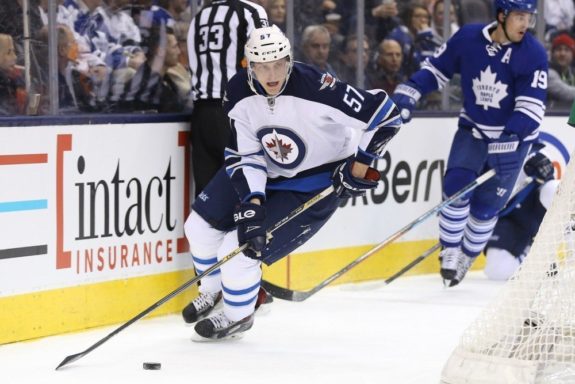 His size was one of the reasons he was able to successfully shoulder an expanded role on the Jets' power play after their d-corps suffering a litany of injuries. On defence, his long stride and even longer reach are assets he can call upon to either break up an odd-man rush or breakaway or to catch up to a puck carrier after he's been beaten.
Myers had a resurgent 2017-18 and played all 82 regular-season games after being limited to just 11 the year prior, tallying 36 points and a plus-nine rating. Some have suggested the Jets should trade Myers while his value is high as the team will need the $5.5 million in cap space he's currently occupying to lock up Jacob Trouba long-term (if the stubborn defenseman even wants to do that.)
However, given it's August already and all the Jacob Trouba hullabaloo, expect the huge man from Houston to occupy a spot on the Jets' blue line for at least one more year.
Adam Lowry – 6-foot-5, 210 pounds
Every team needs a pugnacious power forward such as Adam Lowry. He uses his big body well — he relishes bashing people around. Gritty, tenacious, and nasty, Lowry is tough but doesn't have to drop the mitts every night to show it — he is the Darcy Tucker of a new generation (and as far as this writer is concerned, that's high praise.)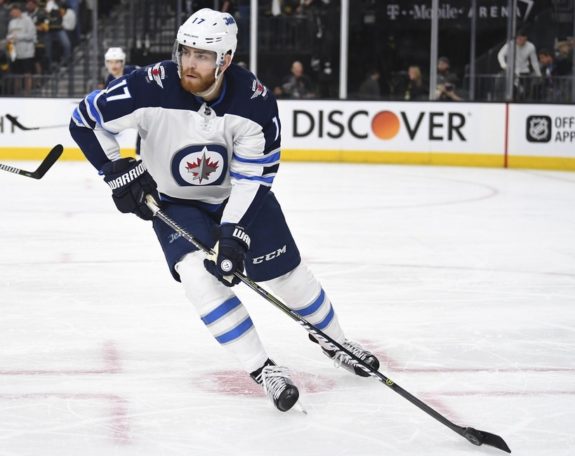 Lowry was limited to 45 games last year but still managed to dole out 145 hits and had more than 200 in each of the two seasons he played 80-plus games. Lowry recently signed a three-year extension with the Jets, and his commitment to Winnipeg and to winning is as strong. Expect plenty of crashing and banging from a motivated and dedicated Lowry over the next trio of seasons.
Jets Are Only Going to Get Bigger
Byfuglien, Myers, and Lowry aren't the only Jets of considerable stature. The Jets currently have 11 players – nine skaters and two goaltenders — 6-foot-2 or taller on their roster. However, that number could jump even higher in the near future, as there are a couple burly boys in the prospect pipeline.
Logan Stanley – 6-foot-7, 230 pounds
The Jets' first-round pick in the 2016 NHL Entry Draft could block out the sun, or at least enough of it to irk patio-sitters and beach-goers.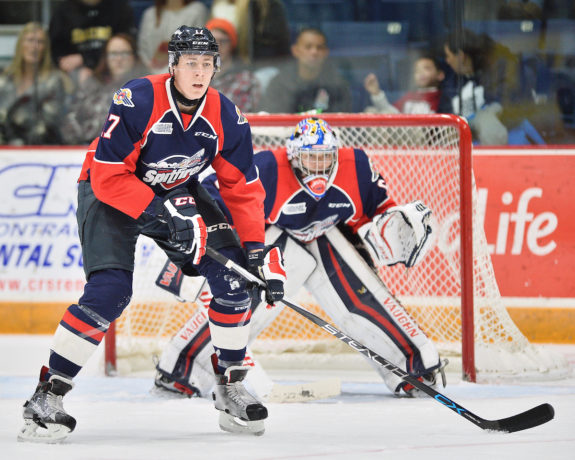 Stanley, at 6-foot-7 and 230 pounds, is simply a mountain of a man. At only 20 years old, he could still put on weight. He wrapped up his career in the OHL with the Kitchener Rangers after playing three seasons with the Windsor Spitfires.
Eliteprospects.com sums up Stanley like this:
"Stanley is a huge defensive minded defenceman. He loves to play physical and clear the crease, but also can chip in offensively when needed. He has become a nasty player that the other team dreads whenever he is on the ice. Very few players can match him physically due his monster 6'7 frame, and he uses this to his advantage every game. He is a very consistent player who's offensive game saw improvement during his draft year."
You could write a similar summation for Dustin Byfuglien. That should get Jets fans excited.
There's been plenty of debate whether Stanley was worth drafting 18th overall or if the Jets gave up too much for the privilege of being able to do so. Much of the concern was not with his defensive play, but limited offensive upside, which he quelled somewhat with a career-high 42 points last season with the Rangers.
While it's possible Jets' management gave his size too much consideration and thus overlooked his flaws, GM Kevin Cheveldayoff doesn't pick poorly pick often. Expect to see Stanley in a (very large) Manitoba Moose jersey this October.
Dylan Samberg – 6-foot-4, 215 pounds
At just 19 years old, left-handed defenseman Dylan Samberg is further off than Stanley and far from fully grown.
Samberg, just a few days removed from his high school graduation, was put through the paces at the Jets development camp in Winnipeg in late June and impressed Cheveldayoff.
"He has that ability to play a lot of different ways," Cheveldayoff said. "Certainly, he can play a hard game and a physical game with his size. The things that really draw us to him are his ability, his hockey sense and his skating."
He's also gained high praise from The Hockey News writer Ryan Kennedy, who, less than two weeks before the Jets drafted him, called him a "sleeper pick" and wrote, "all the tools are there for Samberg to be a successful hockey player."
A Minnesotan like so many Jets, Samberg will be going back to the Minnesota-Duluth Bulldogs for a second season in an expanded role. He's another big guy the Jets should be excited about and fans should keep tabs on. They can get a glimpse at him over the next four days as he represents the United States at the 2018 World Junior Summer Showcase in Kamloops, B.C.