There's an old saying: "promises are like babies: easy to make, hard to deliver."
The Winnipeg Jets made quite a few promises after Game 1 of their second-round series with the Nashville Predators — mainly that they'd be way better in Sunday's Game 2 despite winning 4-1 in Game 1.
Jets Vowed to Tighten up in Game 2
Despite their Game 1 victory, the Jets were badly outplayed and out-chanced for large stretches. They were outshot 48-19, won just 34 percent of the draws, gave up three power plays, and didn't have a single one of their own. Those aren't sustainable numbers against any team, let alone against the NHL's very best.
It was mainly thanks to Connor Hellebuyck — who stole countless games this year and made yet another scintillating start — that the Jets were able to leave the hostile Bridgestone Arena with a victory. In fact, Luke Fox reported, "it's been more than two years since any NHL team won a playoff game with a negative-26 shot differential."
47 saves and out shot by 29.

Connor Hellebuyck might as well be an actual brick wall. #StanleyCup pic.twitter.com/bmfDcgcOAN

— NHL (@NHL) April 28, 2018
All weekend, no one on the Jets side has pretended their play in Game 1 was their best. The message from players and Paul Maurice has been clear and unified: Game 2 would be cleaner, tighter, and more cohesive.
'I don't think we were at our best, I'll give you that,' Maurice said post-game. 'We can play better and I think we will as this series goes on.'
"We got another gear here that we can get to," Maurice continued. "We had about 12 minutes in the second period where we were skating the right way, putting the puck at the net the right way."
'We can play better than that, we know that,' Blake Wheeler told reporters. 'We'll try and make some of those adjustments tomorrow… we're looking for Game 2 to be a better game.'
"We definitely went over some things we could have done better. It's gonna be another tough test. We know we're going to have to be even better than we were two nights ago. It's gonna be another good game and we just need to get excited for it again," Mark Scheifele told reporters on Sunday prior to Game 2.
There's definitely room for improvement in our game,' Jacob Trouba agreed on Sunday. 'I don't think we were exactly where we wanted to be.'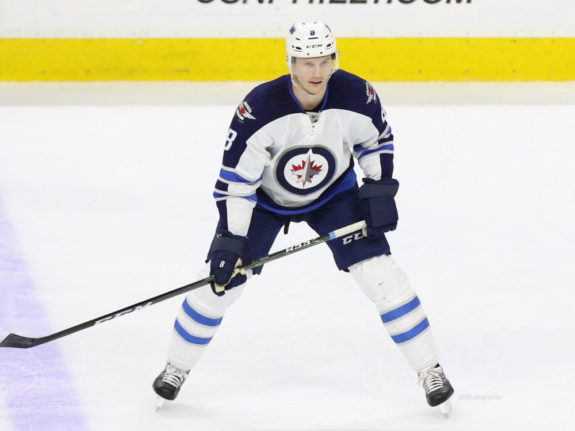 The Jets kept their word — to a point — in Sunday night's ultra-competitive, wildly-exciting Game 2. However, they left with a 5-4, double overtime loss. It's time break down the promises they made good on and where they reneged.
Defence Had a Far Better First Frame
In the first period of Game 1, the Predators came out of their cage out for blood. They carried the play, fired from every angle on Hellebuyck, and quintupled the Jets in shots, 20-4.
The Jets played a much tighter first period in Game 2 — even though it started out just about as badly as it could have. The first minute of Game 2 seemed to indicate it would be similar to Game 1's, with the Predators' peppy start. Just 27 seconds in, it was one shot, one goal for the home side — Kyle Connor lost a battle on the side boards, Filip Forsberg fed Ryan Johansen in the slot, and the latter ripped it high-glove and in.
However, that didn't rattle the Jets. They stuck to their game plan, slowed things right down, and kept their composure. Midway through the period, Dustin Byfuglien and Mark Scheifele grabbed a pair of goals 29 seconds apart to take a 2-1 lead (and nearly led 3-1 as Patrik Laine clanked iron moments later.)
Two goals.
29 seconds apart.

The @NHLJets are flying. #StanleyCup pic.twitter.com/MM1AElM7A9

— NHL (@NHL) April 29, 2018
They didn't allow many ten-bell chances in the period overall, and only gave up nine shots in total. Their defence was tight and ensured Hellebuyck wasn't barraged like he was two night prior.
Jets Gave up Way Fewer Shots and Chances in Regulation
It was a far cry from Game 1, where Connor Hellebuyck looked like the target at a well-visited shooting gallery. The Jets cut the number of shots allowed in regulation nearly in half — to 35 from 48. Hellebuyck wasn't nearly as busy.
He also wasn't nearly as sharp in the first 60 minutes, allowing four goals on those 25 shots. He was better in overtime, but eventually gave up the game-winner on an odd-man rush.
Centres a Bit Better, but Still Not Good Enough
The Jets only won 34 percent of their face-offs in Game 1. Adam Lowry and Paul Stastny were especially bad, posting 20 percent and 36 percent clips, respectively.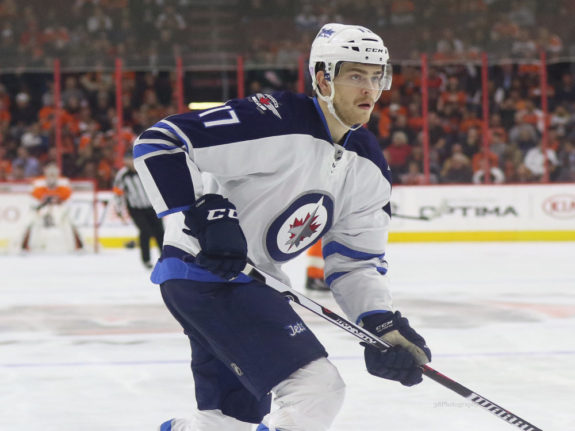 In Game 2, the team was a tad better, winning 39 percent. That's still not good enough, obviously, and a far cry from their performance against the Minnesota Wild in Round 1. Lowry operated at a 40 percent clip while Statsny was worse at 33 percent. Ryan Johansen dominated in the dot, operating at 68 percent in Game 1 and 71 percent in Game 2.
Why, Exactly, Did the Jets Lose, Then?
Hold on, then… if the Jets kept their promises, were better in the first, gave up significantly fewer chances, and were a bit better in the dot, why did they lose? Well, a few key breakdowns and gaffes at key times cost them.
A power play goal by P.K. Subban after a failure to clear — a goal that tied the game 2-2 — was the first. A needless interference penalty by Matt Hendricks — just a second before Andrew Copp popped the goal that would have put the Jets up 3-2 if not for the penalty — was a second.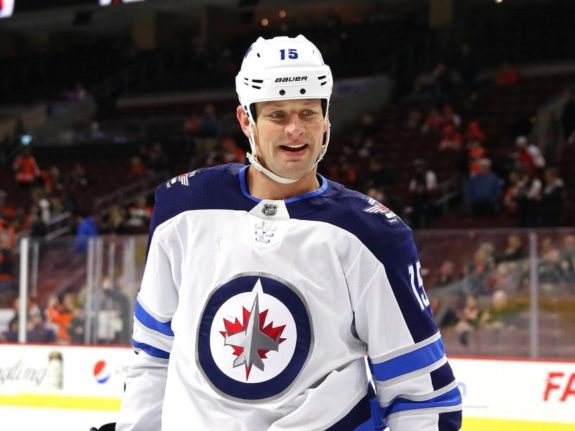 A bad pinch by Ben Chiarot — which led to Viktor Arvidsson's goal late in the second period — was a third. Some soft play by Toby Enstrom and a bungled Jets rush — which led to Ryan Johansen's third-period goal just 34 seconds after Brandon Tanev scored to tie the game 3-3 — was a fourth. Allowing the odd-man rush on Kevin Fiala's second overtime game-winner was obviously a fifth.
Lady luck is a fickle mistress. The Jets didn't play their best in Game 1, but won. They kept some of their promises to improve in Game 2, but lost. Hockey is a funny game that way.
The Jets shouldn't be tempted — even for a second — to tempt fate and play the run-and-gun style they did in Game 1, even though they managed to win. If they play like they did Sunday in Tuesday's Game 3, they'll have a good shot of winning. If a team does the right things, they're usually rewarded.
Usually. Not always. On Sunday night, the Jets played a pretty fundamental game, but still left with a loss.