With the offseason departure of Paul Stastny, the battle to play second-line centre will take centre stage in the Jets' preseason action and likely well into the regular season. Losing a solid option in Stastny, and the great chemistry he had with Patrik Laine and Nik Ehlers, leaves a hole but the Winnipeg Jets have the pieces to fix it.
Veteran Little Still a Great Choice
Conventional wisdom says the 'tie goes to the veteran' and for the Jets, centre Bryan Little should be it. He's already been pegged by head coach Paul Maurice to slot in as the second-line centre and said he's looking forward to the challenge, as well as the reward that comes with lining up between Ehlers and Laine.
The 30-year-old has centered the second line in the past, as well as playing top line minutes with fellow Atlanta holdovers Andrew Ladd and Blake Wheeler while remaining remarkably consistent. He has only put up fewer than 40 points once since coming to Winnipeg—32 points in a lockout-shortened 2012-13 campaign—and has 326 points through seven seasons wearing a Jets uniform.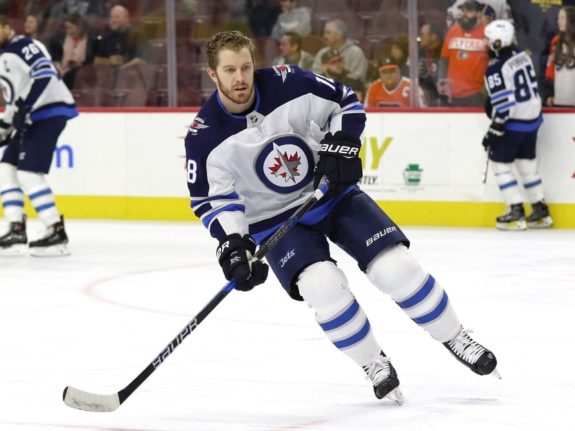 Little still has a lot left in the tank and although he is supposedly coming out of his prime, a veteran presence between Laine and Ehlers has worked out before. He is crafty with the puck and skates well, so being able to keep up with his two younger linemates should not be a problem.
Roslovic Could Be Pushed from the Nest
Back in July, THW's Declan Schroeder argued that an Ehlers-Roslovic-Laine line could have a big payoff. The prospect is enticing, having two of the game's slickest forwards lining up with a young and dynamic up-and-comer like Roslovic, but there are problems with that line.
The acquisition—and near retention—of Stastny would have given the Jets more time to develop Roslovic into the second-line centre they envision him becoming. He has the pedigree: selected in the first round during the 2015 draft; playing for the powerhouse US National Team Development Program, and scoring at a near point-per-game pace in the AHL. But expectations should be tempered.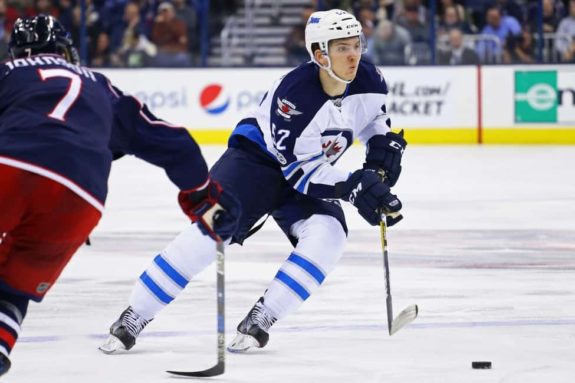 Using the translation factors derived by analytics guru Rob Vollman, we can see that Roslovic's future is promising based on his past production. Using his AHL numbers, he projects to becoming at least a 30-point producer and when you factor in context—playing his rookie season for a very bad Moose team—there is a marked improvement.
In his second professional season, the 21-year-old recorded 35 points in 32 games with the Moose. Again using the translation factors, we can see that his 2017-18 production becomes 42 points in a full NHL season, which is only slightly higher than the 37-point pace he was on while playing bottom-six minutes with the Jets. Moving Roslovic up in the lineup could create an offensive explosion.
Wheeler Could Provide Roslovic Security
Last season saw the breakout of Kyle Connor, playing on the wing with Scheifele and Jets captain, Wheeler. The Michigan product notched 57 points—31 goals and 26 assists—while being centered by an NHL superstar in Scheifele, as well as Wheeler for a short time. The chemistry he built with the two veterans was impressive and as was the security he felt by their presence.
Connor is now the unquestioned top-line winger for Scheifele and Wheeler, but having Ehlers and Laine on the second line gives Maurice a very interesting option. He could move Ehlers and Laine up to the first line to play alongside Scheifele while moving Connor and Wheeler down to add a more experienced pair for Roslovic on the second line.
Maurice mentioned during training camp that he will be giving Roslovic a look at centre this season and that Little is their second-line centre for the time being, which opens the door for some movement.
#NHLJets coach Paul Maurice key points:
-Tyler Myers will play some LD, but no guarantees who starts year beside Byfuglien.
-Bryan Little will start at 2C. Jack Roslovic will likely get a look at C.
-Patrik Laine and Nikolaj Ehlers don't always have to play together.

— Mike McIntyre (@mikemcintyrewpg) September 14, 2018
Having an Ehlers-Scheifele-Laine first line and Connor-Roslovic-Wheeler second line could give the Jets the best top-six in the league. Not only would Ehlers and Laine get to play with the dynamic Scheifele, as they did on the power play during the playoffs, but it would also give Roslovic the same chance to prove himself that Connor had and Nic Petan did not. Even so, the final line of Mike McIntyre's tweet (above) brings up another interesting option for the Jets to consider.
Swapping Laine & Wheeler Shuffles a Stacked Deck
Entering the 2018-19 NHL season, the assumption was that the Nordic pair of Ehlers and Laine would be together forever. Both would blaze down the wings, Ehlers using his hands and footwork to cut through defending pairs, while Laine would use his big body and bigger shot to terrify netminders.
However, with Maurice noting that the two were not inseparable, the Jets could do some reshuffling to interesting results. Putting Laine on the top line to skate alongside Scheifele would almost replicate their power play unit—albeit with Laine on the right instead of the left—and putting Wheeler on the second pair with Ehlers and Roslovic could help the young centre with a veteran presence in Wheeler while allowing him to develop chemistry with Ehlers moving forward.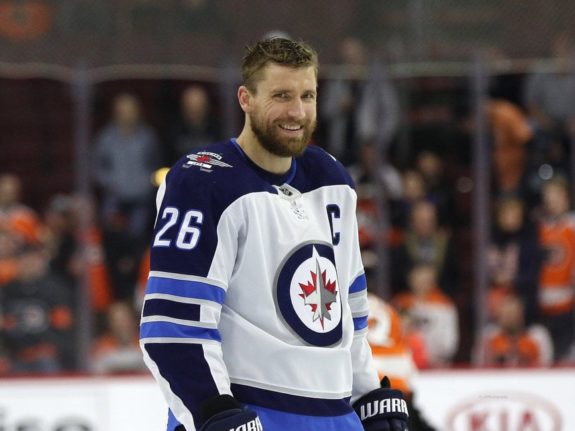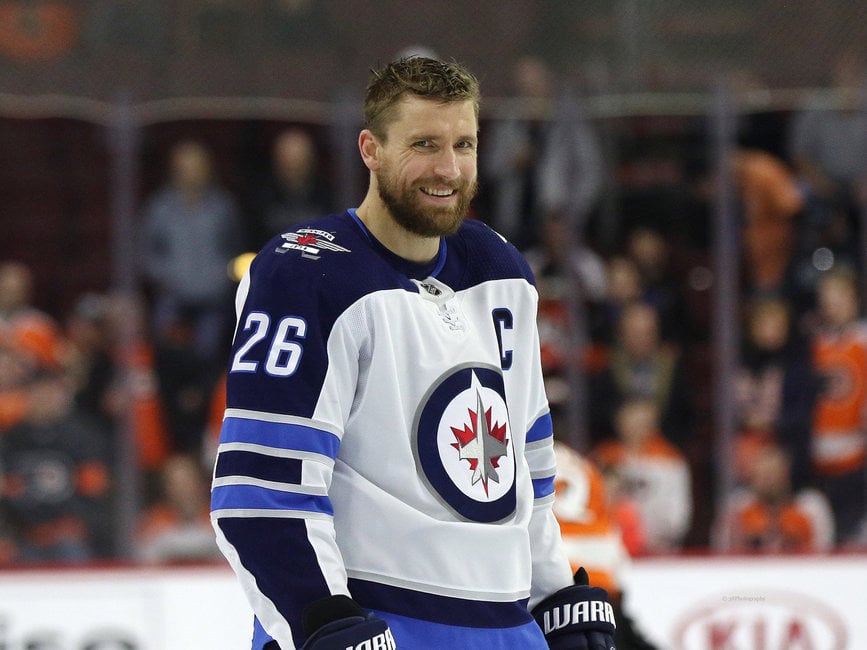 Yet, keeping the top-six in tact is a solid option, as Maurice has been playing Roslovic between veteran special teams expert Mathieu Perrault and Finnish dynamo Kristian Vesalainen during training camp and in the preseason. Depending on how the line comes together and if Vesalainen makes the big club out of camp, there could be a scary third line coming for the Jets.
Jets contributor for the Hockey Writers, sports editor for the Manitoban, radio and online broadcast voice for Bison men's hockey, host of "This Week in Bison Sports" on 101.5 UMFM