One of the most exciting prospects in the St. Louis Blues organization is Ivan Barbashev. After not making the NHL club out of training camp to begin the 2015-16 season, the 19-year-old is playing his first professional season with the AHL's Chicago Wolves. In five games thus far, Barbashev has two goals and three assists.
"It's fun," said Barbashev Sunday of playing professionally. "It's really unbelievable. It's a huge experience for me. I have to work really hard to get to the next level to reach my dream. But for now, it is really good for me. I have to keep working hard to impress everyone. [The AHL] is going to really help me, right now. I really need to work on in the defensive zone and be stronger and bigger."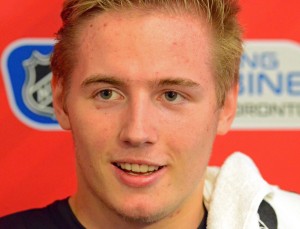 Barbashev was a long-shot at making the Blues out of training camp and is still considered a long-shot at getting called up at some point this season. Nevertheless, he said he took a lot out his second St. Louis training camp a little over a month ago. It helps when the Moscow, Russia native befriends and learns from NHL superstar and fellow countryman Vladimir Tarasenko.
"I was sitting next to him [in the locker room]," Barbashev said. "We were talking a lot. He was helping, helping, helping. Of course, we were talking in Russian."
Barbashev may have learned a lot from Tarasenko in just the short amount of time they have known each other, but one of Barbashev's greatest influences is his 23-year-old brother Sergei, a hockey player, too. Sergei has played five seasons in the KHL with CSKA Moscow and Admiral Vladivostok, scoring 26 points (10 g, 16 a) in 143 games.
"[Sergei] helped me a lot when I was younger," Barbashev said. "I was watching some games of [his] in the KHL, and I've been learning a lot from that."
Having an influential brother playing in the KHL and being Russian can raise red flags for a lot of NHL teams. Out of fear Barbashev may bail for the KHL at some point in his career, that is likely the reason Barbashev slipped to the Blues in the second round (33rd overall) at the 2014 NHL Entry Draft. Contrary to the Russian hockey stereotype, Barbashev appears committed to playing in North America. At 16-years-old, he made the decision to move to Canada to play for the QMJHL's Moncton Wildcats. Since then, he has not flirted with the idea of playing anywhere else than in North America.
"It is my dream to play in the NHL and make the [Blues]," Barbashev said. "I've already played three years in Canada, and now, it is my first year [professionally]. I really like it. For me, now, [my goal] is just to make the NHL."
http://gty.im/451377126
In an interview with Championat.ru last year, Barbashev said he lived by the motto, "You don't have to be better than others, you just have better than you were the day before." That type of deep thinking is impressive for a teenager.
"I was watching some movie, and I got into this world, and I was just thinking about it," Barbashev said. "It's great words. You just have to come to the rink every single day working, working, working just to improve yourself."
With that mindset, Barbashev will be donning the blue and yellow in no time.
Follow Colin Fitts on Twitter, @FittsTHW, and e-mail him at 22fitts@gmail.com.