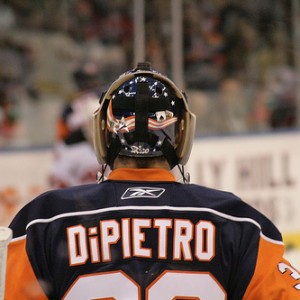 According to Chris Botta of Islanders Point Blank, DiPietro has returned to New York for further evaluations and will not be taking part in the weekend games on their current west coast road trip. Either Nathan Lawson will get the nod for the third time this year, or Kevin Poulin will make his first NHL start when the Islanders visit the Colorado Avalanche this Saturday. However, if Poulin starts it will not be his NHL debut since he has already played after filling in for Lawson after being pulled in the team's 2-1 loss to the Edmonton Oilers last night.
Lawson was given the hook in the Islanders match-up with the Oilers after letting up two goals on three shots. Poulin came in and stopped all 19 shots that he faced thereafter. With the Bridgeport Sound Tigers, Poulin is 10-4-0 in 14 games played. Of those 14 games, he has recorded two shutouts while posting a 2.13 GAA and .931 save percentage. He and Mikko Koskinen have been two strong goaltending prospects in the Islanders system over the past two years.  Poulin was selected in the 5th round at 126th overall of the 2008 entry draft and has become a serious contender for a future 1-A position behind Rick Dipietro.

He has become so good at his butterfly style that Patrick Roy, the former NHL goaltender and current general manager and head coach of the Quebec Ramparts of the QMJHL, called him the best goaltender in Canadian junior hockey in April of 2010. You have to be good if one of the greatest goalies in NHL history can make a comment like that.
Although DiPietro's absence provides a great opportunity for Poulin and Lawson, the problem still persists that Rick is continuing to get hurt. The groin strain that he suffered in the game against the Calgary Flames was thought to be minor. But if the 15-year man is being sent home it has to be more serious than originally thought.
The Islanders tempted fate when they traded 41-year old veteran (and brick wall) Dwayne Roloson to the Tampa Bay Lightning and they got an answer immediately since Rick's injury occurred the very next night. The trade left the team with Lawson, who was the Sound Tigers third string goalie behind Poulin and Koskinen, to play back-up and to carry the work load if Rick were to get hurt again. He played very well in relief of DiPietro in the game against the Flames but clearly was shaky in the loss to the Oilers. It will be interesting to see which goaltender head coach Jack Capuano decides to go with on Saturday. Right now the odds have to be in favor of Poulin. Although this is only the Islanders second loss in their past eight games, is there really any reason to not give the kid his first NHL start?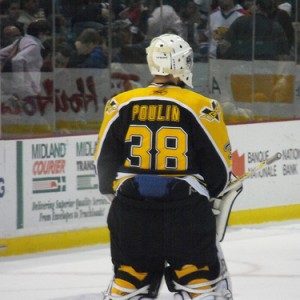 The plan is for either Poulin or Koskinen to become a legitimate 1-A back-up to the team's franchise goaltender. But Rick's injury history will always be a cause for concern in regards to the success of this hockey club. It's a scary thought and one that the Islanders organization will want to ignore unless an unfortunate reality one day sets in, but if Rick's body is eventually unable to withstand the NHL grind, Poulin and Koskinen may not only be be a back-up goalie here one day.
Regardless of his future role with the team, this is a big moment that Kevin Poulin has earned.
-Rob McGowan
Follow me on Twitter!
http://twitter.com/IslesRM