When USA challenged Sweden on Aug. 2, it was full of offense, ending with a final score of 5-4 with the US coming out on top. The following day was a much different story for the US when they took on Finland. It was much more difficult to tilt the ice in favor of either team, but ultimately, the US claimed the 'W' thanks to their defensive efforts. If it wasn't for the boys on the backend, the red, white and blue would have fallen to Finland.
USA Locked-In, Finland Locked Out
After the US defense was thinking only about offense against Sweden, the team pulled a complete 180. Instead of their defense letting them fall 0-2 in the first two minutes, their defense won it for them.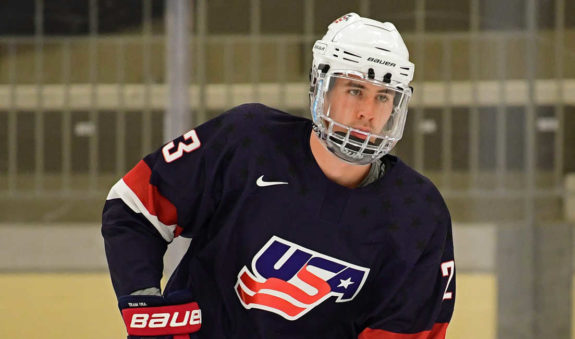 Sabres draft pick Mattias Samuelsson and Jets draft pick Dylan Samberg are two names that stood out on a stellar defense. Both are big boys that stand at 6-foot-4 and over 210 lbs and they use that to their advantage — without being wrecking balls. Both of them were able to funnel Finnish forwards to the outside. If they couldn't funnel them, they'd take matters into their own hands and force them to the walls with some good old cross checks and body checks. More importantly though, the two had active sticks. All while using their bodies to pressure the opposition, they were also using their sticks to add on pressure. So not only did Finland have to get 210+ lbs players off their backs, they also had to deal with sticks trying to swat the puck away.
Overall though, the US was just more defensively responsible, they went back to basics. They were limiting odd man rushes, they weren't letting Finland stay in their zone for extended periods of time and they were blocking and deflecting opportunities. If they keep this up against Canada, they could be unstoppable, especially, when they get Quinn Hughes back after his day off.
Keyser & Knight Stand Tall
The United States' defense made it easy for both their goalies to build confidence to let up only one goal in total. Kyle Keyser started in net and let in the only goal on a shot that came from a wide-open Finnish player in the slot on the power play. Long story short, he can't be blamed for that goal. He also can't be blamed for the fact because he was square to the puck all game, keeping the United States in it at times. He's not an athletic type of goalie that relies on reflexes to make diving saves — he's a technically sound goalie that relies on positioning. When you think 'Kyle Keyser', think 'Corey Crawford'. With a performance like he had, although he was hardly tested, he could really make a case to make the roster in December.
Spencer Knight, who is a year younger than Keyser, came in midway through the game to get some playing time and he completely shut the door on Finland. Knight faced nine shots, one less than Keyser, but he arguable had to play in the more difficult situation with Finland playing in a tie situation and from behind, so they couldn't take their foot off the gas. Knight was a little more agile than Keyser, laying down for some saves and stretching across for others, but he was by no means largely out of position and got lucky on any of his saves.
Off-Day for Offense
In the game against Sweden, the US offense struggled with zone entries and the powerplay. Against Finland, they greatly improved on one, but not the other.
The United States was able to get Finland back on their heels and in their own end while the US got ready to enter the offensive zone. This prevented Finland from forcing turnovers at the blue line, and instead letting the US get in the zone, and establish some sort of presence before turning it over. Sometimes Team USA took advantage of the dump and chase method, but they used it much more liberally, making their game less predictable.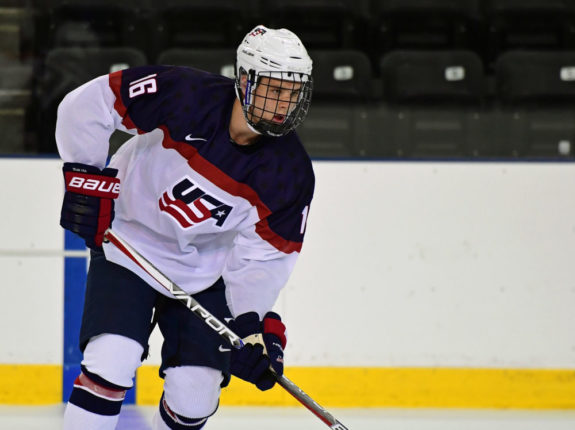 However, their powerplay was still pretty dismal. Instead of going 0-4 like they did against Sweden, they went 1-6. Their lone tally on the PP came off a deflection by North Dakota's Grant Mismash. Aside from that one goal, the US couldn't get anything going for them. At this point, it can't just be chalked up to being an 'off-game'. For two games their power play has been miserable and the coaching staff will need to mix-up the units to get something going.
Moving past their PP, their offense was amiss for most of the game, mainly due to their passing. No matter the situation, lose pucks were bouncing here and there off errant or intercepted passes and players wound up chasing a lot of pucks that should have come to them cleanly. Even Jack Hughes was struggling. In fact, he was almost invisible. He was heavily guarded most of the time, and when he found some open space he was whiffing on shots, sending them wide and putting too much on passes so they wound up hopping over the recipient's stick. Brother Quinn also being up in the pressbox for a day off didn't help the offense (and especially not the powerplay).
But you have to give credit to Team Finland. It wasn't as if the United States was just bumbling over their own two feet. Finland was, for the most part, near impenetrable in their own zone. Sure they let the Americans get into the zone, but they didn't allow great shots. If there was an award for 'Best Team at Eliminating Passing Lanes', Finland would probably win it. Even when they were down two men for an extended period of time and heavily collapsed around their own net, they were calm and found lanes and intercepted and swatted passes away before you could really identify a lane was there in the first place. Finland's pressure ultimately showed the US what they need to improve upon, and hopefully they can make adjustments before their game against Canada.
I am a University of Arizona Pre-Business student with a passion for USA and college hockey. I was previously a sports editor and hockey beat writer at the student publication, "The Daily Wildcat". I enjoy watching film and crunching numbers.