In today's rumor rundown, the Buffalo Sabres and Jeff Skinner may be thinking long-term extension behind the scenes but you'd never know it by what they're saying. Artemi Panarin might be interested in a move back to Chicago, William Nylander isn't worried about his contract extension in Toronto and Mark Stone's signing for one year has people thinking he's on his way out of Ottawa.
Skinner Long-Term in Buffalo?
Almost immediately after Jeff Skinner was traded to the Buffalo Sabres, questions about whether or not he might stay long-term started popping up. Mike Harrington of the Buffalo News correctly notes the newly acquired Sabre has one-year remaining on his contract. If Buffalo cannot re-sign him during the season, they can always look to trade him at the trade deadline in February. Speculation is, that's not what Buffalo wants to have happen.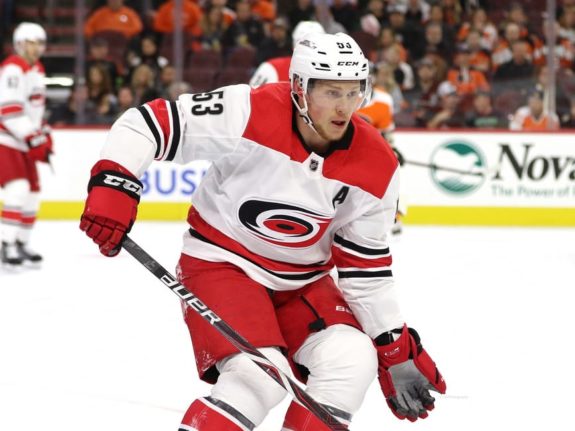 Buffalo was one of very few teams Skinner approved of being traded too. Sabres GM Jason Botterill pointed out how exciting it was that Skinner chose to come, waiving his no-trade clause to do so. It appears the combination of the Sabres wanting him and Skinner wanting to be there point to the potential for a longer-term deal when negotiations can happen.
That said, Botterill noted on Thursday the team hasn't started contract extension talks with Skinner. "Right now, our focus with Jeff is to make his transition into Buffalo as easy as possible for him," Botterill said. "We'll talk about things such as an extension or contract down the road."
From Skinner's side, John Vogl of The Athletic wrote the forward hasn't thought about extending yet either.
"Right now I haven't really thought about it. The last 24 to 48 hours have been pretty busy, and I'm just trying to sort of get through everything that's going on. Obviously, I'm just excited to start the season. That's what my focus is, and I think that's what my focus is going to be for the next little while."

source – "Jeff Skinner not in any hurry to commit long-term, and that's fine by the Sabres" – The Athletic -John Vogl 08/03/2018 
The Sabres will have plenty of room to sign Skinner should they choose to as both Jason Pominville's and Matt Moulson's contracts come off the books this summer. If Skinner plays with Jack Eichel, he could post big numbers and become an expensive signing. The Sabres will have to watch this situation closely as the season rolls along.
Related: NHL Rumors: Faulk, Moore, Hall, More
Artemi Panarin to Chicago?
Scott Powers of The Athletic recently wrote Artemi Panarin would heavily consider returning to the Blackhawks and signing an extension, according to a source close to Panarin. Powers wrote:
The Blackhawks would be "very seriously considered" by Panarin if he were to become an unrestricted free agent after next season, according to a source. Panarin's agent Dan Milstein wouldn't comment on the possibility of Panarin returning to the Blackhawks or anything about Panarin's future when reached on Friday.

source – "Source: Artemi Panarin would seriously consider returning to Blackhawks" – The Athletic – Scott Powers – 08/03/2018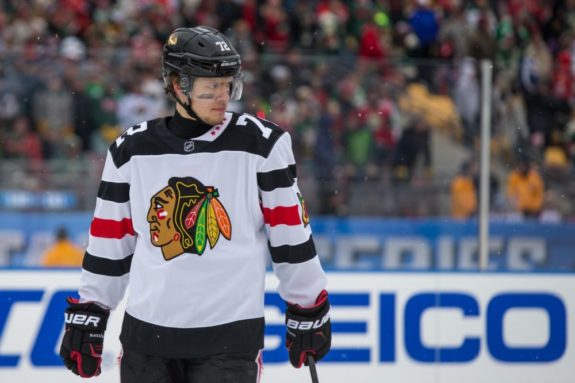 Many view the original trade of Panarin out of Chicago as a mistake by the organization. If they were to sign Panarin again in free agency they could rectify that mistake.
The question becomes, could Chicago afford him? They could manage his $6 million salary now, but don't likely have the assets to acquire him in trade. They also may not be able to afford him after this season when his salary will undoubtedly jump. Panarin could be looking for $9 million a season on his next deal.
Related: NHL Rumors: Pacioretty, Linden, Karlsson, More
William Nylander Isn't Worried
Luke Fox of Sportsnet is reporting Toronto Maple Leafs restricted free agent forward William Nylander isn't concerned a contract hasn't been finalized between himself and the Leafs. He wants a long-term deal and says his agent is looking after getting that for him if possible. It's not something he concerns himself with and will let his guy negotiate on his behalf. "Of course, I want long term. That's what I want to do, but we'll take it slow, day by day, and see what happens," Nylander said.
Nylander didn't know what would happen if a deal wasn't finalized before training camp. "I've not thought about that. That's between my agent and Kyle. I'm waiting to see what happens," Nylander replied.
Bruins Want Marcel Noebels
The Bruins have interest in signing German forward Marcel Noebels, agent Allain Roy acknowledged to Matt Porter of the Boston Globe.  Earlier reports were the deal was done but that's not necessarily the case. Roy stated that they are in discussions with Boston but "there's nothing concrete yet".
Noebels was originally drafted in 2011 by the Philadelphia Flyers in the fourth round and during his two years in Philadelphia's minor league system put up 34 points in 95 AHL games and 30 points in 31 ECHL contests. Now 26, he's been with Eisbaren Berlin of the DEL the last four seasons.
Related: NHL Rumors: O'Reilly, Stone, More
Mark Stone Questions
With news of Mark Stone signing a one-year contract just prior to his arbitration hearing, many are wondering if this new deal signals the beginning of the end of his time in Ottawa and as a Senator.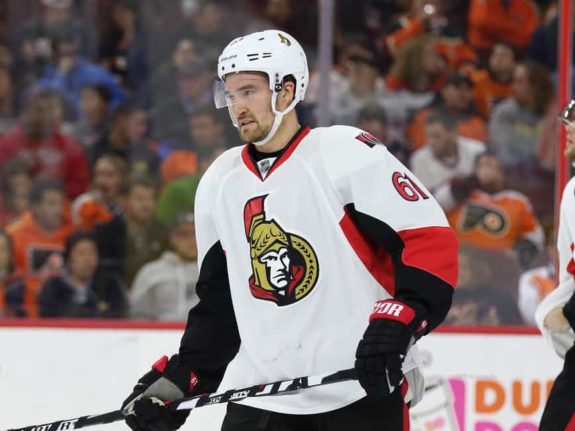 Neither the Ottawa Senators nor Stone really wanted to go through the arbitration process set for Friday in Toronto. But the fact the two sides couldn't find common ground on a long-term deal likely means Stone will be leaving Ottawa somewhere inside of a year's time. The Senators cannot open contract extension talks until Jan. 1, 2019 and at that time, leverage will shift to Stone, who's slated to become an unrestricted free agent next summer.
The Senators couldn't afford to frontload Erik Karlsson's deal with signing bonuses and likely won't be able to do so with Stone's who will be one of the most attractive free agents on the market. If the Senators choose to move Karlsson, Stone and Matt Duchene, they could be looking at one of the biggest rebuilds in recent memory.
Because the Senators future is so unclear, it's not a surprise to anyone that players are signing short-term deals and have no real incentive to consider sticking around.