Friday in Plymouth, Michigan, the United States faced Finland in another World Junior Evaluation Camp scrimmage. Much like Finland's showing Wednesday against Canada, the Finns were outplayed but managed to close things down well enough to grab a win, besting the U.S. 2-1.
Here are four thoughts coming out of Friday's game, as team management continues to evaluate the players in the running for their respective World Junior Championship rosters.
1. U.S. Identity
The U.S. fielded a very different team than they did Wednesday, with notables like Jordan Greenway, Tage Thompson and Clayton Keller taking the afternoon off. Nonetheless, the U.S. seemed to already have a grasp on a familiar identity for the national team.
Despite the more consistent emergence of top forward talent in recent years, the U.S. appears to still maintain a grind-it-out mentality. The players having the best games at camp have not necessarily been the most talented players, but gamers willing to do battle in the corners and work hard for every inch they get. It's a familiar identity for a national team that plays this way at every level of international play.
Players like Jack Roslovic, Casey Fitzgerald, Jack Ahcan, Luke Kunin and Jack Sadek have been emblematic of that mentality, even when the size of the 5-foot-8 Ahcan doesn't seem like it would lend itself well to that style. It's been up and down the lineup.
---
RELATED: Four Thoughts on World Junior Evaluation Camp: Canada Versus Sweden
---
2. Finland May Have a Tough Time Repeating
Finland has had an amazing year in international play, particularly among their youth. They won gold at the U18 tournament, as well as taking gold on home ice at World Juniors. They even came close to an upset gold medal at the IIHF World Championship in Russia where they were led by 18-year-old Patrik Laine, who was named MVP of the tournament.
While nothing is certain, there's a strong chance they're going to be without Laine and Jesse Puljujarvi, stars of the 2016 Finnish team, who could establish themselves well enough in the NHL that they might not get loaned out. Puljujarvi and Laine's World Junior linemate Sebastian Aho, 2016 team captain Mikko Rantanen and Kasperi Kapanen, who scored the golden goal in overtime, won't be returning either.
That lack of top-end firepower has been evident at camp. Even against U.S. and Canadian teams that aren't fielding all of their top players, Finland has struggled putting the puck in the net. It could be a problem that holds over to the tournament in December.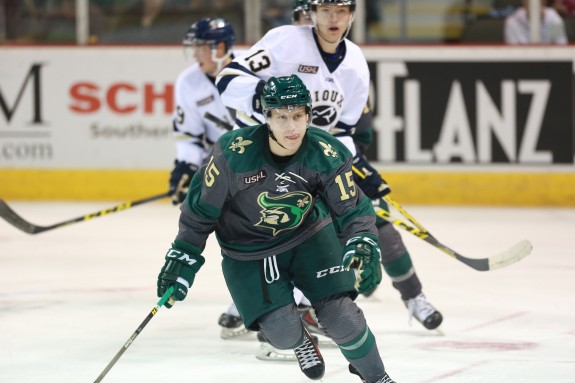 3. Eeli Tolvanen is Better Than Advertised
The 17-year-old 2017 draft eligible forward has been electric. As the team struggles to create offense — they were outscored 16-3 in their first two games and barely eeked out wins in their last two — Tolvanen has been involved in the bulk of their offensive output.
Tolvanen (@Musketeerhockey) with the strip AND the assist #WhosNext pic.twitter.com/aLFOzxFMBf

— USHL (@USHL) August 5, 2016
He put in Finland's first goal of the game, and then, on a smart defensive play in the offensive zone, turned the puck around and made a beautiful cross-ice pass, setting up a Sami Tavernier goal that would stand as the game-winner.
Finland has scored seven goals in four games so far. Tolvanen has three of those, as well as an assist and 10 shots.
---
RELATED: World Junior Evaluation Camp Standouts: Canada Versus Finland
---
4. Erik Foley is Making a Case for a Roster Spot
On the U.S. side, forward Erik Foley has been playing a very strong game. A 3rd round pick of the Winnipeg Jets in 2015, his only international experience is the 2015 Ivan Hlinka tournament, but he's making a strong case for his inclusion on the 2017 U.S. roster.
He has been gritty and showed off an enviable work ethic. Even on a roster that sports some of the top U.S. talent like Greenway, Roslovic, Brock Boeser and Alex DeBrincat, he led the team in shots in the last two games and has been in the dirty areas of the ice, winning 50/50 battles.
End of the 2nd: Finland leading Team USA, 2-1. #NJEC

Erik Foley gets the U.S. on the board at 18:48 of the period. pic.twitter.com/1OdxtG5AaO

— USA Hockey (@USAHockeyScores) August 5, 2016
Foley scored the lone marker for the U.S. in Friday's game, with assists to Christian Fischer and Chad Krys. It showed off exactly why he should be a part of the team. He drove the net and was strong on his stick to push home the rebound. The Providence College sophomore has goals in back-to-back games, and has put up a total of 16 shots in four games.
---
RELATED: World Junior Evaluation Camp Standouts: USA Versus Sweden
---
Watch full-game highlights from the game below.
VIDEO | Highlights from Team USA's National Junior Evaluation Camp matchup against Finland. #NJEChttps://t.co/weCE1BhI4v

— USA Hockey (@usahockey) August 6, 2016
Dustin Nelson writes about news and the Minnesota Wild for The Hockey Writers.