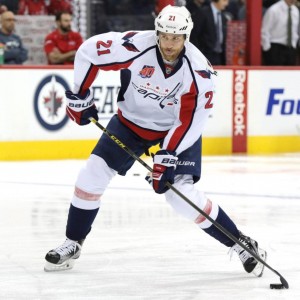 It's funny how life works sometimes.
Twelve years ago – almost to the day – on Feb. 19, 2004, just like the rest of the Washington Capitals faithful, I heard the inevitable news we all had feared but didn't want to believe. Peter Bondra, the franchise's greatest goal scorer and longtime offensive superstar, had been traded.
The move made all the sense in the world. The team was on the downside of a long run of regular-season success and playoff appearances. It was underachieving, stuck in last place and losing money. The Jaromir Jagr trade had not panned out, nor had the hiring of immature and unprepared head coach Bruce Cassidy, who had already been a casualty earlier in the 2003-04 campaign.
Bondra was in the third year of a four-year, $18 million contract, and at 36, as General Manager George McPhee remarked, he was on the "back nine of his career." But with 21 goals – including four game-winners – in 54 games, he still had enough in the tank to possibly help push the first-place Ottawa Senators over the top. Other players like veteran Steve Konowalchuk and Jagr had already been moved out, while remaining players such as Robert Lang and Sergei Gonchar would be gone in the days ahead.
It all made sense. Dump the salaries. Position the team for a potential work stoppage and salary cap. Move out the older players with a track record who had underachieved but still could be inviting to a team looking for that one elusive piece to the puzzle.
Konowalchuk and Gonchar both were great Caps. I was sad to see them go, but I could stomach it. Jagr never really took to Washington, and as great as he was and is, he was a cancer while in D.C. and needed to go.
But Peter Bondra? He was a True Capital. Hell, he was Mr. Washington Capital, a winner of goal-scoring titles who was a tireless worker and electric skater with a laser for a shot. And as good as he was on the ice, he was even better in the locker room and the community.
Bondra was, and still is, a true Washington Capital. He was my post-teenage favorite player and the player I wanted my young, hockey-loving son to look up to and emulate – on and off the ice. "Bonzai" was easy for my then 5-year-old to say, and even to a tiny young fan it was not hard to see why he was such a great player. My son would play in the basement and backyard, and he was always "Bonzai" or "Olie the Goalie."
But now his hero – our hero – was gone. Fourteen years after his Washington debut Bondra left as the franchise's career leader in goals (472), points (825), power-play goals (137), game-winning goals (73), short-handed goals (32) and hat tricks (19). Had he finished that season with the Caps, he would
have become the all-time franchise leader in games played as well.
McPhee and the media could spin it any way they wanted, but I wasn't having any of it. I was a loyal, long-suffering, paying customer, and they were quitting on the season and on the fans. I was angry and vowed to not renew my season tickets, a promise to myself that I kept until several years later.
I did finish out that season and vividly remember a video tribute to Bondra and getting choked up watching his many incredible highlights and hearing his parting words, "I grew up here," an emotional Bondra said. "I grew up as a player. I grew up as a person. I have to understand that I have to move on."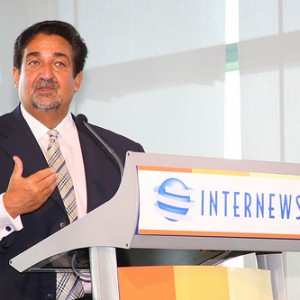 Nor did it make me feel better that Caps owner Ted Leonsis explained that the team searched long and hard to find a situation that would be the right fit for Bondra and that would give him a great opportunity to win a Stanley Cup. I should have been happy for Bondra, but instead I felt sorry for myself and lashed out about this being another reason why the team could never get over the championship hump.
Yes, my feelings were shortsighted and immature, but they were genuine and served as my own tribute to someone who had been a True Capital. Then I caught myself. "Well, who did we get?" I asked. "Maybe it's a hot young prospect who can help the team climb back to respectability quickly? Huh? Brooks who? How do you even say that? Is it pronounced Lack or Lake or what? We really got Brooks Freaking Laich for Peter Bondra?"
Brooks Who?
Laich came to Washington as a relative unknown. The former sixth-round draft pick had 15 goals and 18 assists in 44 AHL games the year he was traded to D.C. and had appeared in just one NHL contest. And Laich certainly wouldn't set the world on fire immediately after the trade. He appeared in four games for the Caps at the end of the 2003-04 season and then spent the 2004-05 lockout year with Portland in the AHL.
His 21 points and minus-9 rating in 73 NHL contests for Washington in 2005-06 provided no real indication of what was ahead for Laich in the nation's capital. Yet other than a 10-game stint with Hershey that year, Laich has been a fixture in Washington ever since, appearing in 731 games for the Caps during the past 11 seasons heading into Tuesday's contest.
During that span playing for the Capitals, Laich has eclipsed the 20-goal plateau three times, including a 25-goal, 59-point, plus-16 campaign in 2009-10. He's been a dependable penalty killer who also has seen time over the years on the power play. While his overall two-way game probably made him fit best on the team's third line, Laich possessed enough skill to fill in alongside Ovechkin and Backstrom as needed or to serve as that ever-elusive second-line center when necessary.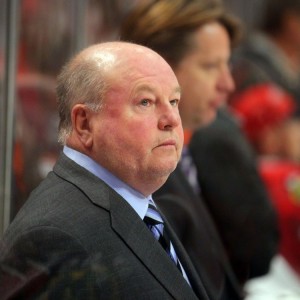 At one point during his Washington tenure, while Laich was sidelined by an injury, then-coach Bruce Boudreau lamented how much the team missed his presence in the lineup because he just did so many different things well.
More important, Laich became a leader in a young and often immature locker room that frequently was maligned for lacking leadership. He was a stand-up guy with the media win or lose and never shied away from holding himself or his teammates accountable.
And, similar to Bondra, Laich became a fixture and a favorite in the community. His gritty play and willingness to do whatever it took to win resonated with male fans, while his unassuming demeanor and rugged good looks made him a favorite with the ladies.
At the height of the team's and Laich's almost rockstar status in D.C., Laich won over the rest of the fanbase following perhaps the franchise's lowest moment. After an electrifying 2009-10 Presidents' Trophy-winning season the Caps saw a 3-games-to-1 first-round playoff lead against the eighth-seeded Canadiens vanish into thin air thanks to the once-in-a-lifetime goaltending performance of Jaroslav Halak.
On the way home from a heartbreaking home-ice Game 7 loss, Laich saw a couple of female Caps fans pulled over with a flat tire on the busy Roosevelt Bridge heading toward Virginia. They had called AAA with no luck, and no help was in sight. Laich pulled over and in his shirt and tie spent about 40 minutes changing the tire and helping them on their way.
The next morning after that forgettable loss, the sun did indeed come up and what Caps fans saw was Brooks Laich standing tall in the face of the media, tackling all the tough questions and not making excuses. The next image was of him assisting fans in need after what had to be a crushing defeat.
A Capitals Hero is Born
On that night a hero was born in D.C. The guy who I had cursed for being acquired at the expense of my favorite player had won my respect and was well on his way to being one of my new favorites and a True Capital. He became my son's favorite player, and as a dad with a talented hockey-playing kid who might have a future in the sport, I couldn't think of a better role model. Even my daughter, a lacrosse and field hockey player who quickly was becoming a Caps fanatic, took notice as both kids fought to wear Laich's number 21 for their various sports teams.
Unfortunately that brings me to the difficult part. A series of injuries that limited Laich to nine, 51, 66 and 53 games, respectively, over the past four seasons has taken its toll on his level of play. Toiling mostly as a third liner the past two years he netted just a total of 15 goals, and at one point last year I came to the realization that his production and style made him an ideal fourth-line forward. Apparently head coach Barry Trotz did, too.
This year that realization has become Laich's reality. He has spent the entire year on the fourth line, and as you would expect Laich has approached it as a professional, not once complaining publicly. He plays hard every night and still is a strong penalty killer. And his analytics are very good, according to RussianMachineNeverBreaks.com. He generates more shots per 60 minutes than both Evgeny Kuznetsov and Nicklas Backstrom, and his shot-suppression numbers rank second only to linemate Michael Latta among Washington forwards.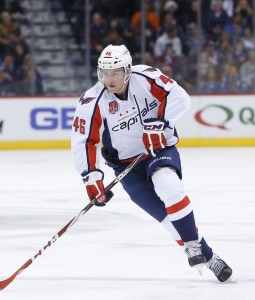 Laich is a tremendous fourth liner, but unfortunately with just one goal and five assists in 53 contests and a minus-8 rating he also is a tremendously expensive fourth liner. With one more year left on his contract at $4.5 million, it seems unlikely that the team would want to spend that kind of money on a veteran player with those offensive numbers going forward.
So, nearly 12 years to the day after cursing Laich's acquisition, while most people are enjoying Washington's historic season or penciling them into the Stanley Cup finals, I worry about the latest True Capital's future with the team.
A Glut of Bottom-Six Capitals
The common thinking is that the Caps will stand pat at the trade deadline. With no glaring weaknesses and tremendous chemistry in the locker room, why would you mess with anything? While having plenty of depth is an important part of any deep postseason run, when Jay Beagle returns in a few weeks there will be a logjam among the bottom-six forwards.
When third-line center Beagle went down, the Capitals signed two-time Stanley Cup winner Mike Richards to fill in as a center on the third or fourth line for the bargain price of a prorated $1 million. Richards has proven to be more than capable at both spots while also helping bolster the Caps' fifth-ranked penalty-killing unit. He has not scored and was a minus-1 in 11 appearances heading into Tuesday's game vs. Los Angeles.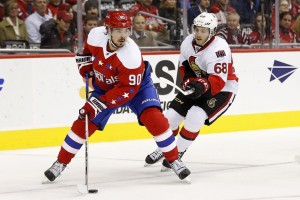 In the meantime Marcus Johansson has dropped down to center the third line, his first stint at center in several years, and the results for his trio – as well as the second line – have been remarkable since that move was made. Bolstered by the emergence of Andre Burakovsky, who had 8-8-16 and was plus-8 in 12 games since Beagle's injury, the second line has been as productive as almost any unit in the league for the past five weeks. Meanwhile Johansson had posted 6-5-11 before facing the Kings and a plus-6 in 12 contests with Beagle sidelined.
So fast-forward a few weeks to the return of Beagle. It seems unlikely that Trotz will tinker with the second or third lines given their recent success. That would leave Laich, Beagle, Latta and Richards as fourth-line options.
As painful as it is for me to write this, from a big-picture perspective, it would make sense for the Caps to dangle Laich at the trade deadline to see if a team that thinks it may be one seasoned veteran away from competing for a championship – or a team that has lost a veteran to injury – would be willing to send a draft pick Washington's way in return for the versatile forward.
Washington likely would have to pick up some of the salary for this move going forward, but creating some cap flexibility and getting that hefty fourth-line price tag off the books certainly would be a welcome relief.
A trade would make perfect sense, but I don't care. Maybe I haven't learned my lesson, but if the Caps were somehow able to finally win that long-awaited Stanley Cup, it would hurt a little bit to know that Brooks Laich was sitting on a couch somewhere watching it.
How much could it hurt to keep this True Capital around a little bit longer to see how this wild 2015-16 ride turns out? And if the fairy tale comes true, then somewhere from the comfort of HIS couch Peter Bondra can know that he had at least a little bit do with the Capitals' first championship.
Then we all can live happily ever after.
A journalism major from the University of Maryland and a published author, Scott graduated summa cum laude from the Maryland College of Journalism in 1991 before pursuing a career in sports that has spanned almost 30 years and includes 15 years working at the NCAA Division I level in sports information and as an Assistant Athletic Director and nearly 10 years working for baseball Hall of Famer Cal Ripken Jr. Scott also served as
a college beat writer for the Baltimore/Washington sports publication Pressbox and Pressbox Online and currently is the Director of Digital Media for MYHockeyRankings.com. His son Devin was drafted by two U.S. Tier 2 junior hockey teams and currently plays NCAA Division III hockey for Suffolk University in Boston. His daughter Sydney plays college lacrosse for Franklin & Marshall in Pennsylvania.