Part II of the 1990 NHL Re-draft starts at the 11th overall pick. In the actual draft this was a major turning point.
The New Jersey Devils owned the pick and the Calgary Flames were enamored with a projected "Superstar Netminder" who was still available. Ironically, the Flames found a willing trade partner in New Jersey GM Lou Lamoriello who traded down to #20 because his scouts had Martin Brodeur rated higher than the potential "Superstar Netminder" the Flames were after- Trevor Kidd.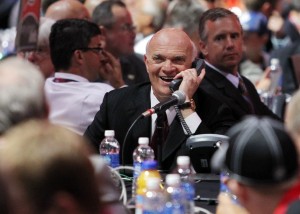 Kidd would parlay the 11th overall pick into a 12 year career but never won more than 22 games in a season. In hindsight Kidd would end up being the 4th or 5th best netminder in the 1990 draft.
A Blockbuster Trade
Another important storyline in the second half of the 1st round was a blockbuster trade between the Buffalo Sabres and Winnipeg Jets. The Jets gave up the face of their franchise in Dale Hawerchuk and the 14th overall pick for one of the best offensive defensemen in the league in Phil Housley, Buffalo's 19th overall pick and forwards Scott Arniel and Jeff Parker.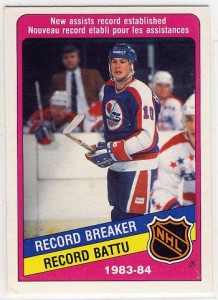 Hawerchuk and Housley would go on to put up big numbers with the Sabres and Jets. Arniel only played one year with the Jets (it was his second stint as a Jet) and Parker never played a game for them. However, the corresponding 1990 picks went on to long NHL careers (Brad May & Keith Tkachuk).
As I mentioned in part I, for 1990 NHL redraft purposes we will keep the teams' picks as they were originally slotted.
1990 NHL Re-Draft Picks 11-16
11. New Jersey
Missing out on Brodeur the Devils decide to hold off on filling their netminder need in round one. Their hope is Mike Dunham will be available in 2nd round. Meanwhile, the Devils select Doug Weight who they scouted in college while keeping tabs on Jim Dowd at Lake Superior State. Weight had 1,033 career points in 1,238 career games.
Actual pick: Trevor Kidd by Calgary via trade
Redraft pick: Doug Weight drafted by NYR 2nd round (34th overall)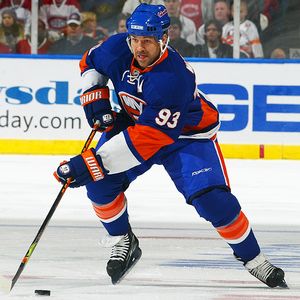 12. Montreal
Looking to add offensive depth the Canadiens have a few options available at this position. They settle on Niagra Falls OHL center Keith Primeau. One of the pre-draft Four Aces, Primeau had a productive career playing for Detroit, Hartford/Carolina and Philadelphia. The mountainous center played 909 games and scored 619 points while also earning 1,541 minutes in penalties.
Actual pick: Turner Stevenson
Redraft pick: Keith Primeau drafted by Det 1st round (3rd overall)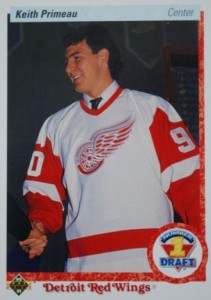 13. New York Rangers
The Rangers picked Michigan State defenseman Michael Stewart who never played a game in the NHL. Hindsight being 20/20 Rangers GM Neil Smith can't pass up Russian center Alexei Zhamnov and his 719 career points in 807 NHL games.
Actual pick; Michael Stewart
Redraft pick: Alexei Zhamnov drafted by Winn 4th round (77th overall)
14. Winnipeg
Post Hawerchuk, and pre Selanne the Jets need offense and Petr Nedved fits the bill. Nedved's production didn't quite match the hype but he still had a strong NHL career with 310 goals and 407 assists in 982 NHL games. The actual #2 overall pick goes at #14 instead.
Actual pick: Brad May by Buffalo via trade
Redraft pick: Petr Nedved drafted by Van 1st round (2nd overall)
15. Hartford
The Whalers went into the 1990 draft targeting center and defense. Yet, instead they drafted winger Mark Greig. In the redraft the Whalers are seeking Czech center Robert Lang. The Whalers used their 10th overall pick the previous year to draft another Czech center Bobby Holik.
Actual pick Mark Greig
Redraft pick: Robert Lang drafted by LA 7th round (133rd overall)
16. Chicago
Former Blackhawks GM Bob Pulford was looking for an offensive defenseman or winger. Given a do-over on the Karl Dykhuis pick, Chicago selects former Legion of Doom winger Mikael Renberg. He would put up 464 points in 661 NHL games.
Actual pick: Karl Dykhuis
Redraft pick: Mikael Renberg drafted by Phi 2nd round (40th overall)
On this date in 1990, #Flyers drafted Mikael Renberg 40th overall.

— Jen (@NHLhistorygirl) June 16, 2015
1990 NHL Re-Draft Picks 17-21
17. Edmonton
The Oilers and Rangers were the only teams whose 1990 first round picks played 0 NHL games. If Edmonton could take back Scott Allison here, Bryan Smolinski would be the choice. A skilled forward from Michigan State, Smolinski put up 651 points in 1,056 career games.
Actual pick: Scott Allison
Redraft pick: Bryan Smolinski drafted by Bos 1st round (21st overall)
Ex-King Bryan Smolinski honored tonight at National Polish-American Sports Hall of Fame Induction Dinner in Troy, MI, w/ @Koznick @rpstoklos

— LAKingsPR (@LAKingsPR) June 18, 2015
18. Vancouver
Having already picked Jagr with the #2 overall redraft pick the Canucks are thrilled to have Mike Ricci falling to them at #18. Ricci played a grinding in your face type of game and still amassed 605 points in 1,099 career NHL games.
Actual pick: Shawn Antoski
Redraft pick: Mike Ricci drafted by Phi 1st round (4th overall)
https://youtu.be/Pe1B8WoY_9U
19. Buffalo
The Sabres originally drafted winger Brad May with the 14th overall pick via trade with Winnipeg. In the redraft they choose to hold their slot and land "Mayday!" at #19. May a hard-nosed grinder played 1,041 games accumulating 2,248 pims to go along with an underwhelming 288 points.
Actual pick: Keith Tkachuk by Winnipeg via trade
Redraft pick: Brad May drafted by Buf 1st round (14th overall)
https://youtu.be/otGhTszcS3s
20. Calgary
As mentioned above the actual pick was traded to New Jersey. In the redraft the Flames will pass on Trevor Kidd and draft center Craig Conroy. The Northwood Prep, NY native would go on to an NHL career spanning 1,009 games and scoring 542 points.
Actual pick: Martin Brodeur by NJD via trade
Redraft pick: Craig Conroy drafted by Mon 6th round (123rd overall)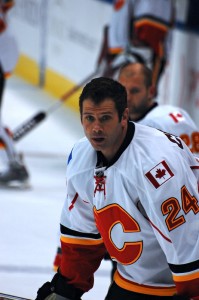 21. Boston
After an animated discussion at their redraft table, the Bruins chose all-purpose center Sergei Nemchinov a two-time Stanley Cup winner (NYR & NJ) over winger Geoff Sanderson.
Actual pick: Bryan Smolinski
Redraft pick: Sergei Nemchinov drafted by NYR 12th round (244 overall)
1990 NHL Re-draft Round 2
We'll leave the remaining redraft rounds to your imagination. However, I will let you know the following 17 players would be drafted in my 1990 NHL Re-draft 2nd round:
Geoff Sanderson, Andrei Kovalenko, Chris Simon, Valeri Zelepukin, Trevor Kidd, Mike Dunham, Turner Stevenson, Jaroslav Modry, Jiri Slegr, Ken Klee, Jason York, Richard Smehlik, Chris Therien, Drake Berehowsky Gino Odjick, Roman Turek and Karl Dykhuis.
Tell us who you wish your team drafted?