Scouting future hockey stars remains primarily an art given that there is no guaranteed scientific test to identify the perfect fusion of skill, character and drive. Beyond on ice observations, scouting teams have implemented thorough physical and psychological testing using modern day methods to assess the many qualities experts deem admirable in the make-up of top hockey prospects. When it comes to the art of scouting, there has remained one characteristic that teams covet to help measure the potential that rests inside the souls of these budding players as extra value is placed on strong hockey bloodlines.
The passing of genetic makeup from one generation to the next does not guarantee hockey success as many previous examples can attest. Brent and Keith, brothers of the legendary Wayne Gretzky, never established themselves as NHL regulars after being drafted in the third round. Eric and Brett Lindros shared several similar traits including size, first round draft pedigree and, unfortunately, a history of concussions that shortened both of their careers. However, Brett was drafted ninth overall by the Islanders despite posting a modest 79 points in 72 major junior games that spanned over three shortened OHL seasons. In hindsight, New York's decision to use a high draft pick on a prospect with good bloodlines and a history of injuries certainly backfired.
Assessing draft-eligible players based on their hockey lineage does not always pan out but there are several excellent examples that almost seem foolproof. The 'Sutter' family pipeline has been pumping out NHL prospects with regularity over that past several decades including six brothers who reached the NHL in Brent, Brian, Darryl, Duane, Rich and Ron. Ironically, the seventh brother, Gary who never pursued a career in hockey but rather stayed home to help the family farm, was said to be the most talented hockey player of the entire family. With over 5000 games played plus countless others coaching, the Sutter fraternity has continued to pass on their hockey genes to the next generation as Shaun, Brett, Brandon and Brody, sons of the Sutter clan, have since been drafted into the NHL. Father and son duo Bobby and Brett Hull, brothers Tony and Phil Esposito and small-town farm boys Mark and Dale Hunter all shared success at hockey's highest level of competition.
On Friday, June 22nd at Pittsburgh's Console Energy Center, hockey will welcome the next crop of NHL drafted players and this year's class is chalked full of hockey bloodlines including several that are projected to be taken inside the first round.
Following in the footsteps of his father, Paul, and older brother, Maxwell, Edmonton Oil Kings' defenseman Griffin Reinhart is aiming to become the next Reinhart to don an NHL jersey. Drafted 12th overall in 1979, Paul Reinhart played nine seasons with the Calgary Flames before finishing his career as a member of the Vancouver Canucks in his final two seasons. Griffin's dad Paul posted 560 points in a lengthy 648 NHL games and now it's the sons turn to show off his offensive skills hoping to best his father's 12th overall selection in 2012. Paul's eldest son, Max, was drafted 64th overall in 2010 by his Calgary Flames and youngest son, Sam, aims to become a top selection in the 2014 NHL Entry Draft.
The aforementioned Sutter family will celebrate another addition to the National Hockey League in 2012 as Lukas Sutter, son of Rich, is a hard working gritty scorer competing in the traditional Sutter-way for the WHL's Saskatoon Blades. Father Rich played for seven teams including Toronto, Tampa Bay, Chicago, St. Louis, Vancouver, Philadelphia and Pittsburgh, who drafted him 10th overall in 1982, registering 315 points and 1411 penalty minutes in 874 NHL contests. Rich has also served as a scout for the Minnesota Wild and Phoenix Coyotes adding to the list of teams that may be interested in his son Lukas' services.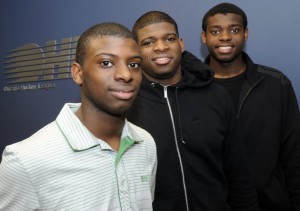 As one of the more recent emerging hockey families, Montreal Canadiens' outgoing defenseman PK (Pernell Karl) Subban is eager to see his younger brother, Malcolm Subban, drafted into the NHL. Defending the crease in Belleville, Malcolm Subban could potentially become the first goaltender selected in 2012 after finishing among the OHL's league leaders in goaltending statistics. Malcolm is the middle child of three standout Subban hockey players that have all donned the Belleville Bulls' jersey. The oldest Subban, PK, was drafted 43rd overall in 2007 and will be entering his third full season of NHL action. Jordan is the youngest and has as much, or more, potential playing as a defenseman as he continues prepares himself for the 2013 NHL Entry Draft.
Henrik Samuelsson left the US National Training Development Program to join his father and former NHL defenseman Ulf in Sweden where Henrik suited up for the legendary Modo ice hockey team. Henrik played sparingly for Modo in the Elitserien league posting a mere two points in 15 games before deciding to head back to North America to join the Edmonton Oil Kings, a team he would experience good success with. Henrik is a big skilled power forward that plays on the edge of insanity, much like his father Ulf did, as the younger Samuelsson was the recipient of four suspensions in his shortened WHL season. No stranger to the 'dirty play' either, Ulf Samuelsson was a 16-year NHL defenseman playing in over 1000 games for five teams (Hartford, Pittsburgh, New York Rangers, Detroit and Philadelphia) gooning his way to 2453 penalty minutes. With ties to the Phoenix Coyotes as their former Assistant Coach, watch Henrik closely when Don Maloney steps up to the podium to announce his selections.
American power forward Stefan Matteau is the offspring of New York Rangers' hero Stephane Matteau, the 25th overall selection of the Flames in 1987, who went on to score the 1994 Stanley Cup winning goal for the Rangers. Like his father Stephane, Stefan shares a similar big-bodied stature and plays a physical game thriving in front of the net with his quick hands. The elder Matteau enjoyed a healthy NHL career that continued well over a decade. With the Rangers' owning a late first round selection, will the franchise pay homage to the Matteau family by drafting Stefan into the Rangers' organization?
Over twenty years ago, St. Louis offered Philippe Bozon, a hockey player excelling in France, an opportunity to suit up in a Blues' jersey for nine games. In three seasons competing in 144 games, Philippe posted 41 points as a member of the St. Louis Blues fulfilling his dream of playing in the National Hockey League. It is now time for his son, Timothé Bozon, to realize his goals of being drafted into the NHL after deciding to chase his dream to North America by suiting up with the Kamloops Blazers. In his first WHL season, Bozon impressed scouts scoring at a point-per-game pace (71 points) all while showing great two-way ability.
The second Belleville Bull on this list, Brendan Gaunce, turns to the leadership and experience of his older brother Cameron as he prepares himself for a potential first round selection. The Colorado Avalanche called out Cameron Gaunce's name at the 2008 NHL Entry Draft as they announced him as the 50th overall selection. Cameron has shown strong development playing for the Lake Erie Monsters of the American Hockey League and has earned a handful of NHL appearances playing for the Avalanche. Much like his brother, Brendan Gaunce has shown a commitment to fitness enrolling in Gary Roberts' famous hockey-focused training program. His work ethic, strong two-way play and leadership qualities have him slated to develop into one of the best two-way centerman of the 2012 draft.
Graduating from the illustrious Shattuck St. Mary's Prep program in 2008 after being selected 51st overall, Derek Stepan has made an enviable climb to become an NHL regular. Sharing the same last name as Derek is cousin Zach Stepan, another successful Shattuck St. Mary's alum ready to make his ascent into the NHL. Zach struggled to improve his production in his second season at Shattuck's but his skating, willingness to battle and commitment to the defensive game will see him drafted into the NHL, albeit with less upside than his cousin.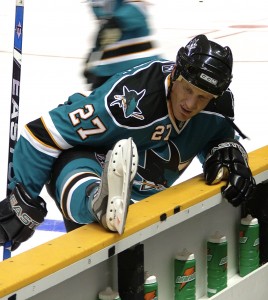 The 2012 NHL Combine witnessed Chris Calnan of Nobles High School dominate several testing portions grabbing the attention of NHL teams with his 14 top-ten placements. Calnan is a Boston College commit and under the watchful eye of his uncle and former Blackhawks favourite, Jeremy Roenick, his development should be in good hands. The outspoken Jeremy Roenick had an impressive twenty year NHL career after being drafted 8th overall in 1988. Roenick's 1216 points and 1463 penalty minutes in a remarkable 1363 NHL games earned him an induction into the United States Hockey Hall of Fame in 2010.
Underrated and underappreciated defenseman Adam Pelechis quietly garnering first round consideration after playing big minutes on a last place Erie Otters' team.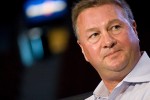 He possesses the defensive awareness and strong heads-up play that teams covet in a shutdown defenseman. With Vancouver Canucks' GM Mike Gillis holding a late first round selection, he could surprise many by adding Adam Pelech, who is also Gillis' nephew. Adam's two older brothers, Matt and Michael, have already been drafted into the NHL by Calgary and Los Angeles, respectively.
Defenseman Calle Andersson is the 15th ranked European skater and his swift puck moving game has many believing that he can best his father's, Peter, fourth round selection (73rd overall) in 1983 by the Rangers. Peter was unable to earn full-time NHL status at the NHL level but his 19 points in 47 games as a defenseman provided him with the experience to complete a long successful Elitserien career earning several individual scoring awards and team championships.
Located three spots down on NHL Central Scouting's European Ranks is Swedish rearguard Christian Djoos, a defenseman who played in front of top goaltending prospect Oscar Dansk. In 1986, the Detroit Red Wings used their 7th round selection to grab Christian's father, Pär, 127th overall. Pär Djoos donned the winged wheel in Motor City appearing in 26 games before moving on to the New York Rangers. Pär Djoos' stay in North America was short lived as he returned to Sweden after parts of three NHL seasons. Pär had a long Elitserien career playing for Brynäs, the same hockey program that is currently developing his son in preparation for the 2012 NHL draft.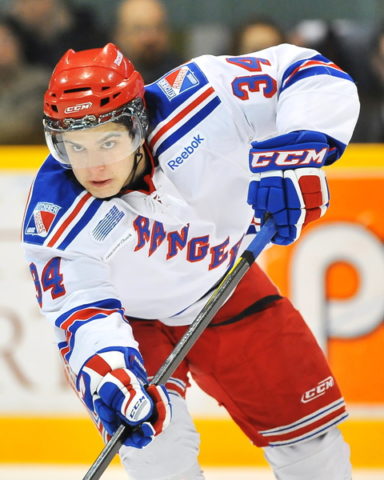 The next group of draft-eligible players with strong NHL bloodlines that could cause NHL teams to bite with a late round selection include defensemen Alex Gudbranson (Panthers' prospect Erik Gudbranson's younger brother), Max Iafrate (son of hard-shooting Leafs' and Capitals' defenseman Al Iafrate) and winger Chase Hatcher (son of longtime Dallas Stars defenseman Derian Hatcher). While Erik Gudbranson (Florida 3rd overall, 2010), Al Iafrate (Toronto 4th overall, 1984) and Derian Hatcher (Minnesota 8th overall, 1990) were all high selections in their respective draft class, this next group will be working hard to prove their worth as mid-to-late round selections.
Scanning the draft rankings for potential draftees unveils several other notable players with hockey connections. San Jose Sharks' 2nd round selection in 2006, Jamie McGinn, and Philadelphia Flyers' 4th round selection in 2010, Tye McGinn, will be rooting for their younger brother, Brock McGinn, as he hopes his 49th North American skater ranking by NHL Central Scouting earns him a place among the two-hundred-plus drafted prospects.
The 111th ranked North American skater, Kristoff Kontos, joined the Mississauga St. Michael's Majors team midway through his draft year totalling 43 points in 63 games. His father, Chris, was a 15th overall selection of the New York Rangers in 1982 and enjoyed an intermittent NHL career scoring 123 NHL points for four different squads (Rangers, Penguins, Kings, and Lightning). Undoubtedly, overage forwards Tanner Richard and Jimmy Vesey have heard the pride radiate from their fathers' (Mike Richard and Jim Vesey) stories of the their brief NHL stints and hope that they can build upon their family's success at the NHL level.
Sharing the same name, Lou Nanne a ten year Minnesota North Stars defenseman turned General Manager will be encouraging his son Lou Jr., a point-per-game high school winger with the potential to become a late round selection to keep his spirits high as the draft unfolds.
Another NHL trouper, New York Islander drafted David Volek enjoyed a six-year NHL career as a productive winger (249 points in 396 games) and hopes that all of the preparation his son, Dominik Volek, has put forth pays off come draft weekend.
Six-foot-two defenseman Tim Boyle of Nobles High School knows that he lacks the size his older brother Brian possesses and understands that he will not be selected in the first round by the Rangers, like his brother was. As one of thirteen siblings, Tim holds hope that he can join his older brother as the second member drafted into the NHL.
Former Tampa Bay Lightning co-owner and WHL player, Oren Koules is proud of his son Miles Koules, regardless of whether an NHL team steps up to draft the 201st ranked North American skater or not. Miles Koules will be taking his skill set to the Medicine Hat Tigers next season, the same team that his father suited up for.
Whether your NHL family ties are from an uncle, father, cousin or brother, the tradition of drafting players with NHL bloodlines will continue to exist as hockey is a game that is learned through successes and failures. Through these learning experiences, good or bad, the future of hockey can use their predecessor's knowledge to develop their own game to the best reach their potential. NHL draft history reveals several high profiled hockey families as the Howes, Mahovlichs, Sutters, Staals, Sedins and Statsnys have us all feeling good for drafting strong hockey names.
Come Friday, as the 2012 draft board fills up with names from around world, regardless of whether the names originated from deep hockey heritage, the parents and families of the drafted players will be beaming with pride as their sons take the next step in reaching the ultimate goal – playing in the NHL. If you feel inclined to do so, please follow @RossyYoungblood on twitter as he continues to provide 2012 NHL Draft coverage.