With the 2014 NHL Entry Draft almost upon us, hockey fans have undoubtedly already caught up with all of the big names that could be selected on Friday and Saturday. Be it a forward, defenseman, or goaltender, there are definitely several players that fans probably have their eyes on in the hopes that their favorite team selects them when the draft proceedings begin on Friday night.
From Aaron Ekblad to Samuel Bennett to Haydn Fleury, there will certainly be no shortage of skaters that teams can select from, and just as there are a good amount of skaters to choose from there will also be quite a formidable goalie class. Over the last couple of seasons, players such as Andrei Vasilevski and Zach Fucale have been selected as netminders that could potentially make an impact in their respective team's crease in the near future, and such a trend isn't likely to be discontinued during this draft year.
The Masked Men
10.) Kasimir Kaskisuo (Minnesota Wilderness – NAHL)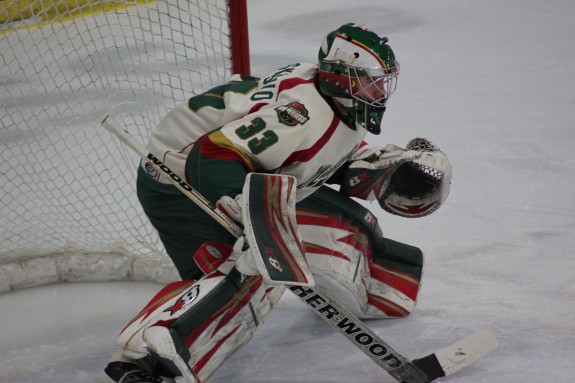 Kaskisuo might be an odd choice to see at number ten overall on this list, but the goalie played lights out hockey in his first season in North America. Kaskisuo is 20 years old, so he has a good two or three years on some of the draft-eligible goalies of his class, and his added experience might be a benefit to him at this year's draft.
In 32 games played with the Minnesota Wilderness, Kaskisuo registered a 1.48 GAA and .944 Save Percentage – pretty impressive statistics for someone that had never played a game in North America during their hockey career. Fellow NAHL (North American Hockey League) goalies Chase Perry and Logan Halladay also had excellent seasons for their respective teams, but Kaskisuo might just be a more seasoned goalie at this point in time than his fellow draft hopefuls.
Of course, age is but a number, but Kaskisuo possesses the technical skills necessary to be successful in professional hockey. With a commitment to play for the University of Minnesota-Duluth next season, Kaskisuo will continue to hone his skills in North America, and if his transition to hockey overseas has been any indicator of his abilities, then he shouldn't have any problems adapting to his new surroundings.
9.) Kaapo Kahkonen (Blues U20 – Jr. A SM-liiga/Blues – Liiga)
For a 17 year old, Kaapo Kahkonen sure has quite a resume to back him up. Playing in the Finnish developmental leagues, Kahkonen has appeared in a number of international tournaments and has progressed steadily through the Jr. C and Jr. B SM-Sarja, and Jr. A SM-liiga ranks since the 2011-2012 hockey season.
Kahkonen spent last season in the Jr. A SM-liiga and recorded a .912 Save Percentage in 38 games played. Even though Kahkonen might not have had the best showing statistically on the international stage, the goalie appeared in 20 international contests for Finland's U18 teams – something that shows the amount of confidence placed in the young goalie.
At 6′ 1.5″, Kahkonen might be a tad bit smaller than some of the goalies in his draft class, but that certainly doesn't stop the netminder from challenging shooters. Possessing good lateral movements, glove and blocker hands, and a knack for excelling when seeing a lot of shots, Kahkonen is definitely one of the stronger international netminders that will be available at this year's draft.
8.) Edwin Minney (U.S. National U18 Team – USDP)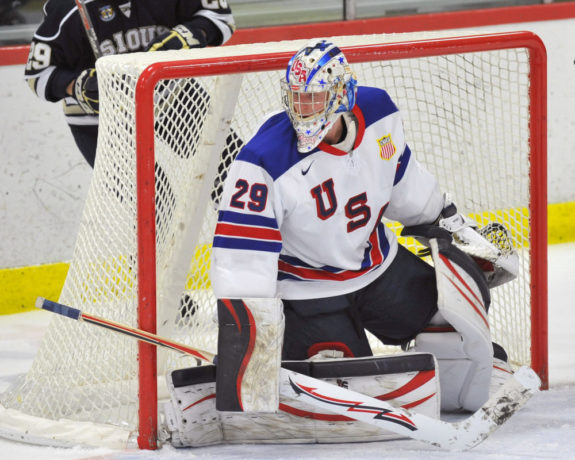 Standing tall at over 6′ 4″, Edwin Minney is a goalie that you literally cannot miss. Playing for the USNTDP and U.S. National U18 Team, Minney showed an immense amount of improvement in U18 play as he appeared in 17 USHL games (2.63 GAA, .905 Save Percentage) and 38 USDP games (2.63 GAA, .900 Save Percentage).
Not only does Minney have the size that NHL teams are looking for when drafting a young netminder, he also has good athleticism and mobility to complement his natural size. With Minney slated to join the University of Michigan for the '14-'15 hockey season, the goalie will have a chance to expand on his experiences outside of the USHL and USDP.
For a bigger goalie, Minney moves around the crease with a good amount of efficiency and covers the lower portion of the net very well. Playing a calm and collected game, Minney will definitely be a prospect worth monitoring during the draft weekend.
7.) Brent Moran (Niagara IceDogs – OHL)
Sure, Brent Moran's numbers (3.85 GAA, .891 Save Percentage) during the '13-'14 OHL season might have been sub-par by many fans' estimations, but that wouldn't be doing the netminder much justice. While Moran might be a little bit shorter (6′ 3.5″) than fellow draft hopefuls such as Thatcher Demko, Mason McDonald, and Edwin Minney, his technical skills are on par with the rest of the goalies in the 2014 draft class.
Despite not having the best peripheral statistics this past OHL season, fans must remember that the IceDogs are going through a rebuild, and that Moran might not have received the best coverage and protection that other goalies in the OHL were privileged to. Perhaps Moran's best indicator of his potential occurred during the OHL playoffs as the goalie played in all seven of Niagara's playoff contests and stepped up his game to another level as he amassed a 2.86 GAA and .921 Save Percentage.
Moran might not have the added benefit of having his numbers speak volumes about his play or potential, but he is certainly a goalie to keep an eye on this year as he could very well be selected during the mid-to-late stages of the NHL Entry Draft.
6.) Jonas Johansson (Brynas J20 – SuperElit/Brynas – SHL)
Out of the top ten (CSS-ranked) international netminders, Jonas Johansson is the tallest one of the bunch (6′ 3.75″), and much like the other goalies mentioned on this list Johansson can certainly move well for someone of his size. With good reaction time, mobility, and an ability to read plays well, Johansson is one of the top Swedish netminders available at this year's draft.
Having progressed through the J18 Allsvenskan and the SuperElit leagues as a developing goalie, all signs point to Johansson playing in the SHL next year with Brynas. Last season, Johansson appeared in both the SHL (4 GP, 2.96 GAA, .914 Save Percentage) and SuperElit (23 GP, 2.32 GAA, .911 Save Percentage) leagues and represented Sweden's U20 team in three games of international play.
Much like Kaapo Kahkonen, Johansson has been heavily relied upon during international competitions and has not failed to produce results for his national team. Receiving CSS's number two overall ranking out of international goalies, Johansson might be one of the first international goalies selected at this year's proceedings as he has all of the requisite skills and components to be a force in the NHL several years down the line.
5.) Linus Soderstrom (Djurgarden J20 – SuperElit/Djurgarden – SHL)
While Jonas Johansson has been tabbed for many starts on the international stage for Sweden, Linus Soderstrom certainly isn't any different. Not only has the 17 year old goalie put up tremendous numbers during his tenure in the J18 Allsvenskan and SuperElit, but he has stood out on the international stage on a number of occasions.
Last season, Soderstrom appeared in 23 games in the SuperElit league and compiled a 2.61 GAA and .915 Save Percentage. Add in the fact that Soderstrom also appeared in 12 international games for Sweden's U18 teams, and it was plain to see that the netminder had quite a workload which he excelled in while under a considerable amount of pressure.
Soderstrom might just split next season between the SuperElit and SHL, but if his track record is any indicator of his abilities, then the goalie should have no problem adjusting to play in the SHL. Although fellow Swedish netminder Jonas Johansson was ranked one spot above Soderstrom in the CSS rankings for international goalies, Soderstrom is still one of the top European goaltenders that will draw a fair amount of attention at this year's proceedings.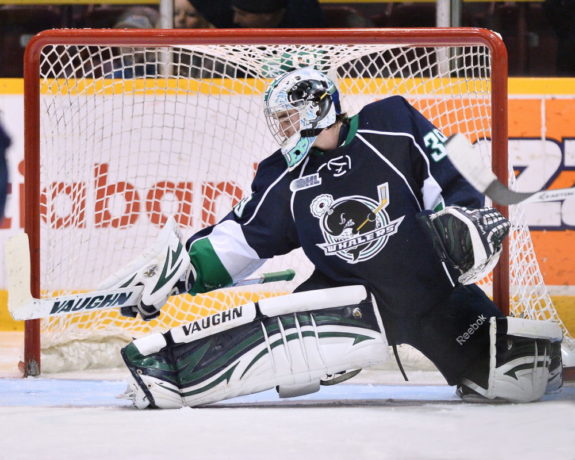 While he might be shorter (5′ 11.75″) than the other goalies in his draft class, Alex Nedeljkovic possesses all of the elements necessary to become a number one starting goalie in the NHL one day. Technically, mentally, and physically sound, Nedeljkovic makes up for his lack of height with every other aspect of his game.
Excellent positioning, reading the puck well, and remaining cool and collected are some of the biggest parts of Nedeljkovic's game – and they certainly got him noticed after he took over starting duties for the Plymouth Whalers during the midway point of the '12-'13 OHL season. Nedeljkovic put up some impressive stats (26 GP, 2.28 GAA, .923 Save Percentage) when he took over starting duties during the '12-'13 hockey season, and he definitely transcended that level of play in his first full season as the Whalers' starting goalie during this past OHL season.
Playing in a whopping 61 games for the Whalers, Nedeljkovic recorded a 2.88 GAA and .925 Save Percentage en route to a spectacular season in Plymouth. Seeing as how Nedeljkovic demonstrated that he could adjust to his settings on the fly and still produce excellent results, there will undoubtedly be an immense amount of interest for the American goalie.
Despite the fact that he was passed over at last year's NHL Draft, Ville Husso played amazing hockey all throughout the '13-'14 SM-liiga season. Husso played to the tune of a 1.99 GAA and .923 Save Percentage in 41 regular season games for HIFK and added to his impressive regular season showing by playing in two playoff contests in which he had a 1.25 GAA and .925 Save Percentage.
Husso's track record speaks for itself, and there is no doubting the fact that the Finnish netminder has done a fair amount of work in order to finally be selected this year. Standing at 6′ 3″ tall and weighing in at around 205 lbs., Husso has definitely filled out his frame for a developing goalie.
Much like Kasimir Kaskisuo, Husso is an older goalie, but older doesn't necessarily mean that the netminder will be less attractive to NHL teams. With the added benefit of playing a full season in the SM-liiga, Husso has positioned himself quite nicely to be the first international netminder selected at the 2014 NHL Entry Draft.
2.) Mason McDonald (Charlottetown Islanders – QMJHL)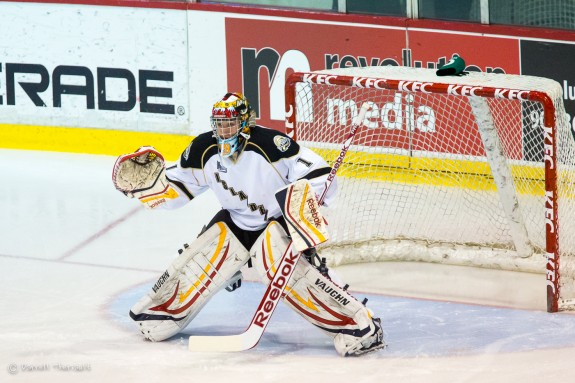 One might take a look at Mason McDonald's overall statistics from the '13-'14 QMJHL season and not be impressed, but there is certainly more than meets the eye when it comes to the Canadian netminder. McDonald split the '13-'14 QMJHL season with the Acadie-Bathurst Titan and the Charlottetown Islanders as he was part of a mid-season trade that undoubtedly helped his draft stock.
McDonald was putting up some pretty respectable numbers for Acadie-Bathurst (13 GP, 3.57 GAA, .887 Save Percentage) in an offensively-charged Quebec Major Junior Hockey League, but after being traded to Charlottetown McDonald's numbers saw a drastic improvement (16 GP, 3.35 GAA, .907 Save Percentage) as he was given a steady amount of playing time for the Islanders.
Although McDonald did not fare well in the QMJHL playoffs, he stood out (6 GP, 1.94 GAA, .930 Save Percentage) in international play as a member of Canada's U18 team at the WJC-18. Similar to many of the other top ranked North American and International goalies, McDonald has the height (6′ 4″) that NHL teams are looking for – and it wouldn't be surprising to see McDonald as one of the first few goalies selected at this year's proceedings.
1.) Thatcher Demko (Boston College – Hockey East)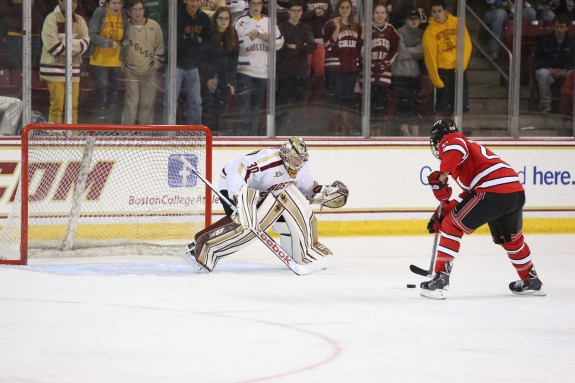 Thatcher Demko retained the number one CSS ranking for North American netminders when the scouting service released their final rankings in early April, and it was definitely for a good reason. Playing in the NCAA, Demko appeared in 24 games for the Boston College Eagles and compiled an impressive stat-line (2.24 GAA, .919 Save Percentage) for someone in their rookie year in a tough Hockey East conference.
Demko, like McDonald, Moran, and Minney is among the taller goalies available for selection at this years draft, and there is little doubt that Demko has refined many elements of his game thus far in his young career. Not only has Demko shone during his play in the states, he has also played some competitive international hockey as a member of Team USA – particularly at the WJC-18.
Demko was also selected to the 2014 World Junior Hockey Championship roster for Team USA, but he did not get a chance to play as Jon Gillies and Anthony Stolarz were the number one and two goalies at the tournament, respectively. Demko should have no problem being selected at this year's draft, and more likely than not he will be the first goaltender selected this year.
In his third year with The Hockey Writers, Toli covers all things related to the New York Islanders. Focusing on the Islanders, the NHL Draft & draft-eligible prospect goalies, and hockey history, Toli can be contacted on Facebook by searching/messaging Toli Metter and on twitter by searching @ToliMetterTHW.