With the 14th pick in the 2020 NHL Entry Level Draft, the Edmonton Oilers have selected Dylan Holloway from the Wisconsin Badgers.
About Dylan Holloway
Dylan Holloway has the potential to be a boom-or-bust selection for the Edmonton Oilers. As a true power forward with a great scoring toolkit, he dominated while playing for the Okotoks Oilers of the AJHL back in 2018-19, posting 40 goals and 88 points in 53 games.
For the 2019-20 season, he started playing for the Wisconsin Badgers and looked decidedly more human. In 35 games he posted just eight goals and 17 points with a stacked Badgers team. However, despite this slow start as a freshman, he is in a great position to grow his game over the next few years in Wisconsin.
THW Prospect Profile Excerpt
After recording 40 goals and 88 points as a rookie for the Okotoks Oilers of the Alberta Junior Hockey League, we knew there was going to be great things in store for Dylan Holloway ahead of his draft year.
Related: 2020 NHL Draft Guide
Despite trying to play a high-octane offensive game with a physical element, Holloway isn't finding the success many expected him to have in his freshman season at the University of Wisconsin. With names like Cole Caufield and Alex Turcotte, who were among the team leaders in scoring (first and third respectively) Holloway was expected to be a big-time producer with the top-end talent the team already has. 
With 17 points in 35 games, there's no doubt that there is room for improvement. However, being coached and guided by Tony Granato, Holloway is sure to find his offensive production and will continue to develop in other aspects of the game. 
Holloway's vision and decision-making away from the puck is still what makes him a top prospect and a complete player overall, one that general managers and scouts would love to see. He's always engaged in puck battles and never backs down when challenging the opposition. Once the offensive production starts to be more consistent, then that will be another aspect of his game that makes him a complete threat.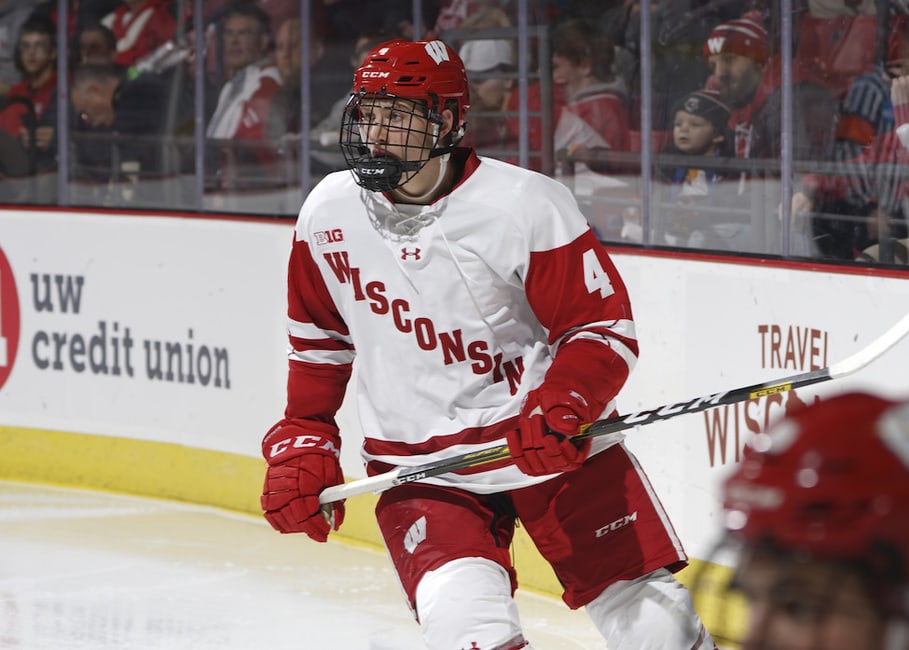 His speed is a major asset as it was one of the standout qualities that landed him a spot on Team Canada's World Junior Selection Camp roster. Throughout the process, Holloway's quick and smooth stride made him hard to contain. In addition, his attention to detail on the defensive side and ability to battle for the puck is real strong quality. Even though the points are lacking, his defensive game is what may make him an attractive target for teams selecting in the mid-first round.
Continue reading the full player profile here
How This Affects the Oilers Plans
Holloway is a perfect player to slot into Edmonton's prospect pool. While he has the size, hockey IQ, and skating ability of a top-six forward, he will need some time to develop the scoring aspects of his game.
With this in mind, it seems unlikely that Holloway will make an immediate impact on the Oiler's line-up. While there's always a chance he makes a case out of training camp, more than likely he will need at least one to two more seasons playing in Wisconsin before he will be ready to take on NHL ice-time.
If they are willing to take the time to let him develop, however, Edmonton could have a real stud power forward on their hands.