With the 12th Pick in the 2020 NHL Entry Draft, the Florida Panthers Have Selected Anton Lundell From HIFK of the Finnish Elite League.
About Anton Lundell
Though not the flashiest player in this year's draft, Lundell is considered one of the most well-rounded and NHL-ready prospects available. Thanks to his size, vision, and hockey IQ, he is a terrific two-way player who reads the game exceptionally well for his age. With 10 goals and 28 points in 44 games for HIFK last season, it's clear that the 6-foot-1 centre is already more than capable of competing at the pro level.
THW Prospect Profile Excerpt
"As Finland's top prospect in the upcoming NHL Entry Draft, Anton Lundell is perhaps the most well-rounded player available. But despite his high draft ranking and impressive track record, Lundell remains a puzzling player, at least for some pundits.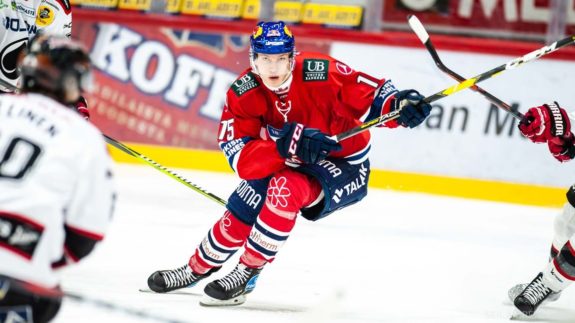 The 6-foot-1 centre is currently having a strong year for HIFK of the Finnish Liiga, having posted 10 goals and 18 assists for a total of 28 points through 44 games. He's backed up that strong production with equally impressive underlying numbers (his 62.8 percent Corsi for leads HIFK), suggesting that he's been dominant in every zone. The production was there for Lundell last season, too, as he tallied 9 goals and 19 points in 38 games for HIFK as a 17-year-old. To put up these kinds of numbers in a pro league playing against men is no small feat, which is why he's caught the eye of so many scouts.
Related: 2020 NHL Draft Guide
When you watch Lundell play, there are a couple of things that stand out almost immediately. First and foremost, he seems to always be in the right spot at the right time. He's not the fleetest of foot (though he skates well enough), but he uses his excellent hockey sense and anticipation to read the play. He often scores goals by getting to the open space at just the right time, and he consistently makes quick, smart passes to set up his teammates.
With his relatively strong frame, Lundell excels down low in the cycle, always making intelligent plays to maintain possession for his team. The positional awareness and poise that he possesses are exceedingly rare to see from such a young player, which is why he is considered to be a relatively 'safe' pick — a near guarantee to develop into at least a second-line centre in the NHL."
Full player profile can be found here
How This Affects the Panthers' Plans
The Florida Panthers have got a solid one-two punch up front led by Aleksander Barkov and Jonathan Huberdeau, but they've got some sizable holes to fill especially at centre, which is where Lundell fits in perfectly. Already playing in his third season of professional hockey, the Finnish centre will likely be ready to step into the NHL as soon as the 2020-21 season, assuming his current club allows it.
---
---