The 2020 NHL Entry Draft is rich with elite talent, though most of the top players are not American born, which is different from 2019 when seven Americans were taken in the top-15. Beyond Jake Sanderson, who is ranked 11th on Colin Cudmore's list (with a range of 7-17), there isn't a lot of top-end American talent this year. However, some very talented skaters may have been underrated.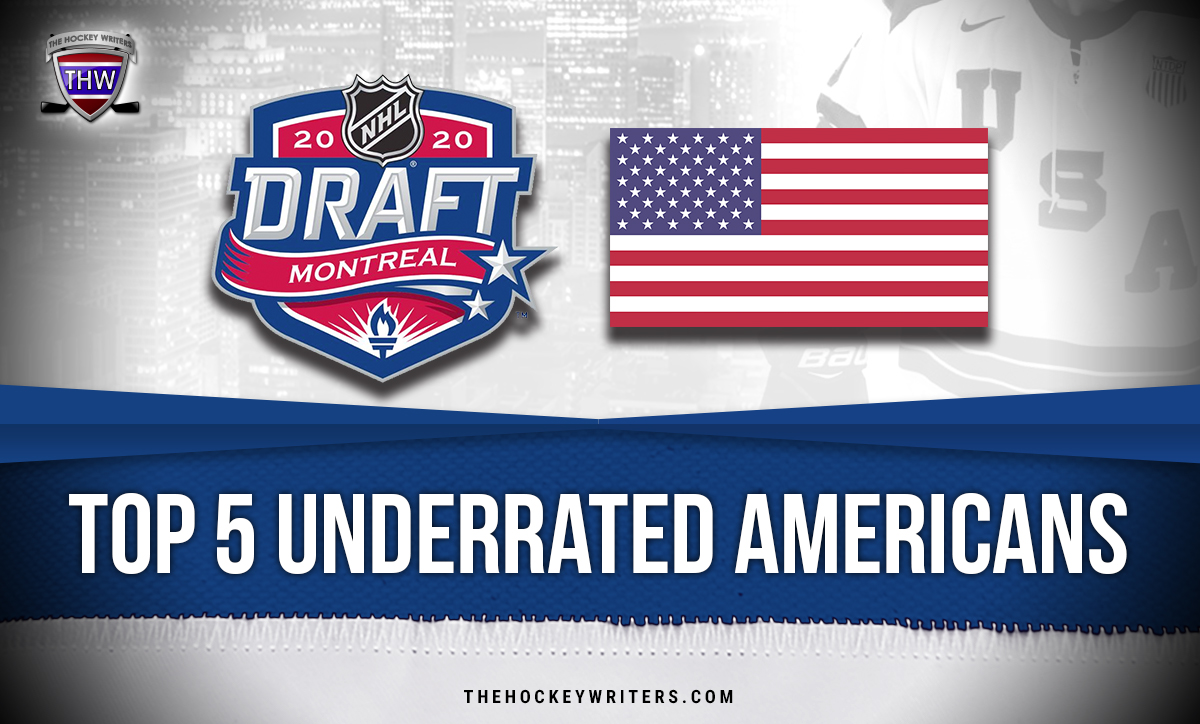 This is a list of skaters who should probably go higher than where they are ranked. I've used Cudmore's list as well as The Hockey Writers' own Larry Fisher and Josh Bell rankings which will be compared to data from Hockey Prospecting, which ranks both the star potential of the player and their likelihood of playing in the NHL. An offensive star is a forward with a career points-per-game mark of .7 and a defenseman with .45.
Related: Re-Doing the 2005 NHL Draft
Many of these players will be from the United States Hockey League (USHL), which is considered less competitive than other junior leagues. In fact, in a recent article by Katerina Wu from Hockey Graphs, the USHL was behind the OHL, NCAA, WHL, and QMJHL in terms of scoring difficulty. The USHL is the most under scouted league according to Elite Prospects editor-in-chief JD Burke (personal communication via Twitter on Sept. 19, 2020). These factors make the USHL ripe with undervalued talent.
Here are the top 5 underrated American-born players in the 2020 NHL Draft.
5. Sam Colangelo (RW, USA, Chicago USHL)
6-foot-2 / 205 lbs, born Dec. 26, 2001
Rankings:

44th by Fisher
59th by Bell
49th by Cudmore with a range of 35-76
Sam Colangelo's inclusion on this list may be a surprise as he is fairly highly ranked by a number of sources, but I am going to argue it isn't high enough. He is tied for 11th in star potential at 27% with Tyson Foerster, Tim Stuzle, Maxim Beryozkin, Mavrik Borque, Jack Quinn, Brendan Brisson, and Dmitri Sheshin. He also has a 55% chance of becoming an NHLer.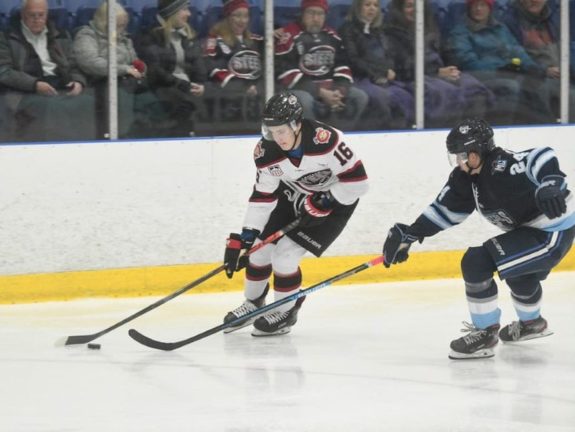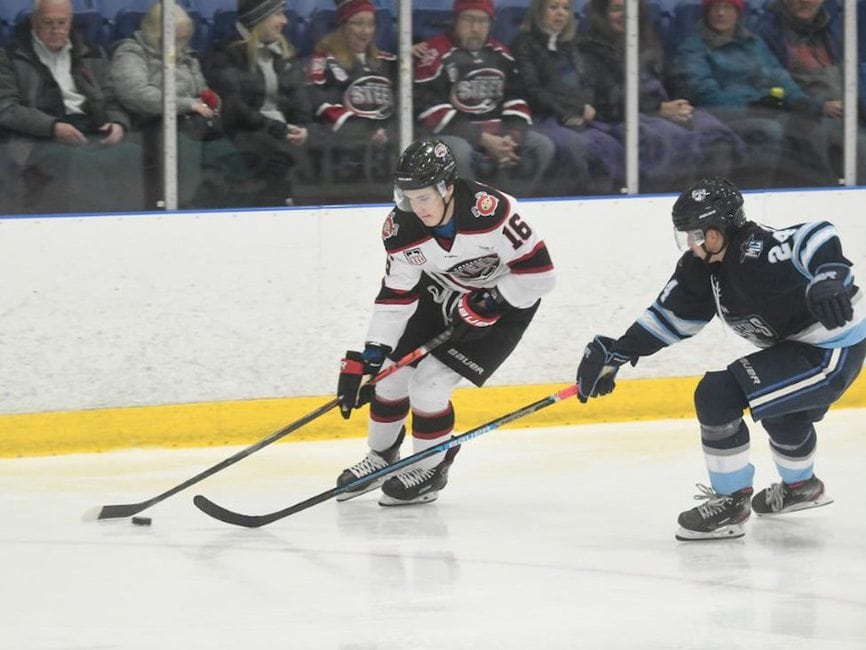 Most of those players are consensus first-rounders, and Stuzle is generally considered a top-five talent. For the rest of the players with 27% star potential, I've covered the reasons why the Russians are faded in rankings, but the others roughly ranked in the top 20 are the Americans who play in the USHL. The lack of scouting in the USHL likely explains why these Americans are so low in the rankings.
Colangelo has a lot of skills that would translate well to the NHL. His best assets are his vision and hockey sense but he also has a great pass and a good shot. The knock on him is his skating. His stride is a bit awkward and he doesn't generate a lot of power. It has improved slightly over time, but he still has a long way to go before he can be considered NHL-ready.
I reached out to Cameron Robinson, director of film scouting at Elite Prospects and managing editor at Dobber Prospects to find out his take on Colangelo's skating: "A couple of red flags really hold him back," Robinson said. "Big, physical winger who could manhandle the teenaged competition. Was supported by Brisson and a stacked Chicago Steel squad and of course, skating is below par."

Despite his flaws, Colangelo reminds me of back-to-back Stanley Cup champion Pat Maroon. Maroon is not a great skater, but has decent puck skills and is a physical power forward. Robinson believes Colangelo's comparable could be Maroon if his development progresses positively. He will never reach his potential if he doesn't continue to improve his skating, but there is hope if he does.
I could have put Brisson in this spot, but most rankings have him as a mid- to late first-round, which is about right in my estimation. It is also difficult to separate the Steel players Colangelo, Brisson, and Sean Farrell. The three dominated together and made each other better. But how well do they play apart and which of them is the driver and who are the passengers?
I reached out to Dobber Prospects scout, Clare McManus, who specifically covers the USHL. She doesn't believe Colangelo's skating is as big of an issue and compared his situation to Quinn and Marco Rossi who starred for the Ottawa 67's together and are both considered first-round talents on their own. She agrees that Quinn is talented, independent of Rossi, and feels the same way about Colangelo with respect to Brisson. If only those two were on the board, I'd take Brisson, but I don't think Colangelo is as far behind as some suggest. 
4. Blake Biondi (C, USA, Hermantown U.S. High School)
6-feet / 181 lbs, born April 24, 2002
Rankings

86th by Fisher
78th by Bell
100th on Cudmore's list with a range of 83-126
Blake Biondi is the first of two players on this list who played in high school in their draft year. It is difficult to evaluate players who are head and shoulders above their competition. Byron Bader, the brains behind Hockey Prospecting, had this to say about scouting high school: "High school is the lowest equivalency in the model. To show up moderately high from high school you have to have some pretty high production (2 to 3 points per game for forwards)."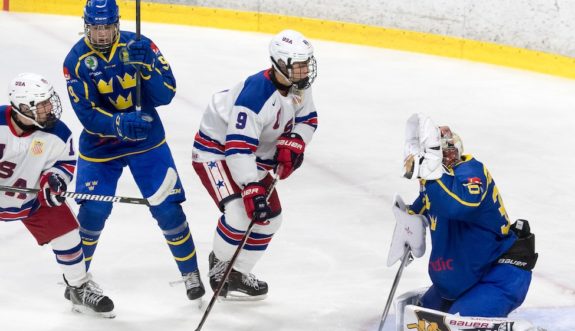 Biondi's 175 points in 75 games are case and point. Not since Nick Bjugstad was taken 19th overall, Kevin Hayes 24th and Brock Nelson 30th in the 2010 NHL draft have players drafted out of high school made an impact in the NHL. Of course, we won't know Biondi's potential for a few years, but the comparison gives selecting him context.
Biondi's 2019 NHL equivalency (NHLe) per Hockey Prospecting is 25, Bjugstad's was 20, Hayes' was 20, and Nelson's was 24. All but Hayes, and most players drafted out of high school, went to school in Minnesota, generally regarded as the best high school hockey state. This does not guarantee that Biondi will be better than those players, but it does beg the question of why he is ranked so low. While it is impossible to compare players who were drafted a decade ago as so many factors are included in a player evaluation, but based solely on NHLe, Biondi seems to be ranked too low.
Another interesting point is that Biondi's 8% star potential is equal to that of Marat Khusnutdinov, Lukas Reichel, and Jan Mysak who are generally regarded as first-round talents, including on Cudmore's list. Different leagues and international competition Although the league these players play in and their international experience makes a big difference, Biondi should be regarded in the same conversation.
Biondi was good enough to play for the United States National Team Development Program but opted to play for his high school instead, where he was too good, with a 3.04 points-per-game average. He made the most of it though winning the coveted Minnesota Minute Men Mr. Hockey Award given to the senior boys' player of the year in the state. He is committed to college powerhouse Minnesota-Duluth next season, where he will continue to play in the State of Hockey.
There aren't many deficiencies to his game or, at least, they are hard to see when he is so much better than his competition. He is a good skater but tends to rely on a quick outside move to beat inferior competition and he struggles a little when the gaps are played well. His hockey sense is very good, allowing him to steal pucks, break up passes, and find passing lanes where others don't. His skills should continue to develop in college; I'd use a late second or early third-round pick on the future Bulldog. 
3. Cross Hanas (LW, USA, Portland WHL)
6-foot-1 / 161 lbs, born Jan. 5, 2002
Rankings

108th by Fisher
110th by Bell
98th on Colin Cudmore's list with a range of 76-110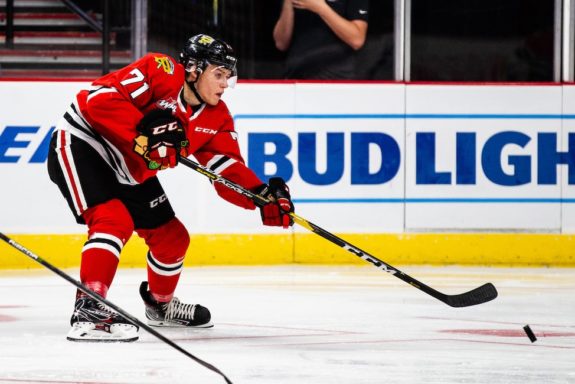 The Highland Village, Texas native Cross Hanas just finished his second season for the Portland Winterhawks in the WHL. He is one of the more divisive players in the draft as many scouts praise his puck-handling skills and hockey sense, while his skating seems to be one of the biggest concerns. It can seem like you are scouting a completely different player from one game to the next. Whether it is his lack of attention to defense or his unwillingness at times to engage physically, consistency is another concern.
When he does assert himself, he looks like a top talent. According to the Hockey Prospecting model, he has 10% star potential, as much as several players ranked ahead of him. The highest of those is Thomas Bordeleau, ranked 35th by Cudmore, but also includes Carter Savoie (49th), Theodor Niederbach (46th), Jake Neighbours (50th), Daniil Gushchin (56th), Farrell (57th), and Ozzy Wiesblatt (60th).
His lack of consistency and poor skating are fair criticisms, but in terms of pure upside, he has some of the highest in the draft. If it all comes together with improved skating, increased consistency, and the development of his raw skills, he could be a top-six winger in the NHL. He projects as a middle-six winger with some grit. If he is drafted in the fourth or fifth round, making the NHL would be a huge accomplishment, his NHL probability is 45%.
It is interesting to compare Hanas to his teammate Seth Jarvis. Jarvis is a consensus first-round pick and ranked in the top ten by some. He is an exciting offensive forward who exudes confidence and completes a high percentage of high danger passes to the slot area. According to the Elite Prospects draft guide, Hanas was just behind Jarvis in completed passes to the slot in 100 fewer minutes with lower quality teammates. I think a player of Hanas' upside is worth at least a third-round pick, maybe even late second-round. Getting him in the fourth or fifth-round seems like a steal.
2. Carson Bantle (LW, USA, Madison USHL)
6-foot-4 / 201 lbs, born Jan. 22, 2002
Rankings

122nd by Fisher
120th by Bell
Range of 73-113 on Colin Cudmore's list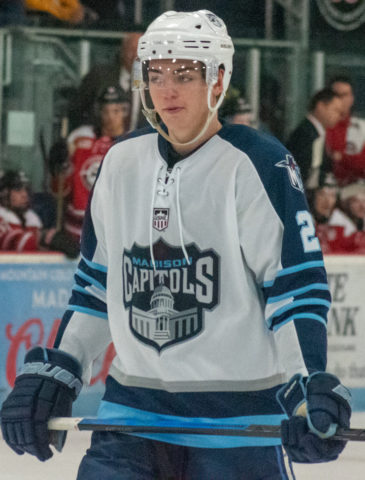 Carson Bantle is another player from the under scouted USHL on this list. He is a large power forward who was noticeable for outmuscling his competition. He uses his size well and can be relentless on the forecheck. His major shortcoming is his skating. Particularly, his first few steps are incredibly slow. More than once, he should have had a breakaway but was caught by a defender because he wasn't fast enough.
He won't be able to toss around NHL competition and if he can't keep up with the speed of the game, he won't make it. On the other hand, his puck skills are enough for him to find offensive opportunities and he may be sheltered enough to carve out a niche. He could evolve into a puck-possession power forward who helps his team control the play and clean up rebounds around the net. That is his upside.
McManus isn't convinced his skating is not fixable. It can sometimes take longer for big young players to grow into their stride. Even if he's never terribly fleet of foot, he is so strong along the boards and can win battles to set up teammates, that most teams should want him. McManus agrees, Bantle is a long-term project, but she is more optimistic that with the right development, he can become an NHL-calibre player.
Bantle is another player with 10% star potential and 45% NHL probability. That is pretty good potential for a likely fourth-rounder, and a reason some team might want to take a chance on him earlier. With the right development, particularly in skating and consistency, he could become a real steal in hindsight.
1. Matthew Gleason (LW, USA, Minn High school)
5-foot-8 / 170 lbs, born Sept. 20, 2001
Rankings

456th by Fisher
Not ranked by Bell
Range of 131-136 by Cudmore
Matt Gleason is at the top of this list mainly because of how low he is ranked on both Fisher and Bell's lists. He has the same amount of star potential as Hanas and Bantle. The St. Paul, Minnesota native was exceptional for Cretin-Derham Hall high school almost reaching the three points-per-game mark as an 18-year-old. He is committed to the Chicago Steel of the USHL for the 2020-21 season, if and when it begins, then Colorado College of the NCAA after that.
The obvious negative here is his height. There are other small forwards ranked in the first or second rounds like Rossi, Khusnutdinov, Alexander Pashin, Daniil Gushchin, and Brett Berard. But they've all competed in junior hockey to some extent, and most have played internationally.
Regardless, Gleason is a complete package of skill, good speed, great shot, effortless skating, and determination to do what is needed to win. Despite his height, he has extremely strong legs and rarely gets knocked off the puck, something that has been said about Rossi who is only an inch taller at 5-foot-9.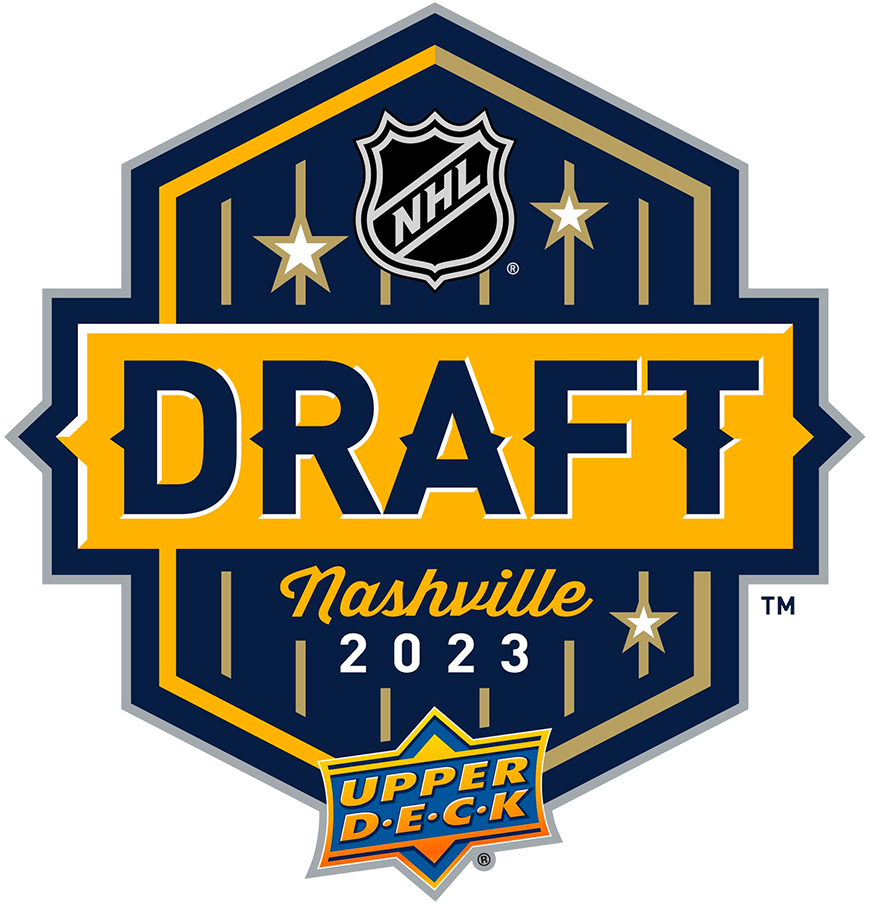 There is a decent chance Gleason is undrafted in 2020, but he is exactly the kind of player who is worth taking in the seventh round, if not sooner. There is so much room for him to grow physically and for him to develop in both the USHL and College. He could be considered a late-round steal in a few years.
How Far Down Will They Slide?
I expect Colangelo to be selected by the end of the second round, but his skating could cause several teams to hesitate and look elsewhere. Biondi, with his size and skill set, will not last past the fourth, but I would love to see him taken in the third. Hanas has a lot of upside for a player who could easily slide into the later rounds. Bantle has a frame that he will fill into. But, the most underrated of the Americans is Matt Gleason. If he is undrafted, it will be interesting to see how much his game grows in a year and how high he is drafted out of the USHL next year.
---
---