This year's crop of draft-eligible prospects is one of the deepest in years. The top three are expected to be generational talents, and the rest of the first-rounders are projected to become core players in the NHL. Beyond that, there are several lesser-known prospects who are drawing attention as the league creeps closer the 2020 NHL Entry Draft on Oct. 6 and 7.
Related: 2020 NHL Draft Guide
As one of the big three Canadian junior leagues, the WHL will likely provide a significant number of players selected in 2020, given their long history of draft-day success. While Connor Zary and Seth Jarvis will look to join Duane Sutter, Ken Daneyko, and Joe Sakic as first-round selections, dozens more will hear their name called on day two. But late-round picks don't automatically mean less talent. Brayden Point was a third-round pick in 2014, while Mark Stone was a 2010 fifth-rounder, and both are considered two of the brightest stars in the NHL today.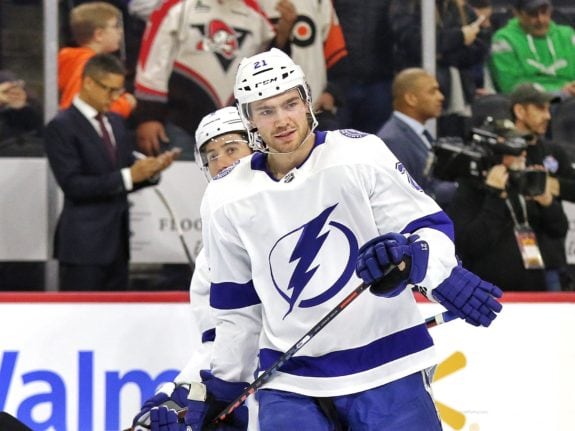 Will 2020 provide a selection in the mid to late rounds who emerges as an NHL star? It's virtually impossible to predict how a teenage player will develop, and come draft day, no one truly knows who will fall where. But there are a few WHL stars drawing some last-minute attention from scouts thanks to their underrated performances in 2019-20.
Jack Finley
Position: Center / Team: Spokane Chiefs / Central Scouting Final Rank: 38th (North American Skaters)
Jack Finley is not your typical underrated draft target. He has a frame that NHL teams can't resist, at 6-foot-6 and 213 pounds, and he just turned 18 in September. Despite playing mainly a defensive role, he still demonstrated a surprising nose for offense, chipping in 19 goals and 57 points in 61 games. The Central Scouting Service ranked him 38th on their final ranking, an eight-spot increase from their midterm list. Yet, most independent draft rankings slot him near the end of the third round.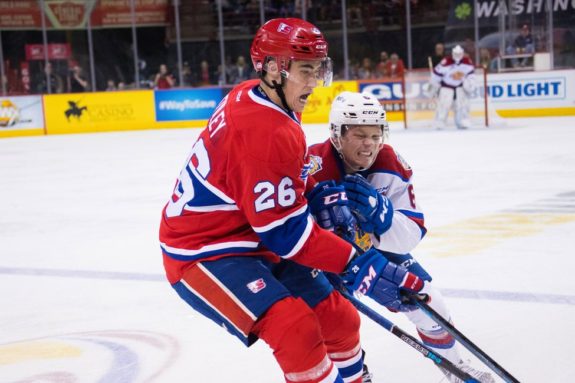 Skating appears to be an issue holding Finley back from a higher ranking. He lacks the top-end speed that many scouts like to see, but he still possesses a strong, fluid stride that has enabled him to keep up with faster players in the WHL. Others hoped he would have been more dominant offensively in his draft year, although that has more to do with his deployment than his talent.
Some scouts and analysts are beginning to come around, including The Hockey Writers' Larry Fisher, who included him in his 10 Draft Risers. So, while he may not be a late-round steal, Finley possesses an incredible skillset and has been very underrated so far. He's a great candidate to break out in 2020-21, and there's a good chance more than a few people will ask, "How did this guy fall into the third round?"
Alex Cotton
Position: Defense/ Team: Lethbridge Hurricanes / Central Scouting Final Rank: 79th (North American Skaters)
Over-age prospects are always difficult to project; 19 and 20-year-olds are given far more opportunities and greater ice time in junior leagues, and it's expected that they have big D+1 and D+2 seasons. So, when a player like defenseman Alex Cotton puts up over a point-per-game as a 19-year-old, increasing his 2018-19 production by 56 points, scouts wonder if age is more of a factor than skill.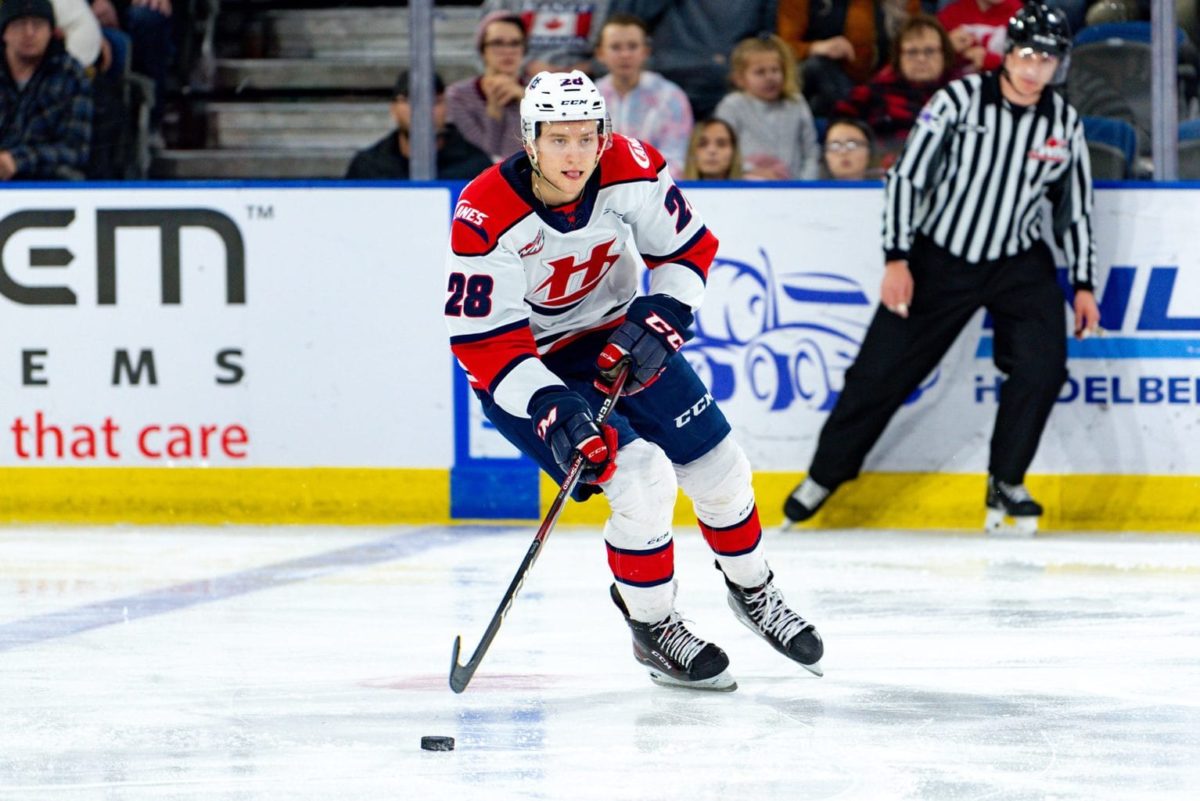 There's a chance that Cotton is just a late bloomer. In 2018-19, he was buried on the depth chart behind several veterans. The following season, with just two departures on the blue line, he was able to establish himself as a core member of the first power-play unit alongside Calen Addison and Dylan Cozens. When the two aforementioned stars left to play for Team Canada at the 2020 World Junior Championships, Cotton was left to man the blue line himself, and he picked up three goals and four assists in their absence.
Still, other concerns have been raised. Some have suggested that he may have been the benefactor of very talented linemates, as 31 of his 67 points last season came on the power play. His skating and defensive pressure are also lacking at the moment, but both areas can be improved on with hard work and good coaching. Hockey intelligence is much harder to train, and he has demonstrated that he can run a power play and drive the offense from the blue line. With a strong right-handed shot, he's worth the risk to see if he can put it all together after leaving the WHL.
Gage Goncalves
Position: Center / Team: Everett Silvertips / Central Scouting Final Rank: 80th (North American Skaters)
Gage Goncalves is another over-age prospect gaining some attention this season. Like Cotton, he had a huge jump in points between 2018-19 and 2019-20; Goncalves broke out with 33 goals and 71 points after scoring just 15 points total in his rookie season. (from' Silvertips notes: Goncalves building on breakout season,' Herald Net, 02/25/2020) However, his breakout has garnered some skepticism, as he played on a very strong Everett Silvertips team. Despite that the CSS ranked him 80th among North Americans, few scouts have him within the top-100, if listed at all.
The reason he could be a late bloomer also is that, in his rookie season, he was mainly a winger and received limited minutes. When he returned, however, he had packed on 10 pounds of muscle, and the Silvertips' staff decided to try him as their first-line center. There, everything clicked, and he thrived in arguably the most difficult position in hockey. Despite never taking a face-off before the season, he had a face-off win percentage of over 51% in February. His dedication and work ethic is comparable to some of the 2020 top prospects, and if he continues on that path, there's no telling what his ceiling could be.
Tristen Robins
Position: Center / Team: Saskatoon Blades / Central Scouting Final Rank: 86th (North American Skaters)
If I could give out a 'Brayden Point Award' in 2020, it would go to Tristen Robins. Arguably, no other prospect in this year's draft class has had such an impressive season, yet remains incredibly underrated. Starting the season as a depth winger buried behind several veterans, he broke out after Christmas when he was moved to center the top line. His 73 points were third among draft-eligible players in the WHL, and no one had a more impressive second half. Only first-round lock Seth Jarvis scored at a higher rate than Robins in the last half of the season. Yet, on average, he is projected to go somewhere in the third or fourth round.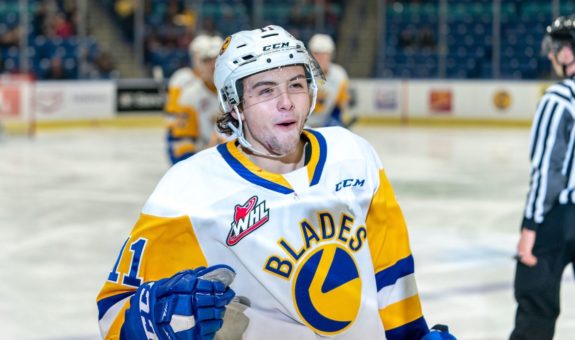 Much of Robin's low profile has to do with his size – he was listed at 5-foot-10 and 173 pounds at the season's end and looks even smaller on the ice – which concerns some scouts on his long-term potential. But he's a very modern player, using blazing speed and high IQ to create and finish plays, as well as contribute defensively, throwing hits and breaking up plays with his very active stick. No matter what he does, it's always at full gear. He has drawn comparisons to Tyler Johnson, another undersized center, and could have a similar career. Don't sleep on Robins; he's bound to make a fool of all those who only see his size.
Landon Kosior
Position: Defense / Team: Prince Albert Raiders / Central Scouting Final Rank: 98th (North American Skaters)
Landon Kosior is another undersized player who gained some attention as the season drew to a close. At 5-foot-11, he's not the typical size one looks for in a defenseman, but the WHL rookie became a big part of the 2019-20 Prince Albert Raiders. After the departure of one of the team's 20-year-old defensemen, Kosior stepped up to fill his spot in the top-four and logged big minutes at even strength and on special teams. He finished the season without missing a game and accumulated 23 points, the ninth-highest total from a rookie defenseman in the Canadian Hockey League.
Kosior's decision-making, puck control, and confidence all improved the more he played, helping him become a dangerous two-way threat for one of the strongest teams in the WHL. The CSS took notice and bumped him up 28 spots on their final rankings after placing him 128th among North American skaters on the midterm list. He's now projected to be selected in the sixth round or later because he is still fairly raw overall. But he's also just barely 18 years old thanks to an August birthday, making him a prime candidate for a big 2020-21 season. Until then, however, he remains criminally underrated.
Owen Pederson
Position: Left Wing / Team: Winnipeg Ice / Central Scouting Final Rank: 103rd (North American Skaters)
Coming in at 6-foot-3 and 192 pounds, Owen Pederson already has NHL size, and his 28 goals with the Winnipeg ICE tied for second on the team this season and seventh among draft-eligible WHL players. He's got great hands and the intelligence to back it up, using his size to capitalize on scoring opportunities in front of the net. Yet, as the 103rd-best North American skater according the CSS, he's remained an obscure prospect and appeared on very few draft lists.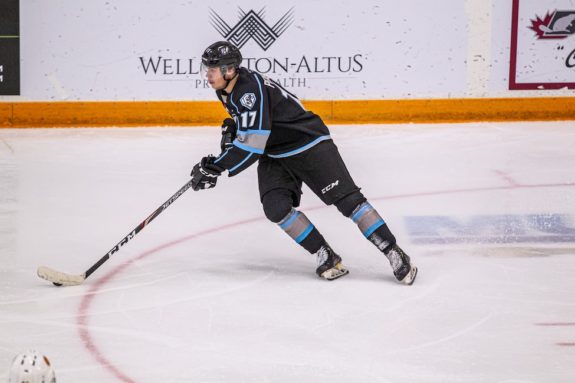 Much of Pederson's obscurity appears to be due to his skill set, which isn't flashy or cutting edge. But he's a smart player, doing all the little things right that gives his teammates the opportunity to win. He's also incredibly adaptable; he lined up beside Payton Krebs and Connor McClennon on the top two lines, centered the fourth line, and even appeared on the power play and penalty kill. He understands his abilities and uses them as best as he can, and the result was one of the more impressive goal totals heading into the 2020 Draft. Pederson is a dark horse and worth a risk near the end of the draft.
Lukas Svejkovsky
Position: Center / Team: Medicine Hat Tigers / Central Scouting Final Rank: 165th (North American Skaters)
Lukas Svejkovsky is a confusing prospect. He has an incredible skill set, which was on full display with the Medicine Hat Tigers this season. His passing, shooting, and skating were arguably some of the best in the WHL, and there are few prospects eligible for the 2020 Daft who can reach top speed faster than him. However, even after a 30-point bump in their final rankings, the CSS still listed Svejkovsky 165th among North Americans, and he'll likely be a last-minute selection, if he gets drafted at all.
It doesn't help that he is a bit undersized at 5-foot-10 and 165 pounds, but the biggest issue was that he was wildly inconsistent throughout the season. He began 2019-20 as a winger with the Vancouver Giants, a defense-first system, and didn't make much noise offensively for the first 18 games. After joining the Tigers, he found his groove alongside James Hamblin, which increased his points-per-game from 0.55 to 0.82. Still, he was used in a variety of odd placements, including a regular spot on the Medicine Hat's top shutdown line. Hopefully, this season served as a growing year and set him up for big things in 2020-21.
Tyrel Bauer
Position: Defense / Team: Seattle Thunderbirds / Central Scouting Final Rank: 166th (North American Skaters)
Tyrel Bauer is not a dynamic offensive defenseman. In 60 games with the Seattle Thunderbirds, he scored just three goals and 17 points – far from the dominance expected of top prospects. Yet, he doesn't need to be that kind of player. Instead, he brings an old-school, defense-first style to the game which has made him well-liked in the WHL. He is built like a tank, at 6-foot-3 and 205 pounds, and he is more than willing to sacrifice his body to block shots or go toe-to-toe with an opponent. His dedication earned him the Thunderbirds' Defenseman of the Year honor and Most Popular Player last season.
While the style he plays won't get him ranked highly on draft boards – the CSS placed him 166th among North American skaters – Bauer brings several intangibles to the ice that makes his team better. At the beginning of the 2019-20 season, at just 17 years old, he was named a Thunderbirds' alternate captain, a testament to his exceptional maturity. He's also one of the youngest players available at the 2020 Draft, meaning he might not be done growing yet. Altogether, he's very underrated for what he brings to his team every game and could become a hidden gem in the late rounds of the draft.
Kyle Crnkovic
Position: Left Wing / Team: Saskatoon Blades / Central Scouting Final Rank: 208th (North American Skaters)
The second player on this list from the Saskatoon Blades, Crnkovic, is similar to Robins. Like his teammate, he also had a big second half of the season after the departure of several key veterans. He ended the 2019-20 campaign with 64 points in 63 games to rank second in team scoring, but the point-per-game player was just barely included by the CSS. He showed up on the final rankings at 208th among North American skaters after being unranked in previous reports. Sadly, much of that has to do with his size; on a team of small forwards, he is the smallest at 5-foot-7.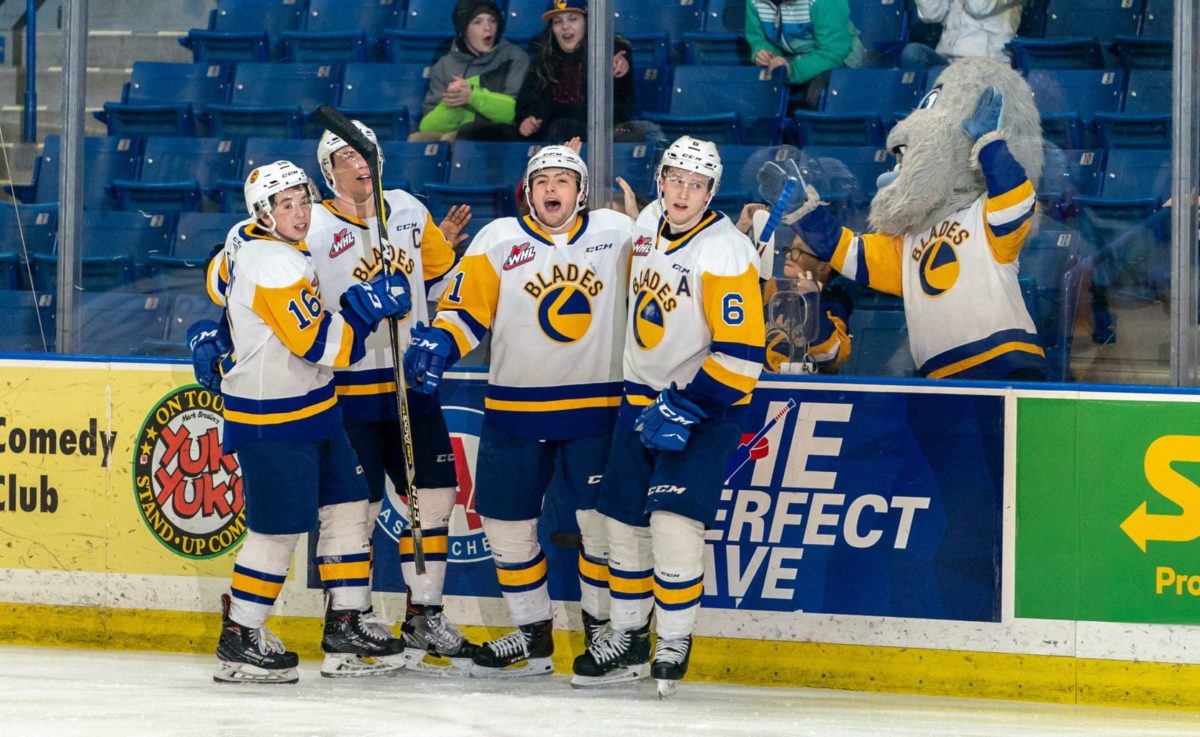 There are other concerns, too. Crnkovic doesn't have a great skating stride but has made up for it so far with his natural quickness. He also has not shied away from physicality in the WHL, which some may worry will limit his effectiveness in the professional ranks against much bigger and stronger players. However, his puckhandling is very good and he's able to make tricky moves in tight spaces. He also has taken steps to improve his defensive game and was used heavily on the penalty kill last season. Could he be the next Mats Zuccarello? He already has a similar style, so it's worth the late-round risk.
Brock Gould
Position: Goalie / Team: Moose Jaw Warriors / Central Scouting Final Rank: 9th (North American Goalies)
If you thought predicting the development of forwards and defensemen was tough, it's nothing compared to goalies. Brock Gould is no exception. His 6-foot-4 frame is exactly what scouts look for in goalie prospects, but he was very inconsistent this season, posting a sub-0.900 save percentage with both the Victoria Royals and Moose Jaw Warriors. He also struggled with confidence at times, no thanks to a Warriors' squad that won just 14 games all season and just once with Gould in net.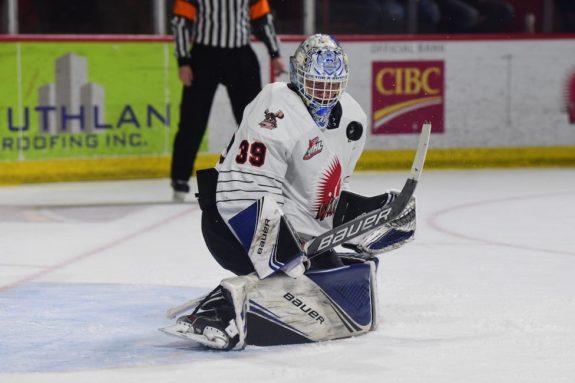 Yet, a poor record isn't a death sentence for young goalies. Jordan Binnington posted a 0.899 save percentage in 2011 before being selected in the third round, and Matt Murray had a 0.876 before he was a third-round pick in 2012. Given time, both grew into Stanley-Cup winning goalies. Gould has shown flashes of brilliance, including a lightning-fast glove hand and great lateral mobility for a big goalie. Another season in the WHL will bring more starts and greater trust, and if Gould can handle that, his natural talent will begin to shine. While there's no guarantee he becomes the next late-round steal, there's no guarantee he doesn't.
Final Thoughts
It's anyone's guess how these 10 players will pan out, but there is already a lot on their side. While the WHL doesn't have as strong a top-end group as they had in 2019, the league has 52 players named to the CSS's final rankings, 10 more than last year, implying that this year's draft class has a much stronger bottom-end than before.
Related: 2011 NHL Draft Top 10 – Where Are They Now?
It is also the biggest WHL draft class since 2016 when 54 players were named to the final report. With all that taken into account, this year's class is set to reveal several hidden gems over the years.
---
---