Welcome to the THW's 2021-22 Selke Trophy Tracker, an ever-shifting list looking at the top defensive forwards that will be updated every month throughout the regular season. With the NHL season hitting its midpoint, there is enough data to properly judge who will walk away with the Frank J. Selke Trophy at the season's end. As always, these are subjective rankings meant to initiate discussion, so feel free to disagree (civilly) in the comments and offer your own picks.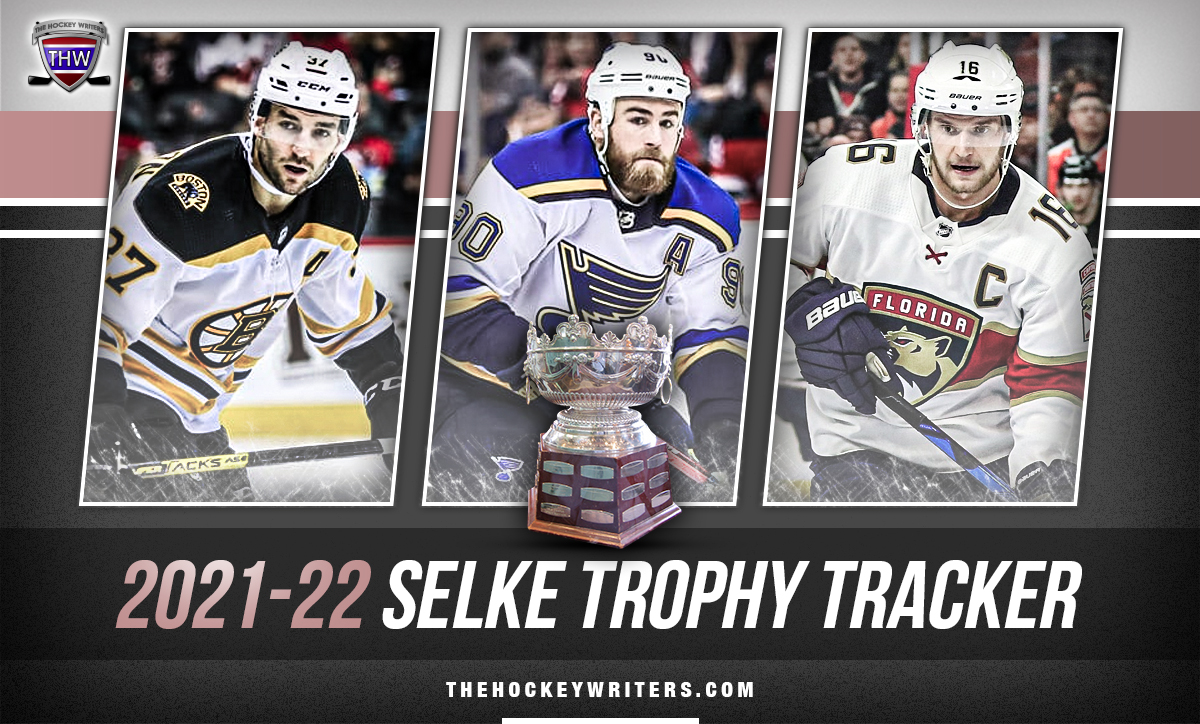 Last season saw a close battle, with Alexsander Barkov walking away with his first career Selke Trophy. Not far behind him in votes were Patrice Bergeron and Mark Stone. This award is voted on by members of the Professional Hockey Writers Association. It causes a lot of debate as some may have different opinions on how to measure which forward best excels in the defensive aspects of the game. With that being said, here is a breakdown of the top five Selke contenders as of the end of the season.
---
---
All Statistics as of Apr.29, 2022
January's Rankings: 1) Ryan O'Reilly 2) Alexsander Barkov 3) Mark Stone 4) Anže Kopitar 5) Anton Lundell
February's Rankings: 1) Anže Kopitar 2) Patrice Bergeron 3) Ryan O'Reilly 4) Alexsander Brakov 5) Jordan Staal
March's Rankings: 1) Patrice Bergeron 2) Anže Kopitar 3) Elias Lindholm 4) Ryan O'Reilly 5) Alexsander Barkov
5) Anže Kopitar
2021-22 Stats: 81 GP- 71 BkS- 48 TkA- 20:46 TOI
The L.A Kings made the playoffs in large part due to the play of their captain Anže Kopitar. He finished the year leading the Kings in takeaways while also blocking more shots than any other forward on the team. On the penalty kill, he finished with 138 minutes, in which time the team gave up just 24 goals and 56 high danger chances.
Although he most likely won't be a finalist for the Selke this year, Kopitar once again proved he is one of the best defensive forwards in the league. One main reason is his ability to win faceoffs in crucial moments. This season, he finished with a 58.3% win percentage when taking a faceoff in his own zone. Although this isn't a statistic discussed at regular, it is an important one when judging a player's defensive play. Since the opposition could not win the faceoff, the Kings could gain possession of the draw and try to clear the zone rather than getting in a position to defend. The hope is he can continue his dominance in the faceoff dot during the playoffs.
4) Ryan O'Reilly
2021-22 Stats: 78 GP- 38 BkS- 50 TkA- 19:05
Few have dominated the two-way game like Ryan O'Reilly has the past few seasons. 2021-22 was no different as the former Selke winner led all St. Louis Blues forwards with 50 takeaways while also blocking 38 shots. In the faceoff dot, he finished with a 55.3% win percentage while shorthanded and a 56% win percentage in the defensive zone. Lastly, in 146 minutes of shorthanded time, he held the opposition to 13 goals against and 61 high danger chances.
Related: Revisiting the Blues' Trade for Ryan O'Reilly
What makes O'Reilly so dominant is his ability to prevent the opposition from getting quality chances on the net. He uses his size and physicality to trap players along the boards and his spatial awareness to ensure he is always between the puck and the net. Overall, he had a strong year again with his 50 takeaways and will need to continue his play in a tough playoff series versus Minnesota.
3) Anthony Cirelli
2021-22 Stats: 76 GP- 67 Blocked Shots (BkS)- 60 Takeaways (TkA)- 18:19 TOI
Anthony Cirelli has become one of the premier shutdown forwards in the league. He finished in the top-20 in takeaways across the league this season and finished sixth on the Lightning in blocked shots this season. While most of the spotlight is on players like Nikita Kucherov, Steven Stamkos and Brayden Point, he has become an interictal part of this team and one the Lightning will lean on if they want to complete the three-peat this season.
While Cirelli has been good five on five posting a 53.59% Corsi and a 54.22% goals for percentage, where he has shined is the penalty kill. In just over 159 minutes of shorthanded time this season, he has helped limit the opposition to 20 goals and 62 high danger chances. He has also chipped in offensively with a goal and 13 shots. Although his name may not be discussed on a consistent basis, he has developed into one of the top defensive forwards in the league and will receive some Selke votes this season.
2) Elias Lindholm
2021-22 Stats: 82 GP- 52 BkS- 55 TkA- 19:57 TOI
Elias Lindholm had a season to remember as he set a new career-high with 82 points, while becoming a force defensively in the league. The only player to play all 82 games on this list, he was tied for the team lead with 55 takeaways and led all Flames forwards with 52 blocked shots. He was also strong in the faceoffs with a 50% win percentage while shorthanded and a 51% win percentage in the defensive zone.
Related: Flames' Lindholm Has Emerged as a Top Center in the NHL
The Calgary Flames finished sixth in penalty killing this season thanks to Lindholm's strong play. In 174 minutes of shorthanded time, Calgary held the opposition to 20 goals and 59 high danger chances. He also contributed some offence scoring a shorthanded goal and assisting on another. The former Hurricane is developing into one of the top two-way forwards in the league that can shut a team down defensively while also being a major threat in the offensive zone. Although he won't win the Selke this season, don't be surprised if he claims the award very soon.
1) Patrice Bergeron
2021-22 Stats: 73 GP- 45 BkS- 37- TkA- 18:10 TOI
This season, Patrice Bergeron will pass Bob Gainey and win a record fifth Selke Trophy. It is incredible that at age 36, the Bruins captain is still dominating the league to a point where no one really comes close. This season, he posted a 64.39% Corsi rating. For reference, the only players to have a Corsi over 60% and play at least 100 minutes were teammate Brand Marchand with 61.91% and Mason Marchment of the Florida Panthers, who had a 60.31%.
Bergeron's most impressive domination came in his faceoffs. In the defensive zone, he won 59.3% of the 508 faceoffs he took, while overall, he won 61.9% of the 1,600 faceoffs he took this season. He helped the Bruins claim the ninth-best penalty kill with the opposition scoring just 14 times in the 122 minutes he played and finished the season with a 63.74% goals for percentage at even strength. Congratulation are in order as he is the clear winner of the 2021-22 Selke Trophy.
Honourable Mentions
Jordan Staal (Carolina Hurricanes)
Anton Lundell (Florida Panthers)
Alexsander Barkov (Florida Panthers)
Austin Matthews (Toronto Maple Leafs)
Brad Marchand (Boston Bruins)
As the playoff gets started and the votes start to come in, it is only a matter of time before Bergeron is announced the winner of the Selke Trophy. Let us know who you think will win the Selke in the comments below.
---
Latest News & Highlights
---