Rankings are always fun, as it always gives insight to what people see with certain prospects. It provides a differing opinion and conversation to bring others up to speed on what others may miss.
However, if you're a prospect that's up for the NHL draft, it can be a different story. It can be very daunting and even nerve-racking to see your name lower than expected even though you might be doing everything right. It's something that can have a profound impact on where you may go on the first or second day of the draft. From a mental standpoint, it can get inside the head of a prospect and the pressure can build.

I've asked many prospects over the years if they pay attention to rankings and the response is usually the same. They tend to block out the noise and focus on what they can do. Many tend to take the low rank and use it to their advantage and increase their value. I spoke to three prospects at the NHL Combine in Buffalo, NY who saw their stock rise from NHL Central Scouting midterm rankings to the final one. Here is what they had to say.
Lardis No Stranger to Adversity 
Heading into the season, Peterborough Petes forward Nick Lardis was definitely one player that many wouldn't expect to be getting a lot of attention. As the season progressed until the second half, it was definitely a struggle for him. 
Coming off a rookie season where he had 37 points in 63 games, Lardis wasn't producing as he would like, as he had 12 goals and 19 points in 36 games played. He didn't seem to have taken a step in his game like other prospects had in the Ontario Hockey League. A change of scenery was all it took as it was an opportunity for Lardis to find his game, going from the Petes to the Hamilton Bulldogs. 
"In the summer dealing with adversity, getting cut from the U18, I have experience hitting the reset button," Lardis said. "I made sure I believed in myself and just did what I can control and kind of having that experience of dealing with that adversity in the summer helped myself through the year getting traded from Peterborough to Hamilton."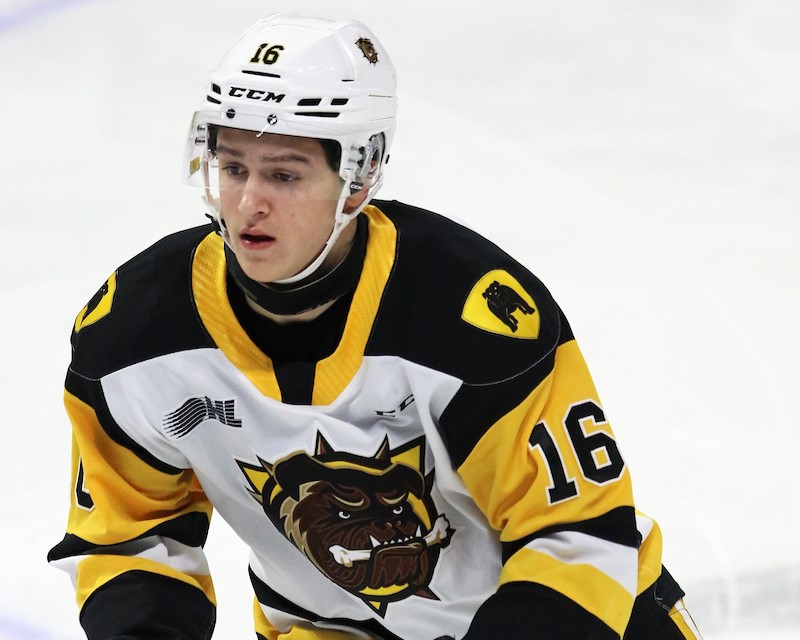 The midseason move definitely improved Lardis' draft stock as his production shot up with 25 goals and 46 points in 33 games. More importantly, he also regained the confidence and consistency in his play as it carried over to the World U18 Championship with Team Canada. The combination of his skating and shooting made him a dangerous player when generating scoring chances and is continuing to work on his strengths.
As a result, he had a major jump in the final ranking among North American skaters, finishing 27th on Central Scouting's list where as he was 96th at the midterm rank. Despite the increase, he didn't pay too much attention but still used it as motivation and to serve as a role model for younger players that could be in a spot similar to him.
"You see them every now and then and obviously looking at the midterm rankings, it kind of motivated me to shoot up the rankings. 
"I can show that to the younger guys and a big thing for myself is leading by example and kind of show them what it takes to be successful in the OHL." 
There's a good chance with his skillset and his strong testing at the combine that he can definitely rise up and be on a team's radar.
Barkey's Skill Speaks for Itself
It was only a few games into the season, analyzing the play of Oliver Bonk when I took note of another player that started to standout with his creativity and puck skills. Denver Barkey might be undersized at 5-foot-9, 155 pounds, but he is definitely a player that has continued to take steps all season. Even though it was a slow start for him and the London Knights.
Related: London Knights Continue to Produce NHL Talent in 2023 NHL Draft
"We didn't have the most skilled team on paper, but I think we were a really tight team and we all played for each other," Barkey said. "Guys bought into their roles." 
Barkey was a go-to offensive player and key leader for the Knights all season, finishing third in points with 59. It was a massive jump from his 15 points in 2021-22. He dazzled with his shifty puck control and playmaking abilities. He had a more pivotal role for them in the playoffs being second in team scoring with 24 points in 20 games, falling short in the finals.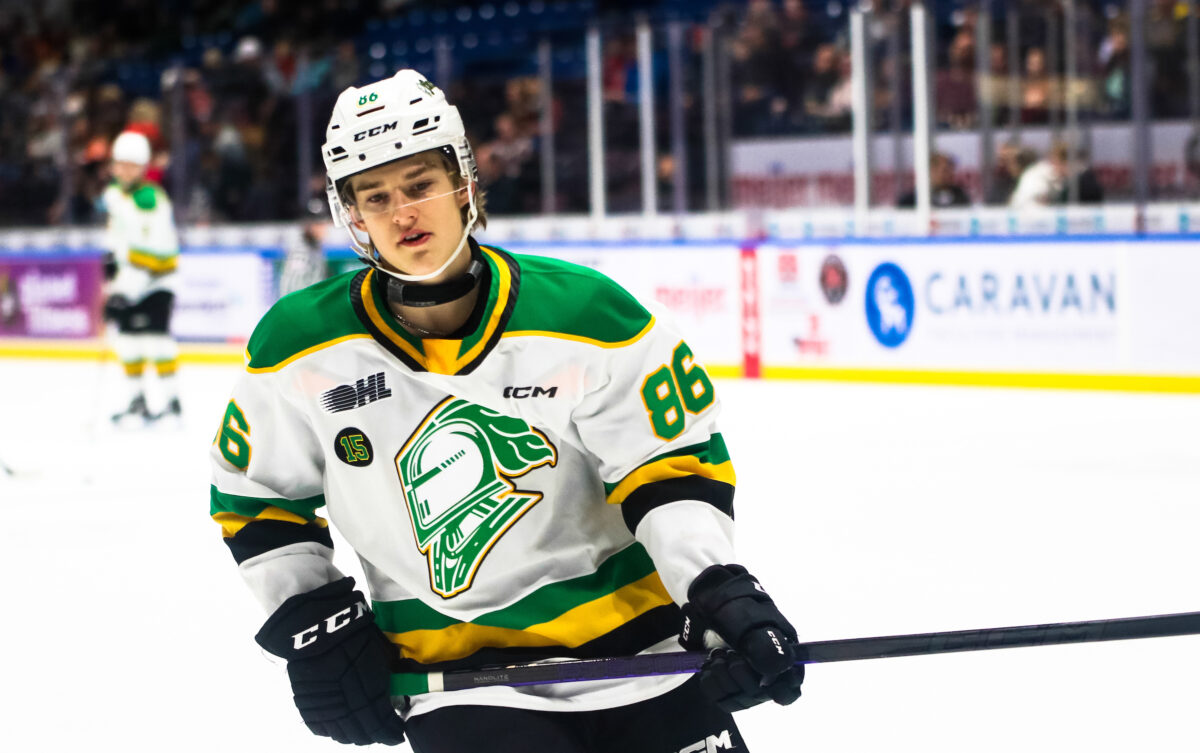 Although it was a slight bump up in the rankings from 84 in the midterm to 79 in the final, Barkey certainly elevated his stock. Although the OHL playoffs happened after it was released, that alone could improve his value even more. Barkey is ranked lower than his skillset suggests. He likes to emulate his game around players like Mitch Marner, Johnny Gaudreau and Brayden Point, being a highly skilled player and not afraid to go into the corners or create havoc in front of the net.
Even with the low ranking previously, he didn't let it get the best of him.
"I try not to pay too close attention to all that stuff," Barkey said. "At the end of the day, the people that do those rankings aren't drafting me. I'm just trying to not let that bother me and try not to pay too much attention to it, but I saw them and I just try to use it as motivation to keep pushing and get better." 
That willingness to rise up in key moments and continuing to battle very much improved his stock heading into the draft.
Bertucci's Midway Reset
Tristan Bertucci is another player that many didn't have on their radar. He initially was ranked 51st on the midterm rankings and was having good success as he had 19 points before the calendar flipped to 2023, which is still very respectful. But his offensive game started to project upward as he finished 31 points in the second half along with another five points in seven playoff games. Eventually, he was bumped up to 32nd overall.
---
Latest News & Highlight
---
That success was a result of him stepping back and talking things over with those close to him to pick things up in the second half.
"Just going home over the Christmas break and having some talks with my family and agent," Bertucci said. "Me, personally knowing that there was another level and another gear to my game, I just stepped it up in the second half."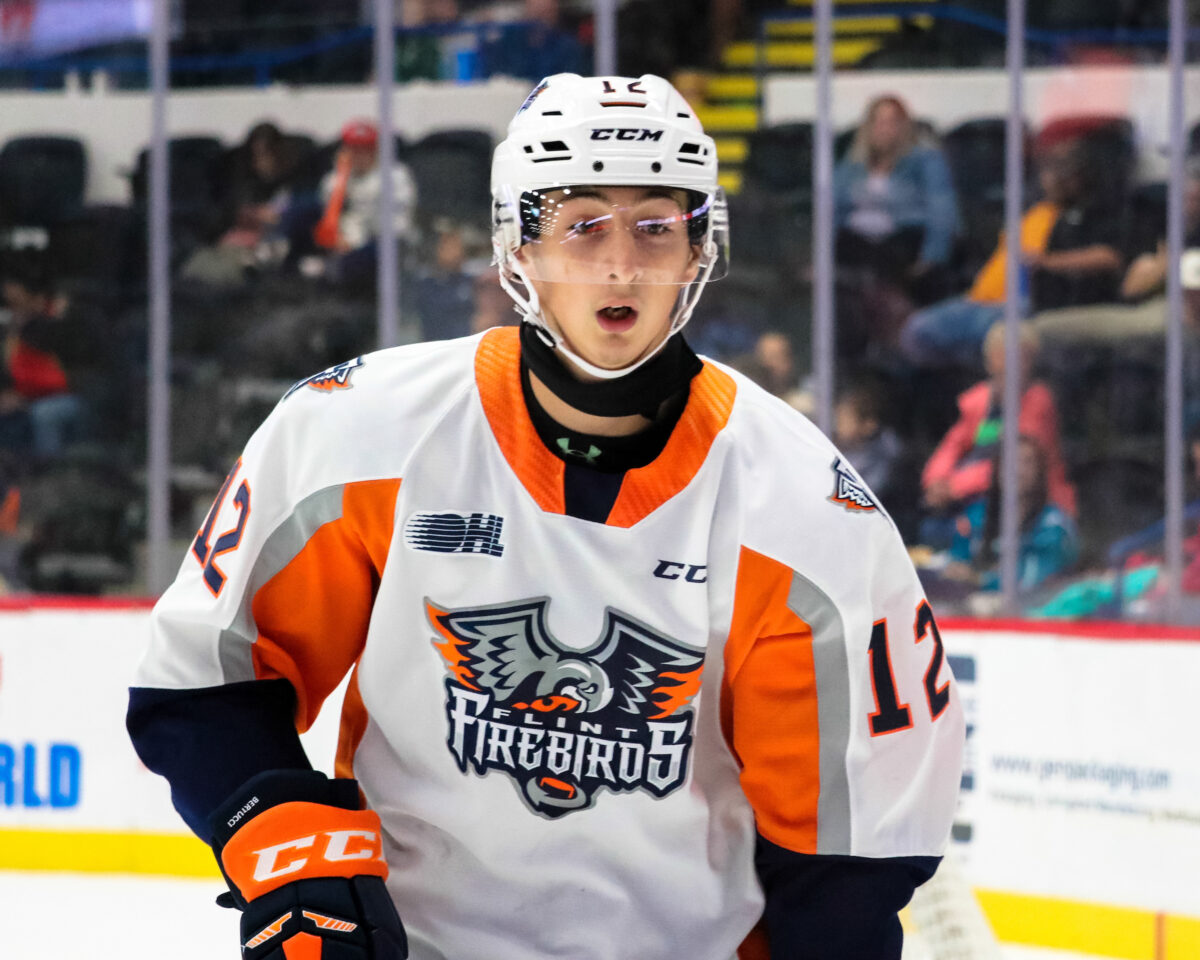 That success even led Bertucci to being named to Team Canada's U18 team for the World Championship, winning a bronze medal. Although he didn't register a point, he was probably the most consistent defenseman on a team that struggled within their own end. He even alluded to his IQ as his greatest strength, knowing when to pick his spots to attack but to play a reliable game in his own end. 
Related: Emptying the 2023 NHL Combine Notebook
Even with the jump, Bertucci didn't focus too much on the standings and stuck to playing his game and prove his worth.
"I don't try to focus on it. What I do use it for is motivation and a little more fuel to the fire just to prove people wrong and climb those rankings."
For Lardis, Barkey and Bertucci, they tend to not focus on the low rank for a long period of time. Instead, they took note of it and let their play speak for themselves to put them on the radar of NHL teams. 
A low rank doesn't mean the end for a prospect. As distracting as it can be, it makes prospects even more motivated to jump up and surprise many in the junior hockey world. It didn't let that bother them as they had productive stretches when it mattered the most. In the end, it definitely made them more noticeable heading into the NHL Draft.