We continue our series counting down to the 2023 NHL Draft in Nashville by turning our attention to some of the major storylines that are developing. To help us get ready for what's to come, we consulted with our resident draft experts and rankers to set the scene.

Both our head of draft content Logan Horn and ranker Peter Baracchini were kind enough to take time to answer some questions about a variety of topics. We covered everything from how they create their rankings to what to expect once the draft gets underway. You will get a glimpse into their mindset about how the top of the draft will unfold as well as players to watch for later on.
---
Latest News & Highlight
---
I asked the same 10 questions of both Horn and Baracchini. You will see their answers to each. And make sure you check out their rankings. You can see Logan's top-160 rankings here and Peter's rankings top-128 here.
Developing Rankings
Question: Tell us how you devise your rankings. What factors go into your initial list and then subsequent lists when changes are made?
Horn: This was my first year making draft rankings so these were my first attempts at ranking entire draft classes. I started with the same rough list everyone else had (Bedard, Fantilli, Michkov, etc.) and gradually added to it whenever I got the chance to see a prospect play, adding them to my list where I felt they deserved to be based on a balance of their upside and the likelihood of them hitting that upside. Upside is certainly the most important factor, but I do think it's worth thinking in advance about how likely it is that these players actually reach their potential in the NHL.
Baracchini: The main factors that go into mine are the skating, puck skills in regards to their stick handling, shooting and passing and overall awareness and IQ that a player has. The biggest one has to be the work ethic and if they are engaged constantly as they need to show that they process the game for the next level. I also look at projectability and high ceiling a player possesses. The higher it is, the more likely they are to becoming NHL players in the future. You start to get a sense of who has it over a period of time.
Question: What are the biggest challenges you face as a ranker and how do you overcome those challenges?
Horn: As a first-time prospect ranker, the biggest barrier at first was balancing my own opinions and observations with the opinions of others who I look up to. It's easy to be swayed by someone else's ranking or analysis of a player, and it's pretty attractive to defer to someone who does this as a full-time job, but I want to have my own voice and perspective so I've done my best to stick to my guns. I got more confident in my own observations as the year went on, but I've still got a ways to go.
Baracchini: I think the biggest thing is time management with the viewings and making sure you have the time. There are so many prospects to look at as there are hundreds of players involved. You want to get as many viewings as possible for consistency of the prospect and to get the read of where they should be ranked.
Top of the Draft Expectations
Question: Adam Fantilli vs. Leo Carlsson. What are the biggest factors that put one over the other for you? Is it a slam dunk for the Ducks to take Fantilli?
Horn: Adam Fantilli would be my pick for sure. I wouldn't say slam dunk, but it's a pretty clear gap for me still, with the biggest separator being skating. Fantilli is an excellent skater and his game flows through that ability. Both players have excellent skill with the puck, great vision and superb hockey sense, but Carlsson is certainly the weaker skater. I love Leo Carlsson and think he's most likely going to be a 1C in the NHL, but Fantilli's ceiling is significantly higher at this point in time due to his mobility.
Baracchini: As much of a Leo Carlsson fan as I am, it has to be Adam Fantilli. Both are successful in their own right, but Fantilli is the complete offensive package with his production, shot, speed and physicality. Everything he does is so dominant, especially in transition and on the rush. That alone makes him the second best prospect in this draft. Carlsson is more of two-way centreman with a better defensive game, but can still play with pace, but I'd still take Fantilli.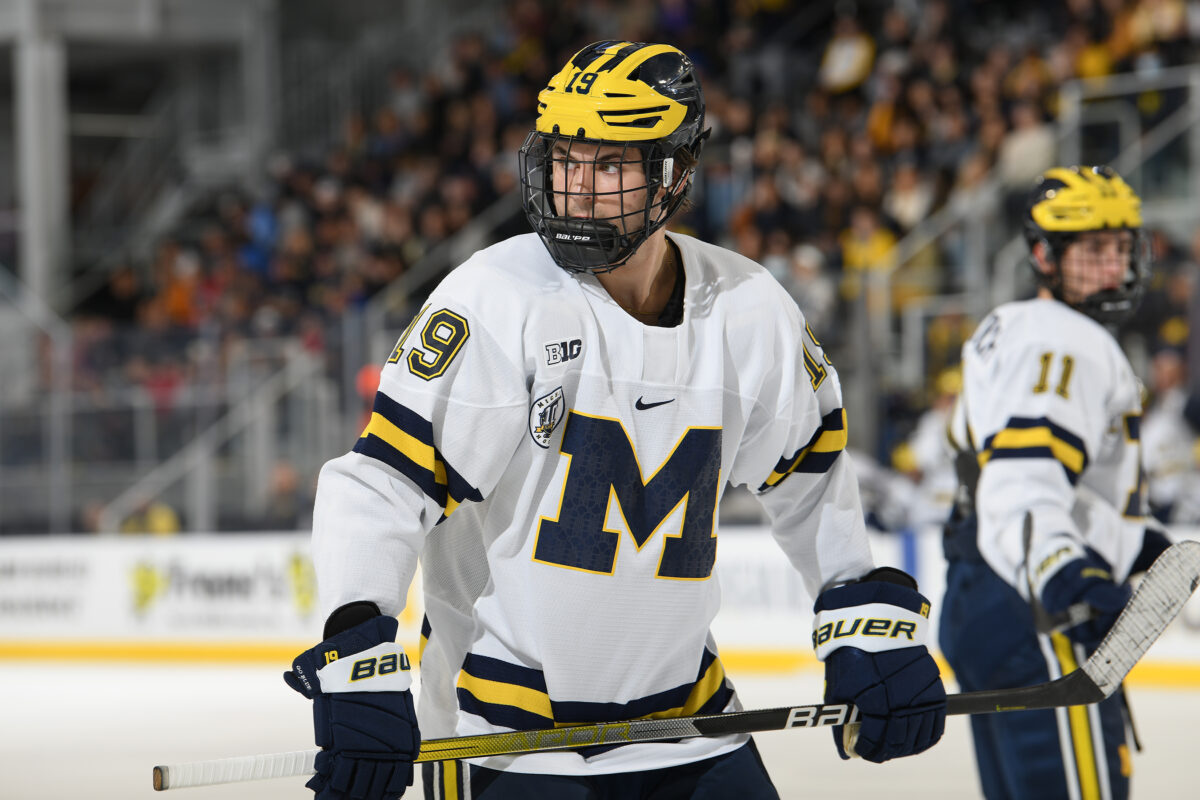 Question: At what point would you consider taking Matvei Michkov? How did you factor him into your rankings?
Horn: I'd consider Michkov at second overall personally, but I don't see the Ducks going there. Columbus is also clearly looking for someone to help them soon so I don't think he's going to be in play there. If I'm the Sharks picking at fourth, it would be tough to pass on Michkov simply because the gap between him and Will Smith is significant and they are in no rush to improve. In my rankings I did my best to treat Michkov the same as every other prospect, so the reason he's third overall for me and not second is not due to his contract situation but his lack of size and lack of an NHL comparable (there's never been a player that looks and plays like him).
Baracchini: Despite all the concerns about his production and contract, Michkov is still a dominant player in regards to his deceptiveness with the puck and lethal shot. Teams want that kind of offensive presence and mindset. That alone has him within that 4-8 range. There's still the possibility that he may drop even though there should be no hesitation with his outlook and upside. Anything lower than that, it'll be a HUGE mistake.
Question: Who is the one prospect outside the top-5 that you believe will be one of the five best players in this draft in which you'd die on that hill?
Horn: I think the top-5 in this class is being ranked pretty accurately for the long-term, but if anyone else rises into that group, my pick would be Gabe Perreault. He'll need to mature a bit physically (though his brother and dad both filled out as they got older so I'm not worried about him putting on muscle) and continue to improve his skating, but Perreault is such an incredibly intelligent player that I can see him being an elite NHL playmaker. He's in the top tier of hockey sense in this year's draft for me, along with Michkov and Bedard. He doesn't have the shot or skating of those other guys, but his sense is so good that I could realistically see him being a star in the NHL.
Baracchini: I think Zach Benson is one that should be in the top-5, but he'll have a successful career if he gets taken in the 6-10 range. The motor he possesses, the puck skills, vision and tenacity for his size is out of this world. Again, he may get overlooked because of his size. He's 5-foot-9, 170, but plays like a 6-foot-1, 185 pound player. You can expect him to dominate and elevate his level of play every single season.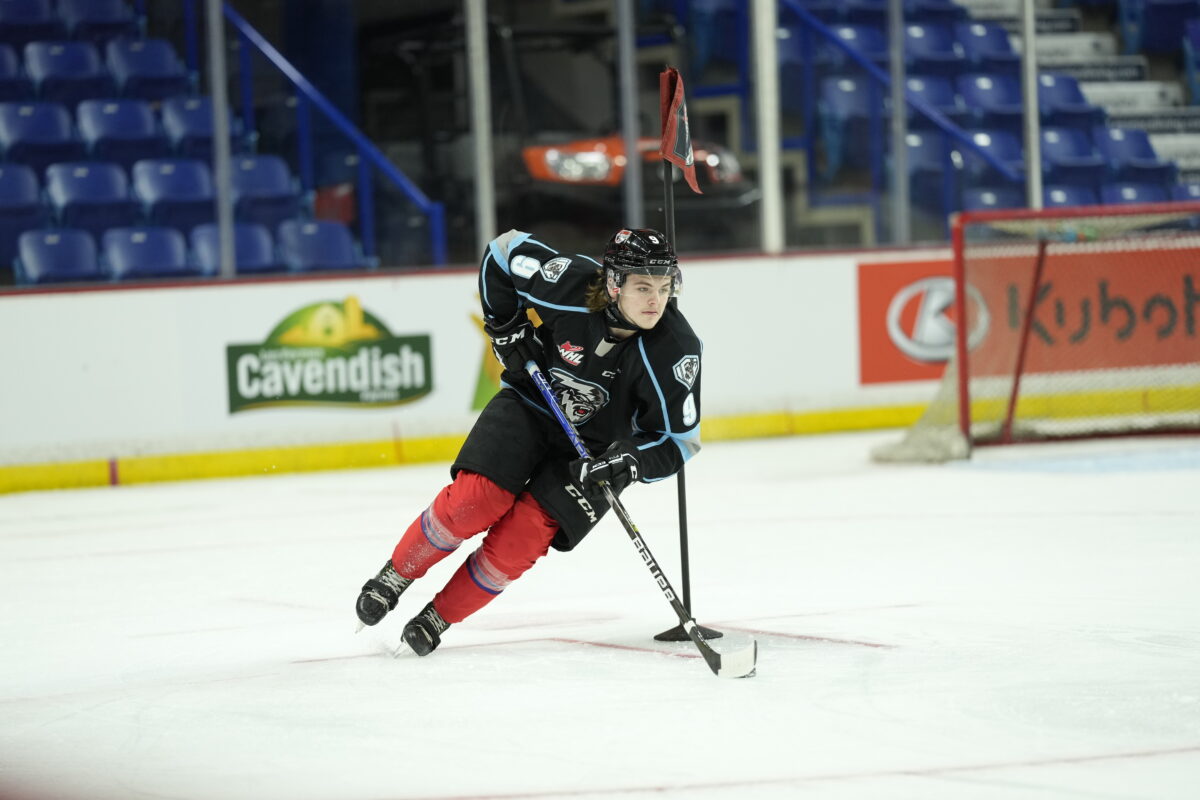 Question: How high and which defensemen should be the first to go in this draft? How do you distinguish forwards vs. defensemen when making your rankings?
Horn: David Reinbacher has been my top defender in this draft class since November and that won't change. I think there's a real chance he's drafted in the top-5 (almost certainly at 5th), but I'd consider him in the 7-10 range personally. He's such a mature player both physically and mentally that I think he'll excel in either the NHL or AHL next season and has the potential to be a great top-pairing defender in the NHL in his prime. It's difficult to compare forwards and defenders value-wise, because there's a difference between being a top-pairing D and a #1 defender, and the same goes with being a number three or four guy on the second pairing. I find that an elite forward is roughly equivalent to a #1 D, with a great top-line forward matching a top-pairing D, and a top-six forward matching a number three defender. Again, that's pretty reductive and I don't hold myself to that strictly, but that's roughly how I match up the value.
Baracchini: I expect David Reinbacher to be the first defenseman off the board. He's progressively taken major strides and has shown to play against players beyond his age. If you can adapt easily to the pro level like Reinbacher and Carlsson, you're going to be taken high. Even though I have him just outside my top-10 in my final rankings, it wouldn't surprise me to see him go as high as 6th overall. His defensive game is already on point and the offense is starting to come around. When it comes to ranking defenders, its the same as forwards, but I tend to focus on the play within their own end first as that is their position first and foremost. Are they able to read and react to plays and knowing when to pick their spots to join a rush? That to me is really important.
Longer Range Draft Predictions
Question: Are we any closer to having smaller, skilled guys higher in rankings or will it always be a battle to get them the respect they deserve?
Horn: Nope. When teams draft players, they are projecting them into a specific, perceived hole in their lineup a few years down the line. Smaller players typically need to be excellent skaters if they are to be drafted early, just look at Connor Bedard who is under 5-foot-10 but skates very well and has elite hands and an elite shot. Skating is the biggest equalizer in the NHL. You can have all the skill in the world but if you can't skate well enough to take advantage of it against NHLers, then it doesn't matter. That's why you see tons of bottom-six forwards who skate like the wind but don't seem to have a whole lot of skill or hockey sense to their games. You need to be able to keep up with the pace of the game above all else. Smaller players who don't skate well need to really blow an NHL team away with another attribute if they want to be drafted early, with someone like Zach Benson having enough playmaking vision, puck skill, and tenacity off the puck to still be a likely pick in the top-half of the first round.
You Might Also Like
Baracchini: It really needs to stop, but I think we're starting to see that this year. Benson is one of the smartest players in this class and is ranked in my top-10. Gavin Brindley, Jayden Perron and Gracyn Sawchyn are a few others that I think are first rounders. There's still this notion that teams need to constantly draft 6-foot-3, 200-pound players because they have the physical stature. While that may be true, they may not be the most skilled. Smaller players have the ability counter act that, by getting out of tough situations with added speed and can even hold their own. We see that with players like Brayden Point in the NHL right now. It's should all be based on upside, not height and weight.
Question: Who is your Steal of the 2023 NHL Draft and why?
Horn: I'm going to go with Gracyn Sawchyn, the speedy center for the Seattle Thunderbirds. Sawchyn didn't get a ton of attention this year because of the depth of talent on the Thunderbirds, but he was phenomenal all season long. He spent the last half of the year on the third line after the team added Brad Lambert and Dylan Guenther, but still managed to post roughly one point-per-game. Sawchyn has a bit of Brandon Hagel in him style-wise and has some of the fastest hands in the draft. If you told me that he'd be a really solid 2C in the NHL in six years I wouldn't be shocked despite him likely going late in the first round or maybe even on day 2. I expect Sawchyn's production to soar next season in a larger role for the Thunderbirds.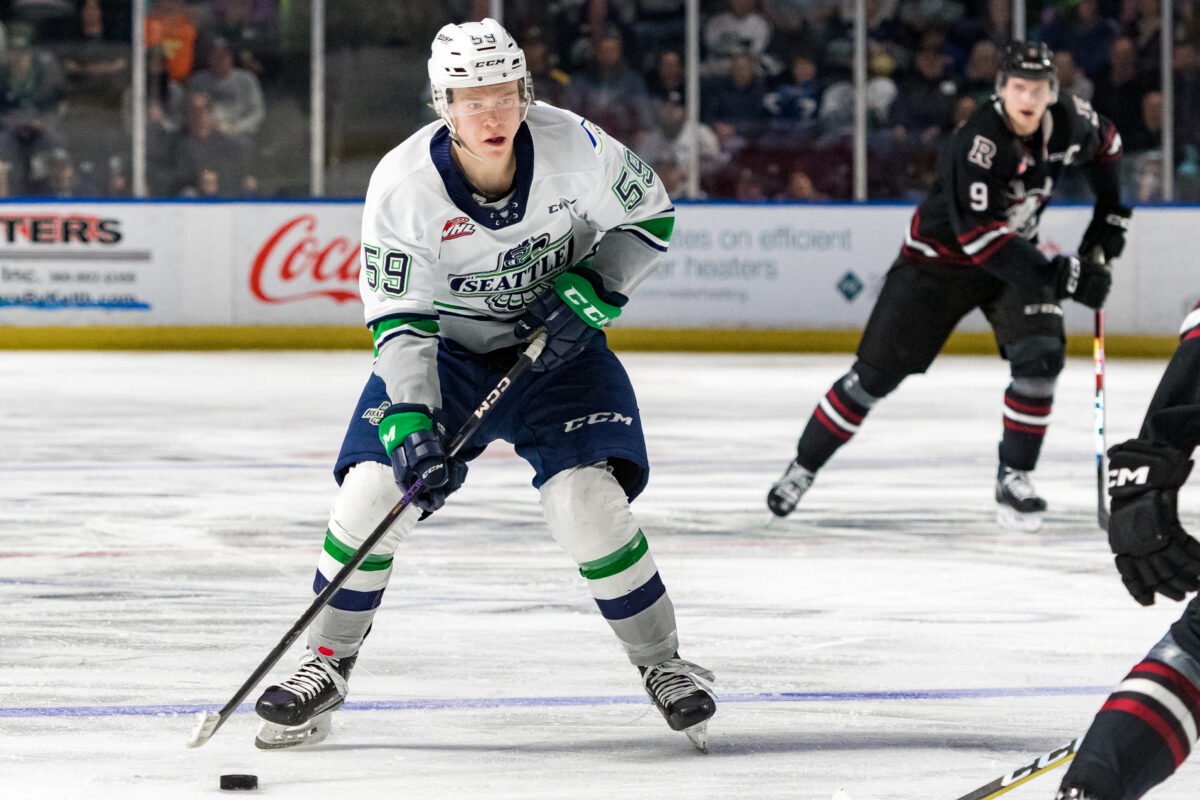 Baracchini: Speaking of smaller players, I think Gavin Brindley could be a steal, especially if he's slated to go in the late first. While his draft year was overshadowed by Fantilli, he was very impressive as he was just under a point per game with 38 in 41. His motor doesn't stop and plays with a high pace. The fact that he was fifth in team scoring shows the ceiling is very high going forward. It took a while for me to get a read but he was absolutely fun to watch this year. He's my steal.
Question: Which teams do you feel have the most pressure in this draft and why?
Horn: Any team in rebuild purgatory, not bad enough to bottom out but not good enough to make the playoffs. Teams like the Montreal Canadiens and the Detroit Red Wings who tried to take steps forward this year and succeeded . . . a little. They need to prove to their fans that this isn't where they'll stay forever and that they're filling out the roster with meaningful pieces and the types of players that lead you out of the rebuild rut. The Canadiens are also in a spot of natural tension at 5th overall, likely having the choice to select Michkov or to be the first team to take a significantly lesser player who is less risky. Both teams need to either prove that they can succeed without a true superstar or that they can find a superstar outside of the top-four.
Baracchini: I feel like Washington and Pittsburgh will have a lot of pressure because mainly, it's been a very long time since they've been in this position. While, Alex Ovechkin and Sidney Crosby continue to get better with age, at some point the era will come to an end. Both need to start stock piling prospects for the future and now is the perfect time to make them count.
Question: Finally, take your best shot. Give us your longshot who you think will carve a long NHL career? Someone outside your top-96.
Horn: I'll go with Yegor Sidorov of the Saskatoon Blades who I have ranked 98th. He's got a great shot but he's pretty trigger happy, regularly passing up better plays for low-percentage shots. He's an NHL quality skater but doesn't have the motor at this point to provide much energy to a lineup. I can see him having a long NHL career if he develops significantly in his playmaking and/or compete level, which would give him a chance as a middle-six offence-first winger.
Related: 2023 NHL Draft Guide
Baracchini: I really thought Kocha Delic should've been drafted last year, but he was just as impressive this time around as the extra experience may have helped him. He is a player that lays everything on the line as a fourth line player. He brings the energy or can keep things steady within your own end. Later on in the draft those are the kind of players you should target and I feel that he can be an important role player for any team.
We hope this helps you see the mindset of how rankings are developed as well as some of the top storylines that will comes from this draft. Stay tuned for our next feature as we will reveal our list of super-deep sleepers that could surprise everyone come draft day.