Christopher Ralph is a hockey writer with a focus on prospects and the entry draft, as well as the Leafs' correspondent here at THW.
"Full Potential" Prospect Profile: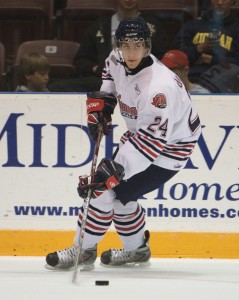 Please "Click Here" for "Notes Up Front" and the "Legend" for various topics covered below, as well as a running live updated NHL 2009 Draft rankings.
21. Calvin de Haan – Carp, On – 6'0″ – 165 lbs – OHL – Oshawa – D
One-Timer: The dynamic puck-moving d-man actually increased his production after the trade of Tavares, scoring 17 points in his final 13 games. As a OHL rookie, he finished with an impressive 63 points in 68 games. He was awarded OHL Rookie Of The YearHe actually out-dueled Matt Duchene to win the puck-control relay at the Top Prospects Skill Competition. He does need to fill out physically and although adequate in his own zone, he could improve his defensive play, although he is very poised with the puck. Given his high-end offensive arsenal of passing, stick-handling and shooting skills, de Haan could definitely here his name called even early on draft day.
NHL Player(s) Comparison: Niklas Kronwall, Mike Green-Lite, Scott Niedermayer-Jr.-Lite
Bio/Interview Links:
http://www.inlouwetrust.com/2009/6/16/911715/devils-at-the-2009-nhl-draft-a
http://www.hockeysfuture.com/articles/10917/2009_prospects_qa_with_calvin_de_haan/
Scouting Combine Performance:
Sorokin reported: "Everyone is talking highly of this guy, and for a reason 'cause I believe he's got the brains, speed, and skills to be a great puck mover D-man, but boy, I think I had more muscle on my body when i was 12! I just couldn't help but think how he would fare against a Johan Franzen. Whether or not the skill will translate, he needs to add about 20-30 pounds to be considered ready."
TSN staff stated De Haan had a solid but uneventful workout.
International Tournaments: De Haan registered 6 assists in 6 games for Team Canada at the recent WJC-U18 tournament.
ETA = 4 years
Risk-Reward Analysis: Risk = 2.5/10   Reward = 4.5/5
NHL Potential: Top 2 blueliner; PP specialist
Fantasy Hockey Potential: Offensive = 8.5/10   Defensive = 7/10
Other Rankings:
ISS: 35
CSB: 25-NA
TSN: 21
THN: 22
Video Links:
httpv://www.youtube.com/watch?v=VkiMwqKkEcE
This document is the intellectual property of Christopher Ralph and cannot be used or duplicated in anyway without expressed written consent. Any use of this document without the expressed written consent of Christopher Ralph will result in public exposure and legal prosecution.