Anticipation always builds around the NHL's annual All-Star Game, and this year is no exception. Each team will send a representative to the event, and this season, fans will have a say in who receives the last few roster spots. The New Jersey Devils are already sending superstar Jack Hughes to Sunrise, and it's easy to see why. The 21-year-old has an astounding 49 points in 41 games and is quickly establishing himself as one of the future faces of the league.
However, the Devils are a team, not a one-man operation. While Hughes is locked in for a February trip to Florida, several other players could be joining him. Which Devils are on pace to join him at the NHL All-Star Game?
Honorable Mention: Vitek Vanecek
Vitek Vanecek is having the best season of his career, with a 2.37 goals-against average and a .913 save percentage. In 24 games, he has only allowed 57 goals and has already recorded two shutouts. He is worthy of making the All-Star game on his numbers alone.
---
---
With that being said, the Metropolitan Division has other young goaltending stars like Ilya Sorokin and Igor Shesterkin. The player New York Rangers fans call "Shesty" is already headed to the All-Star Game, and with the Vezina-hopeful Sorokin (New York Islanders) the favorite to join him, Vanecek would be on the outside. However, It's not out of reach for the Devils' new starter to be rewarded for his performance, but in a division with arguably the best goaltending in the NHL, it's less likely we'll Vanecek test his skills against the league's best.
Jesper Bratt
At times, Jesper Bratt has looked like a shoo-in for the All-Star Game, and he was carrying the Devils on his back throughout much of the early season. Through October and November, he was among the league leaders in goals, assists, and points. Despite a quiet December and January, Bratt still has 40 points in 41 games, the second-highest of his career and third on the team. Typically, scoring at roughly a point-per-game pace, players are in consideration for the All-Star Game. However, Bratt has been streaky, and that might hinder his All-Star bid.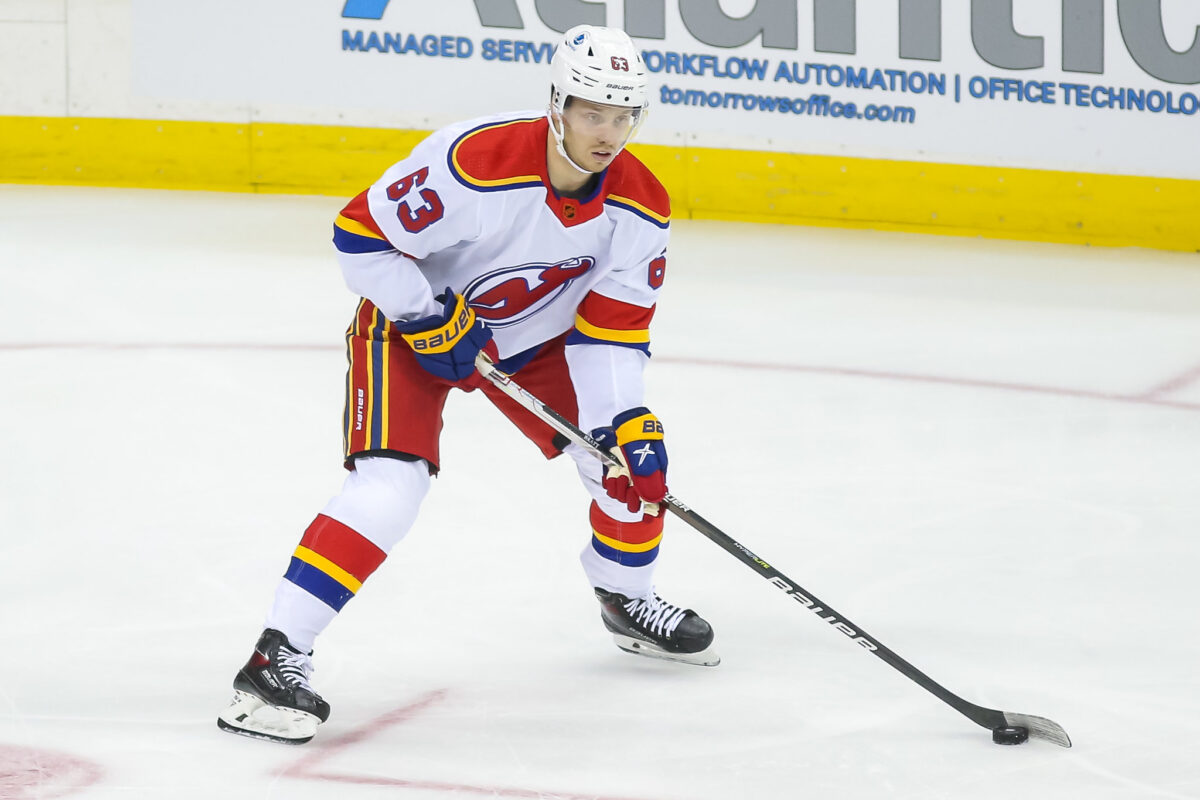 There's a lot to like about Bratt's 2022-23 season so far. His average ice time is up, now averaging 17:34 per game. His 205 shot attempts are second to last year's breakout campaign. His Corsi-for percentage (CF%) is 66.8, which is actually higher than last season. Furthermore, he's averaging 0.98 points per game, eclipsing his career-best season in 2021-22. However, there are still some doubts about the sixth-year winger. Of his 15 goals, 14 were scored at even strength, and of his 205 shot attempts, 100 were blocked or missed. 
To help Bratt's argument, the Metropolitan Division-leading Carolina Hurricanes' Andrei Svechnikov has already been selected for the All-Star Game, and he is having a weaker season statistically than Bratt, with 34 points in 41 games and only 173 shot attempts in the same number of games. He also only has a 0.83 point-per-game average, over a full tenth less than Bratt. It will be tough for Bratt to make his case for an All-Star Game nomination, but he is deserving, given his solid start to the season.
Nico Hischier
If All-Star Game nominations were based on points alone, Nico Hischier would be the Devils' second choice to head to Florida. In 40 games, he has 40 points and has found the back of the net in four of the past five games, earning the recency vote. While Bratt is coming off the best year of his NHL career last season, Hischier is now in the midst of his and is on pace to set career highs in many statistical categories.
Related: Devils' Hischier Remains Focused on Improving as Leader
---
Latest News & Highlights
---
Similar to Bratt, Hischier is playing the most ice time of his career, averaging 19:38 per game, and he is also more comfortable shooting the puck with 126 shots. He's on pace to hit 200 shots for the first time, and his 15.1 shot percentage is also a career-best. The 2017 first-overall pick has a CF% of 57.6, and his goals, assists, points, and shots per game are all the best numbers he has seen. As of this writing, he has a plus-13 rating, the first time Hischier has reached that mark since his magical 2017-18 season. He's helping out his teammates as well, assisting on 16 goals this season for his fellow Devils.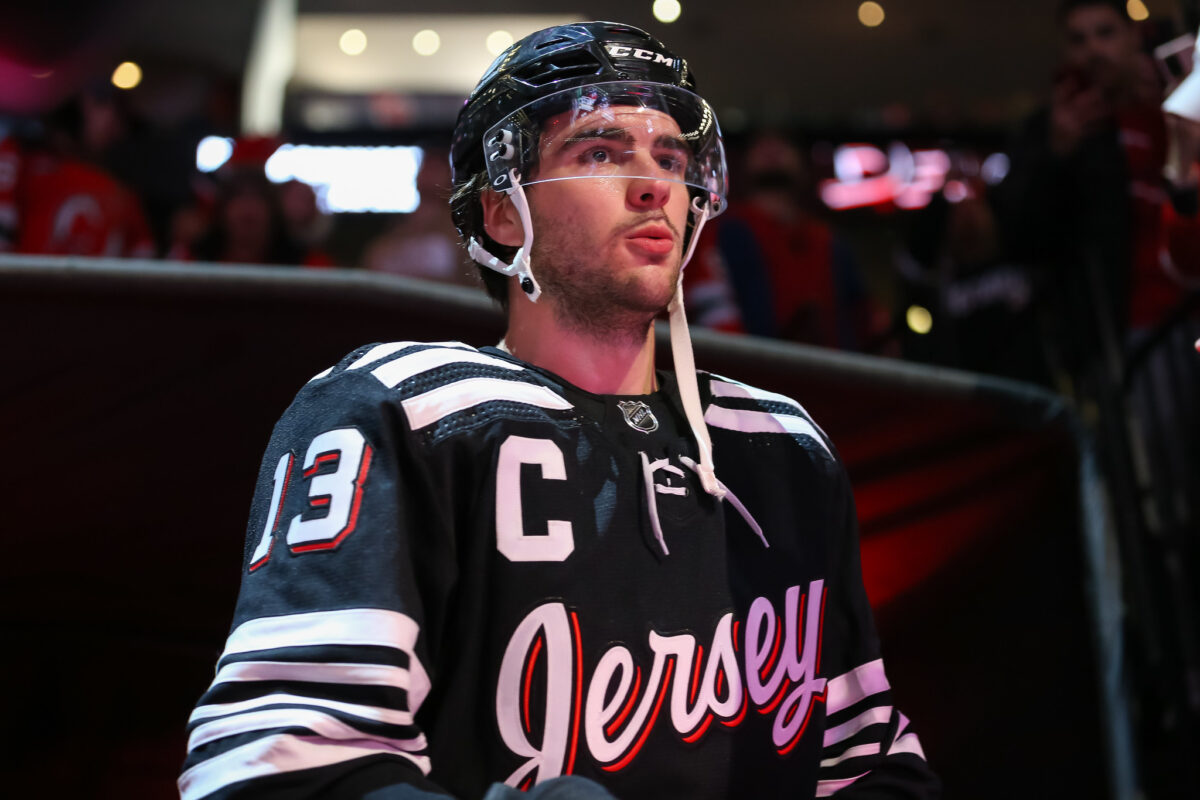 Hischier is similar to Islanders center Brock Nelson, who is set to make his first appearance in the All-Star Game. Nelson is in the midst of a career year with 39 points in 42 games, and he's been more comfortable with the puck this season. Adjusted over a full season, Hischier would have 77 points compared to Nelson's 74. However, faceoff percentage (FO%) leans in the favor of the Devils' captain, as Hischier has a 53.9 FO% compared to Nelson's 47.8. Plus, Hischier knows what it's like to be an All-Star; he replaced his teammate, Kyle Palmieri, at the 2020 All-Star Game. While the Metropolitan Division roster is filled with centers, such as Sidney Crosby, Nelson, and Hughes, Hischier could slide in as another forward on a stacked Metro team looking to repeat as All-Star Game winners.
Dougie Hamilton
No defensemen have officially been named to the Metro's All-Star roster yet. Several of the division's top D-men should have no problem making their way to Sunrise, including the Rangers' Adam Fox and Hurricanes' Brent Burns. However, Dougie Hamilton has moved his way up into that top-tier and is more likely than any other Devil to get back to the All-Star Game; it helps that Hamilton is having the bounce-back season that every fan was wishing for.
Related: Devils' Hamilton Anchoring Defense in Bounce-Back Season
Last season, Hamilton had just 30 points in 62 games and was a minus-19 in a disappointing first season in the Garden State. This year, with the team as a whole showing massive improvement, he has already surpassed his point total with 35 in 41 games. His CF% is 61.2, which is a step up from last year and the highest percentage of his career. Hamilton has a 0.85 points-per-game average, tied with his 2019-20 season with the Hurricanes for a career-high. He has 0.63 assists per game, which would be a high for him as well. Adjusted for a full 82-game season, Hamilton would have 18 goals, 50 assists, and 68 points, which, again, mark the best totals of his career, one that has spanned a decade.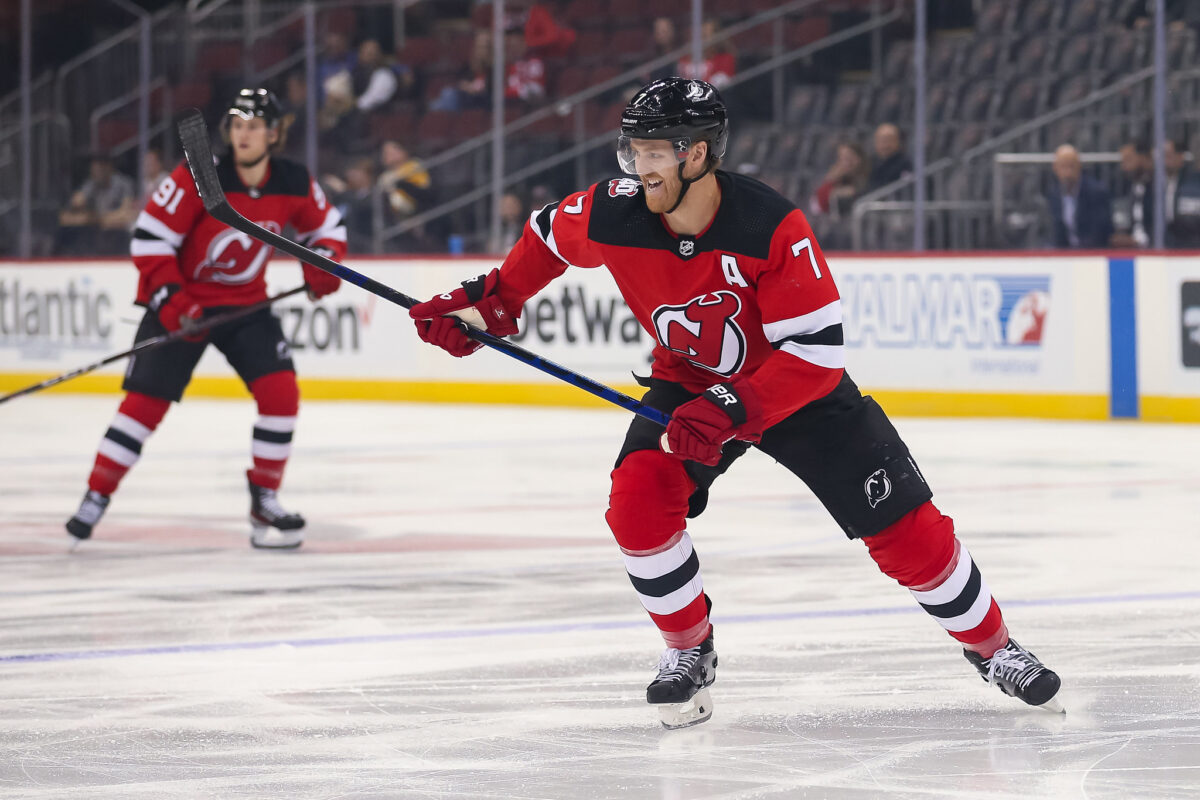 The best comparable to Hamilton is Fox, the 2021 Norris Trophy winner. He is also putting up stellar numbers for the Rangers, with 42 points in 42 games. While Fox does not score as much as Hamilton, he is great at finding his teammates for goals, especially Artemi Panarin and Mika Zibanejad, two of the league's best at finding the back of the net.
Fox is far and away the best defenseman in the division, but Hamilton is closer than some may think. Adjusted for the full season, Fox would create 26 goals, while Hamilton would have 23. It's still not a guarantee that we will see the second-year Devil make his second All-Star appearance, but he is the most likely to accompany Hughes to Sunrise, mainly because of his strong statistics and the Metro's need for elite defensemen.
For the first time in a while, several Devils would be worthy of an All-Star Game selection. The last time New Jersey had multiple skaters in the event was 2007 when the franchise was still playing at Continental Airlines Arena. Making the All-Star Game is an honor, and there's a chance, maybe even a likelihood, that we'll see Bratt, Hischier, and/or Hamilton skating with their superstar teammate in front of thousands of fans at one of the NHL's premier annual events.
Erik Johnsen is one of the NJ Devils writer for The Hockey Writers. He is also a writer for Triple Play Newsletter. Erik is a 2022 Rider University graduate, and co-hosts a podcast called Too Many Men.