Earlier today, the New Jersey Devils took the ice for the first time since development camp in July. Yesterday was report day for the rookies in preparation for this weekend's Prospects Challenge in Buffalo. The Devils will bring a roster full of potential NHL players to Buffalo and should make for some interesting viewing. One note is that the team has announced that they have excused Luke Hughes from participation so that he can prepare to join the other regulars in camp next Wednesday. Here is a look at three interesting players to watch in the Prospects Challenge.
Brian Halonen, Left Wing
The Devils signed Brian Halonen as a free agent after his 2021-22 season wrapped up at Michigan Tech. He had just completed a season where he scored 44 points in 47 games. He brings an element of grit missing in much of the Devils' prospect pool. At 24, he is running out of time to still be considered a prospect, but he has carved out a place in the American Hockey League. He has impressed the Devils staff and will be a potential injury replacement during the season. The team has thought enough of him to put an A on his sweater for the Prospects Challenge and have him slotted on the left wing of the second line.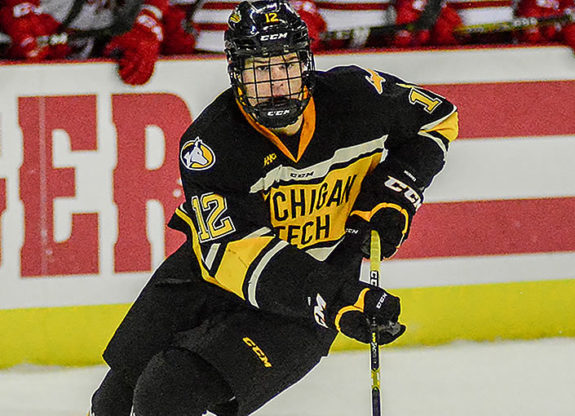 At 6-foot-0 and 200 pounds, Halonen has good size for a bottom-six winger and has shown a penchant for scoring in the AHL. Ben Birnell, who covers the Utica Comets for The Daily Sentinel, suggests that fans keep an eye on Brian Halonen. "He has some good hands and playmaking ability. He finished with 17 goals last season, which was third most on the team. Feel like he's got a little 'sandpaper' to his game." Between the grit and his above-average skating, he has a chance to contribute in New Jersey as the season progresses. Devils fans should heed Birnell's advice and keep an eye out for Halonen during the Prospects Challenge and training camp.
Xavier Parent, Center
Another undrafted success story, Xavier Parent has taken the opportunity given to him as a free agent and made himself into a prospect. The diminutive center plays bigger than his 5-foot-8 frame and uses his speed to create havoc all over the ice. He was one of the main standouts at Devils development camp this summer, scoring a hat trick in a scrimmage. Last season, he split time with Utica and Adirondack of the ECHL but figures to have a prominent role in Utica this season.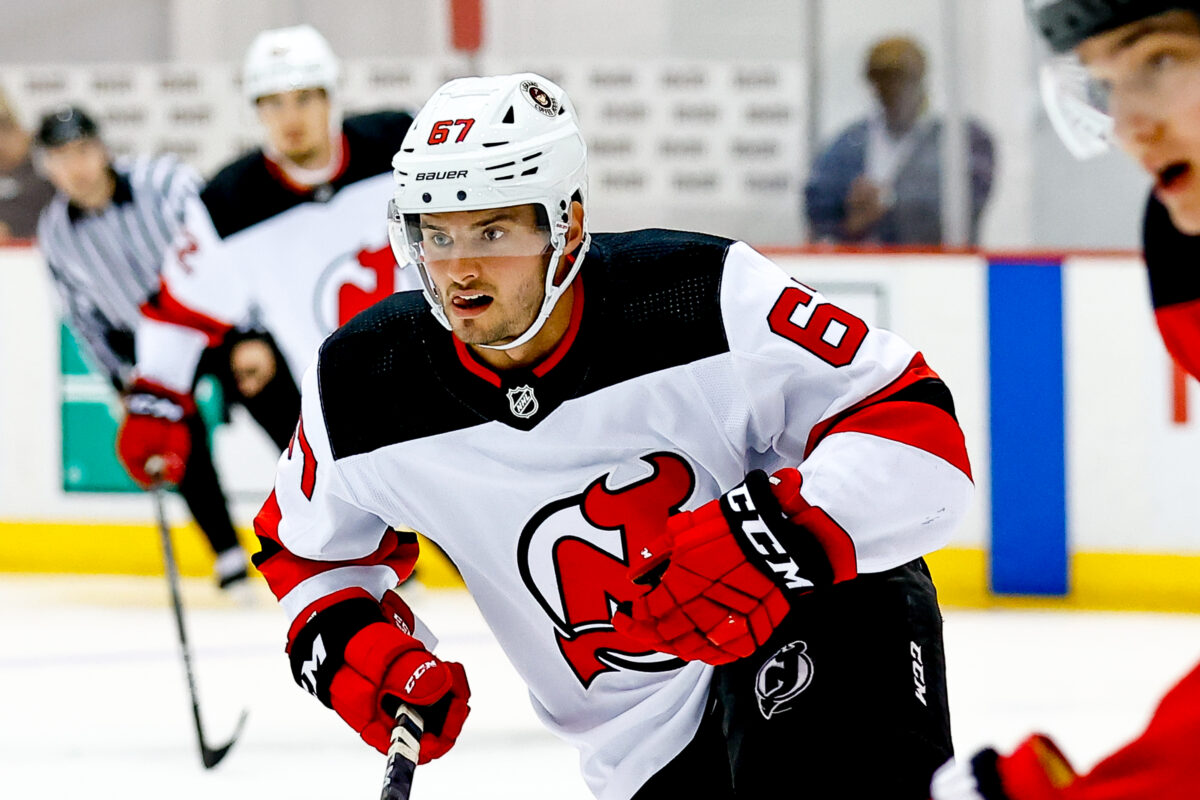 After struggling in his first two seasons in the QJMHL, he broke out in his overage season (2021-22) with 106 points in 55 regular season games and 22 points in 11 playoff games, leading to his contract with Utica. He has continued to show his scoring touch in the Devils organization. Last season, his first above juniors, he tallied 57 points in 64 games combined between the Thunder and Comets.
Related: Three Preseason Battles That Will Determine the Devils' Roster
---
Latest News & Highlights
---
The Devils obviously think highly of Parent. They had him slotted between wingers Josh Filmon and Graeme Clarke on the first line at the pre-tournament practice. Filmon and Clarke are the two top forward prospects on the Challenge roster, and matching them with Parent shows how far he has risen. He has one year remaining on a two-year contract signed at the end of the 2021-22 season. He has much to prove in Utica this season, and if he continues to improve at his current rate, there may be a two-way contract in his future with New Jersey.
Chase Stillman, Forward
Getting drafted in the first round comes with expectations, whether you are taken with the 1st or 29th pick. Chase Stillman has had to learn how to deal with those expectations while finding a way to mold his game to become an NHL player. This season, he appeared to take a huge step forward in changing his game to be more in line with how the Devils see his future as a middle-six winger (from 'Devils offseason updates: Where things stand with free agents Erik Haula, Timo Meier, more,' nj.com, June 22, 2023).
Stillman continued to flash the skill that got him drafted so high, but he has learned to combine it with an aggressive first-puck touch mentality and strong play away from the puck. He does not have to look far to see two great examples of high draft picks who have made NHL careers by changing the way they play: Michael McLeod and Nathan Bastian. Each of them credits their understanding of the roles they need to play as the foundation for their current success.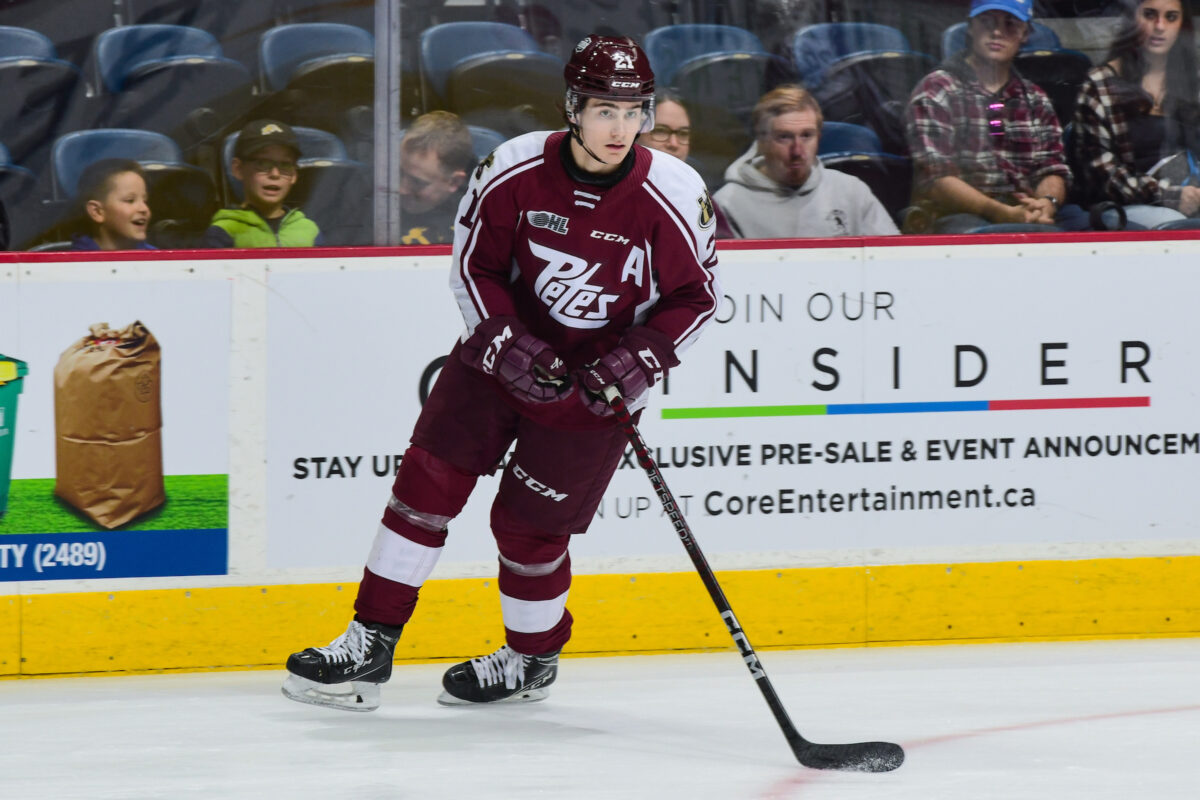 Stillman did not participate on the ice in development camp this summer due to recovery from nasal surgery. He did impress the team during camp with his off-ice leadership and has followed that path from wearing an A in Peterborough to being named one of the assistant captains on the Prospects Challenge squad.
Stillman had a very busy spring first, leading the Petes to the Robertson Cup as champions of the OHL. He then gained notoriety throughout the hockey universe for a hit and subsequent fight in the Memorial Cup. The Devils have placed him on the second line for the Challenge alongside Halonen, who could be a good model for how he needs to play at the next level. He is likely slated for a season in Utica but will certainly be on the radar as an injury replacement with an eye toward finding a permanent role in New Jersey soon.
With a prospect pool still stocked with talent, there are several players that merit following during the upcoming Prospects Challenge. While there are more well-known names like Simon Nemec, Graeme Clarke, and Topias Vilen, the under-the-radar players like Halonen, Parent, and Stillman will be fun to watch as their growth has put them in a position to be a part of the NHL club in the coming years.
---

---