Welcome to my rankings of the Detroit Red Wings' top prospects! This series is going to be going over my thoughts on the top 10 Red Wings prospects, with an article dedicated to each of the top 10 players. Today I'll be handing out some honorable mentions to some intriguing prospects in the pipeline who didn't quite make the cut for my top 10. These prospects have a chance to be contributors in the NHL someday but either don't have the highest ceiling or aren't particularly likely to hit said ceiling.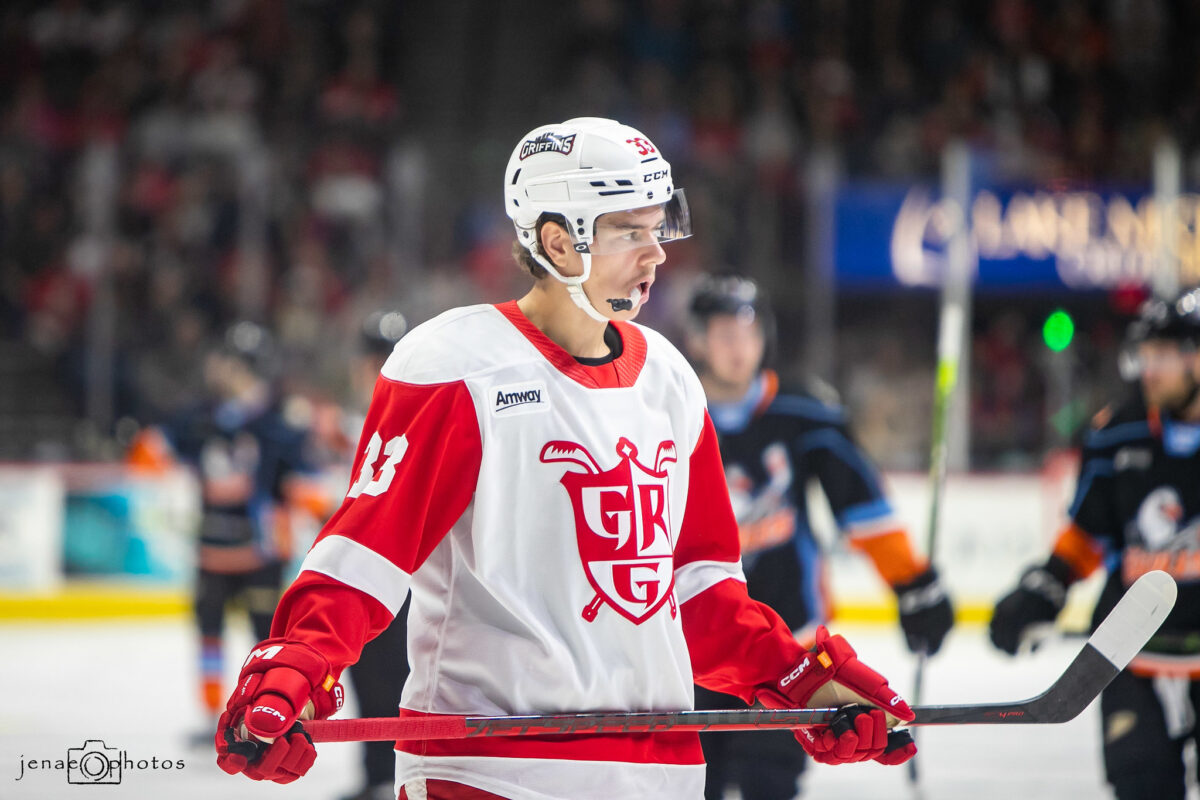 I pored over 30+ prospects as I worked on this list and evaluated them on a number of criteria such as certainty, upside, development since being drafted, league quality, and many more. I'm not using particularly strict criteria for prospect eligibility, but rather common sense. Jonatan Berggren is no longer a prospect in my eyes after playing 67 NHL games last year, but Elmer Soderblom will still be considered a prospect after earning 21 NHL games last season before being sent down to the AHL. 
Related: Grading the Red Wings' 2023 Offseason
---
Latest News & Highlight
---
Starting next Monday my top-10 list will be releasing one article per weekday until we've reached number 1 roughly two weeks from now so pour yourself a coffee, buckle up and meet me here for the next few weeks as we go over Detroit's best and most exciting young prospects.
With that said, let's jump into the honorable mentions category and give some spotlight to a few lesser heralded names.
Albert Johansson
Albert Johansson was the final cut from my top-10 and I can see why someone would prefer to see him much higher. He plays a solid two-way game that adapted well to the North American game over the course of last season. However, I just don't see any dynamic qualities that will make him a stand out player in the NHL. Johansson's game is subtle, efficient, and smart so I think he'll be a good player for Detroit, I just don't see enough upside to rank him higher at the moment.
If I end up being really wrong here, that will likely be because I'm taking his 2022-23 production too seriously. The Grand Rapids Griffins were . . . not good last year and it's important to take his low production with a hefty grain of salt as he adapted to life in a new country with a new language and team. 
It seems like if he hadn't gone down with an injury near the end of last year he could have earned a callup before Edvinsson and perhaps that would have given Johansson a rosier projection in my eyes. If he can be a great top-four option in Grand Rapids next year and provide a few games in the NHL as a reliable depth option, next season would be a big success for him. This is my ranking that has the most potential to age horribly.
Amadeus Lombardi
Amadeus Lombardi already looks like a really smart pick from the 2022 Draft. He was taken as an overager who had only one OHL season under his belt, but since then has Lombardi taken a massive leap forward production-wise. 59 points in his draft year turned into 102 points in his final OHL season in the exact same number of games.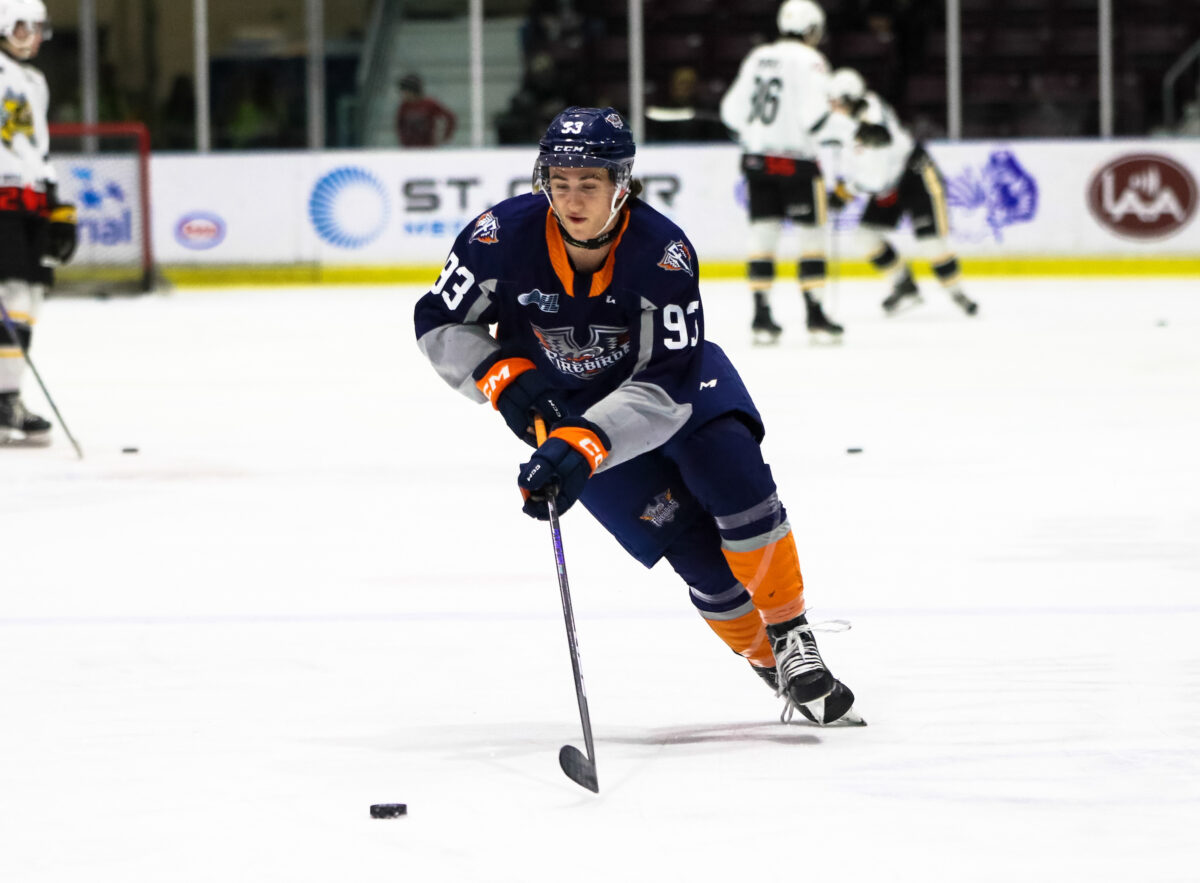 I believe Lombardi has a real chance to be a middle-six winger who provides a ton of speed and skill if all goes well, with a bottom-six role still possible because of that speed would allow him to adapt and become a tenacious defensive presence if need be. He'll spend next year in Grand Rapids and I think that's a really great spot for him for the next two seasons or so as he continues to mature physically. 
Shai Buium
Shai Buium sometimes gets lost in the mix of Edvinsson, Johansson, Wallinder, etc., but make no mistake, Buium is a legit NHL defensive prospect. His role grew a lot last year in the NCAA with many of Denver's more experienced players going pro, and that role will likely continue to increase next year as more of the team's established leaders on and off ice continue to move on to professional hockey (like Carter Mazur).
Cross Hanas
Cross Hanas had a promising start last year, but unfortunately his season was cut short by injuries. I expect him to be a huge piece of the Griffins' offense next year with a chance to compete for NHL games with guys like Mazur, Czarnik and Luff should Detroit need bodies as a result of injuries. Hanas has NHL bottom-six potential in my eyes, but that's still a really valuable piece if he hits, especially since offense will likely be a calling card to him and Detroit can always use some more depth offense.
Noah Dower Nilsson
Noah Dower Nilsson was a really fun player to watch in his draft year. He tore up the top junior league in Sweden (J20 Nationell) to the tune of 26 goals and 54 points in only 37 games (tied for sixth in league scoring as a U18 player). You may be wondering, how does an offensive talent like this fall to the third round of the draft? Well, Dower Nilsson has a good bit of work ahead of him when it comes to his skating and tenacity as he can sometimes struggle to carry the puck into dangerous areas of the ice.
Dower Nilsson's footspeed is below average and he gets pushed to the perimeter of the offensive zone while carrying the puck far too easily for my liking. He's a dangerous off-puck player, relocating well and making solid plays once a teammate feeds him the puck, but he'll need to get a step quicker and be harder to bump out toward the boards. Regardless, he's got a great shot that projects to be a good NHL weapon and he has shown flashes of playmaking skill that is really exciting. His potential outcomes range from middle-six scoring winger to elite AHL player so there's lots of wiggle room for the next few years.
Dylan James
This wasn't exactly the freshman season anyone dreamt of for Dylan James coming from the USHL to the NCAA, but he really picked up the pace production-wise as the year went on. James excels in board battles and wins lots of loose pucks which led to him being named rookie of the year in his draft year in the USHL, raising expectations significantly. 18 points in 36 games as a freshman is a solid start so hopefully James can continue to build from there and become the hard-working middle-six force that he was drafted to be.
Andrew Gibson
Andrew Gibson is a big right handed defender who is great defensively and a bit less exciting offensively. It's easy to watch him play and dream of him lining up on the third pair behind Moritz Seider and Axel Sandin Pellikka. I think Gibson will be a good defender in the NHL because of his skating and his D-first mindset, but his offensive skills leave something to be desired.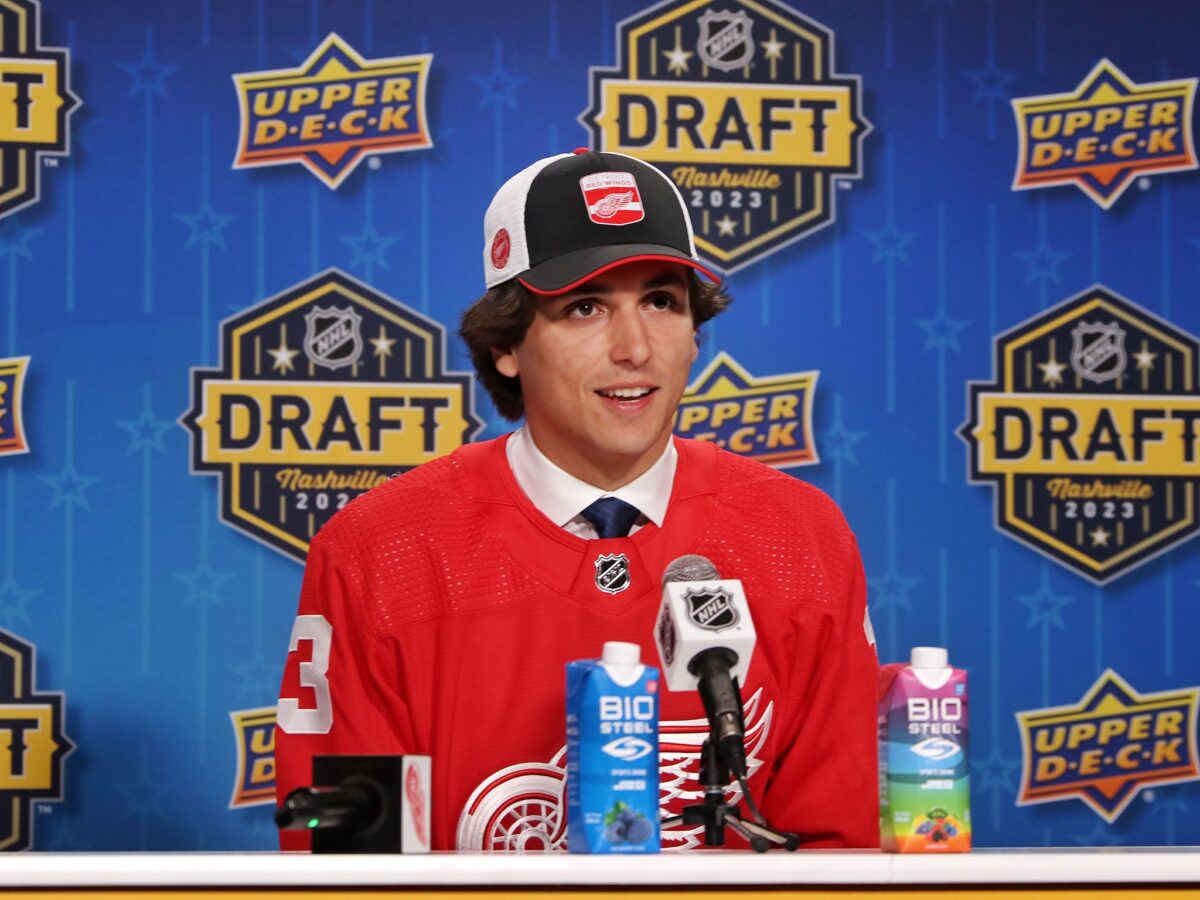 He has a heavy shot and shows flashes of good hands, but he doesn't skate the puck well in transition and isn't the best playmaker. Becoming a solid third pairing defender is certainly possible and would be a great outcome in the end.
Now On to the Top 10!
Now that we've run through to honorable mentions I'm sure you've got a good idea of which prospects are in the top-10. The prospects who made that list are seriously talented and any of them could become excellent contributors for the Red Wings going forward. Sure, the prospect pool could look a lot more exciting if Detroit had ever earned a bit of draft lottery luck, but we all knew that wasn't going to happen.
With the Traverse City prospect tournament kicking off last night, it's officially hockey season once again and I can't wait to get a look at all these great players this year as they continue to grow and develop. See you all here again on Monday with #10!
More Articles in This Series