Repeating is never easy. The last team to repeat as champions in the NHL was the Detroit Red Wings in 1997 and 1998. It's never been done in the salary cap era.
Ironically, Detroit came closest of any team in the last 10 years to accomplishing the feat. But they fell in Game 7 of the 2009 Stanley Cup to the Pittsburgh Penguins.
Pittsburgh is now faced with the same daunting task those Red Wings couldn't quite complete. The task will be even harder without No. 1 defenseman Kris Letang. In the past, Letang injuries have crippled the Penguins, which isn't all that much different from other teams in that situation. Any club without their top defenseman is going to struggle.
https://twitter.com/EdFrankovic/status/849670641229991936
But this Pittsburgh team possesses so many other great players, it would be premature to count them out. Even without Letang, the Penguins are one of the most dangerous teams this postseason.
Can the Pens beat CBJ w/o Letang? Yep.
Can they beat WSH? 50/50.
Can they beat MTL/BOS? Yep.
So… it won't be easy or likely.
But-Possible.

— Dan Kingerski (@TheDanKingerski) April 5, 2017
Here are three reasons why Pittsburgh will be the team hoisting the Stanley Cup once again in June. (After reading, if you aren't convinced, check out my counterargument — 3 Reasons the Penguins Won't Win Stanley Cup — from Tuesday).
Forward Depth
Say what you want about the Pittsburgh blue line, but the Penguins remain four lines deep at forward even with several regulars out of the lineup. Actually, the final week of the season, the Scott Wilson-Carter Rowney-Josh Archibald combination was Pittsburgh's best unit.
Sullivan confirms Malkin will be in the lineup for Game 1.

— Dave Molinari (@MolinariPGH) April 11, 2017
Evgeni Malkin will be back in the lineup for Wednesday's Game 1, which will disrupt that chemistry because Archibald turns into a healthy scratch. Rowney could find himself out of the lineup too if Carl Hagelin comes back at a certain point in the series. The fact Pittsburgh is getting back Malkin and possibly Hagelin, and I feel bittersweet (somewhat) about it speaks to the volume of forward depth this team owns.
Pens coach Mike Sullivan says there's a "real chance" Carl Hagelin (lower body) plays in the series at some point. Considers him day to day

— Tom Reed (@treed1919) April 11, 2017
Of course, getting back Malkin means the Columbus Blue Jackets might not be able to match up center Brandon Dubinsky against Sidney Crosby all the time. Malkin posted seven goals and 10 points in the seven games prior to his injury. If he regains that form, Pittsburgh will have a two-headed monster at the top.
Penguins' lines: Guentzel-Crosby-Sheary, Rust-Malkin-Kessel, Wilson-Bonino-Hornqvist and Kuhnhackl-Cullen-Rowney.

— Dave Molinari (@MolinariPGH) April 11, 2017
The "HBK" line no longer exists. Phil Kessel will start the postseason along Malkin's wing, but Nick Bonino heated up in March, and Patric Hornqvist's style works in the playoffs. Matt Cullen, who scored four goals last postseason, replaces Archibald on the bottom unit for Game 1.
And just like last season, "the kids" could play a major role. Specifically, wing Jake Guentzel who has been spectacular with the Penguins this season. He scored 16 goals and 33 points in 40 games. If Pittsburgh is going to win this thing, he must be this year's Conor Sheary.
Ron Hainsey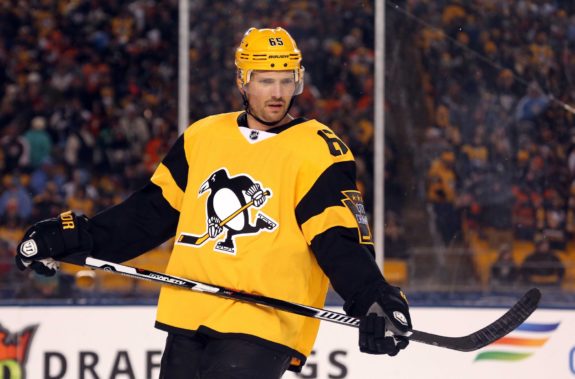 No, there's no replacement for Letang, but Pittsburgh posted a 25-9-5 record without him until coach Mike Sullivan folded up camp this past weekend. They've figured out a way to win with him out even with Trevor Daley and Olli Maatta also sidelined.
Last week, Daley and Maatta both returned. Again, they can't replace Letang by themselves, but the Penguins now have a group that could collectively get the job done.
The x-factor on the blue line is Ron Hainsey. His arrival coincided with Letang' injury, and yet Pittsburgh still posted a 10-3-1 record with Hainsey in the lineup (before this past weekend). Without him (and Letang), the Penguins went 3-2-2.
The biggest weakness of this Pittsburgh team is the penalty kill. It finished 20th overall this season with a 79.8-percent success rate. Hainsey, though, should help that mark improve. And just like Letang, the veteran defenseman can erase mistakes with his very strong play in the defensive zone. The Penguins will then count upon Maatta and Daley for offensive production from the blue line.
Sullivan's Coaching & Murray's Goaltending
Still, one would think Matt Murray is going to be tested more than he was a year ago. He faced more than 35 shots five times out of 21 playoff starts last spring. Murray saw 40 or more shots just twice. That might be a more normal occurrence this postseason, and he will have to be up to the task.
The penguins just allowed 40+ shots against the New Jersey devils. A team with maybe the worst offense ever. Do we get past the first rnd?

— Karnage (@Karnage420x) April 7, 2017
Based upon his strong regular season, he should be. He won 32 games and posted a .923 save percentage. Sure, he faltered a little down the stretch, but his calm demeanor helps him rebound quickly and is perfect for the playoffs.
As for Sullivan, he will have to be more adaptable than last postseason. Not that he wasn't capable of making adjustments last season, he just didn't have to. Obviously, the Penguins dominated a majority of the play and Sullivan had a full lineup at his disposal.
Mike Sullivan: "these guys are ready to go. We're not going to ease into anything. We're gonna play hockey" #Penguins #WPXI

— Alby Oxenreiter (@albyox) April 12, 2017
This postseason, the Penguins might not be able to play their fast-paced, high-flying style for an entire 60 minutes or series without Letang and win. The forwards must help their blue line exit the defensive zone. Installing more of a counter-punch offensive game might be the best strategy for small stretches of games.
That might lead to poor Corsi numbers, but if Murray is playing well, Pittsburgh can be opportunistic with fewer offensive opportunities. They certainly have the forwards to do that.