The Edmonton Oilers were looking to take two points away from the Buffalo Sabres, who have been a pleasant surprise this season to watch. After a few seasons of rebuilding, they have put together a strong team that is making a push for a playoff spot. The Oilers were in Buffalo Monday night looking for a win and that's precisely what they got, a 3-2 victory giving them their 35th win of the season.
With Evander Kane still out of the lineup and Stuart Skinner looking to earn back the starter position in goal, here are three takeaways from the battle between the two.
---
---
McDavid Scores 53rd & 54th Goals Of The Season
It's no secret that Connor McDavid is the best player in the world today, and will likely end up being one of the best players ever to play the game. This season alone though, he continues to climb the record books and suddenly scoring 70 goals in a single season doesn't seem impossible anymore.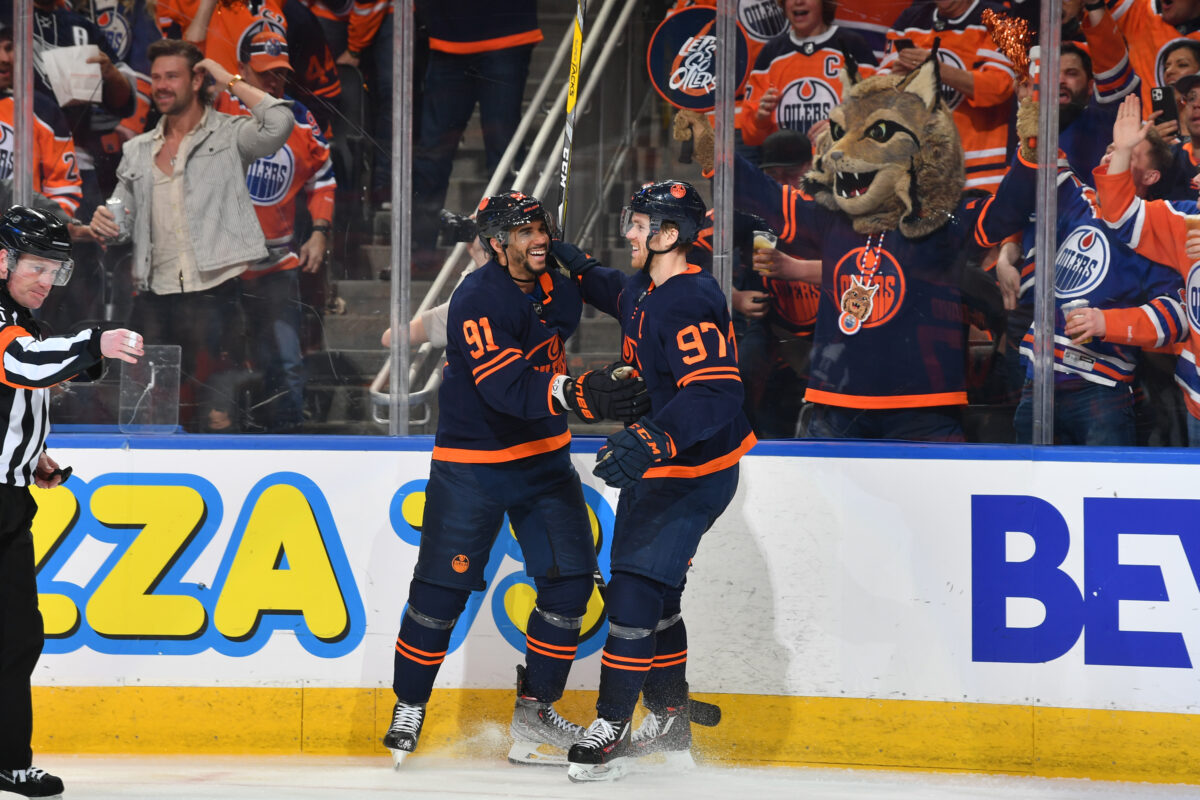 McDavid will likely continue to dominate as the season comes to a close, and will be a huge part of the team's success in the playoffs. Scoring his 54th goal of the season just boosts his career high as he looks to continue climbing the record books.
Skinner Earning Trust Again
After a couple of off games for Skinner, he came into this start ready to prove himself. The Sabres can score from just about anywhere as their fans have seen in recent games. They have some serious firepower in players like Tage Thompson, Dylan Cozens and Rasmus Dahlin, but Skinner held his own.
Related: Oilers New Prospect Puistola Could Be Rewarding Project
---
Latest News & Highlights
---
Skinner faced 39 shots, stopping 37 of them. With a performance like that, it'll be no time before he gains the trust of the coaching staff and they have him playing ahead of the struggling Jack Campbell for a majority of the games left this season. While there is no guarantee of who gets the crease come playoff time, a .949 save percentage against one of the league's hottest offensive teams as of late will surely help Skinner's case.
Devin Shore Standing Out
I have to give a shoutout to Devin Shore, who as of late has been a player that flies under the radar when he's on the ice. After bouncing up and down between the NHL and American Hockey League all season, Shore could have easily just given up on the season and asked to be traded or released, but he has done just the opposite.
In the last two games, while he does have two points, Shore has been battling constantly away from the puck and doing exactly what is required of him as a bottom-six forward. He was placed on waivers at the start of the season, and it was looking like the Oilers were ready to move on from him, but he's making a case for himself to stay in the lineup.
You may also like:
I've always been a huge fan of Shore. He didn't have the strongest year last season but he has always been a good option to bring in as a gritty depth player, which is exactly what the team needs. His style of play may not be needed in the playoffs and he'll likely be sitting for a majority of the games, but his work ethic as of late is something that deserves to be noted.
What's Next For The Oilers?
The Oilers are back in action Thursday, March 9 against the red-hot Boston Bruins. This will be a real challenge, but the Oilers fared well against them in their last meeting, so hopefully they can pull out a win this time around.
A win against the Bruins will give the Oilers a massive confidence boost, which is exactly what they need going down the stretch.