The Montreal Canadiens rookie camp starts this week, and most fans and media members will have their eyes glued on certain players: David Reinbacher, Owen Beck, Joshua Roy and Logan Mailloux will get the brunt of the attention during the camp. People tend to forget that there are 23 other players there, and they will be busting their butts to make the Canadiens' main camp the following week. Most will end up in the American Hockey League (AHL) with the Laval Rocket, and some will go back to junior or Europe, but others will stand out, and it may not be who you expect.
Riley Kidney
Riley Kidney was the second draft pick by Montreal, 63rd overall, in the 2021 NHL Draft. In his draft year, he had 38 points in 33 games with the Acadia Bathurst Titan of the Quebec Major Junior Hockey League (QMJHL). He followed that up with 17 points in nine playoff games in his draft-plus-one year in 2021-22 and scored 100 points in 66 games with eight points in eight games in the playoffs. Kidney is an excellent puck handler who attacks at a high pace in the offensive zone and has a high IQ and problem-solving skills. He only continued to improve last season; he had 45 points in 31 games with the Titan, and then, after being traded to the Gatineau Olympique, he scored another 65 points in 29 games, with 22 points in 13 playoff games.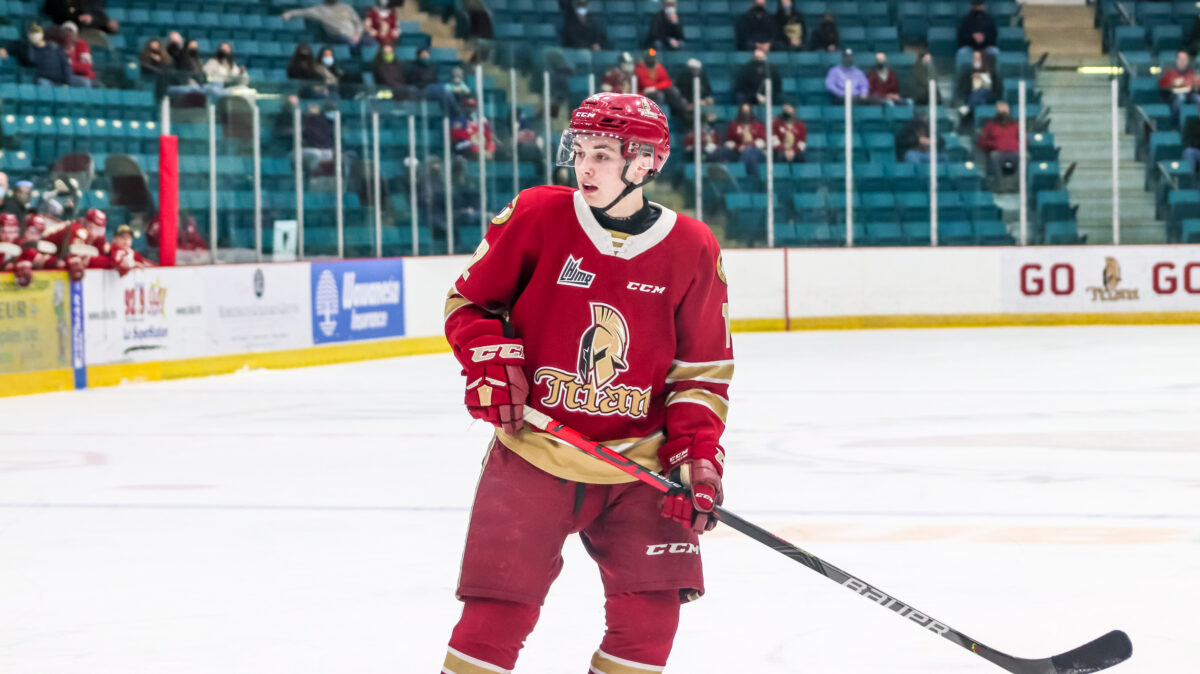 Kidney measured as 5-foot-11 and 180 pounds at this season's development camp. He has good size and speed with excellent puck-handling abilities; he should be able to showcase all of that at the rookie tournament in Buffalo, and he may surprise a few people with his effort and determination. All prospects want to make the big club, and Kidney has the skills to do so. Playing in the QMJHL is different than the NHL, but if he can stand out at the rookie tournament, he will get a chance to show his stuff at the Canadiens training camp in a few weeks, and who knows what might happen from there. He could showcase his way to top-six minutes in the AHL with the Rocket.
Jayden Struble
Jayden Struble is one of the many left-handed defensive prospects Montreal has in their system. He is also a significant and robust defenceman with puck-handling abilities who defends very well using his size and speed. After playing four seasons with Northeastern University of the National Collegiate Athletic Association (NCAA), where he battled some injuries and couldn't always show his offensive side, he joined the Rocket last season, scoring one point in 13 games. The big defenceman played well in his professional debut and could be a top-four player for Laval this season.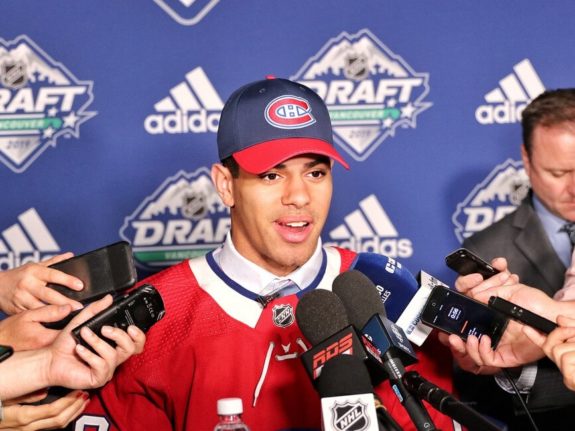 The Canadiens are deep on the left side of the defence with Kaiden Guhle, Mike Matheson, Arber Xhekaj, Jordan Harris, and Lane Hutson, putting Struble pretty low on the depth chart. Because of this, look for him to play a hard-nosed game and come out full steam to prove he has what it takes to be a Canadien. He has been somewhat forgotten in the grand scheme of things for a guy drafted in the second round, 46th overall, in 2019. Don't sit on him, however – Struble has all the skills to be a successful NHL defenceman, and you could be seeing and hearing a lot more of him in the future.
Quinton Miller
When you hear the name Quinton Miller, you may make that face where you're thinking you almost but can't quite put your finger on who he is. Well, he is one of the three goalies Canadiens general manager (GM) Kent Hughes and company drafted at this past NHL Draft. You might also wonder why he was drafted, considering he was the backup goalie for the Memorial Cup-winning Quebec Remparts. The Ramparts were coached by Montreal legend and goaltender Patrick Roy, and who better to learn from than a hockey Hall-of-Fame goaltender? Miller is 6-foot-3 and 181 pounds and is a very cerebral goaltender who can bounce from the V position to upright very quickly; he is ever-evolving in his game and is excellent on angles and coverage.
Related: Canadiens' Prospect Pool Much Improved Over the Past 5 Years
---
Latest News & Highlights
---
Miller was a silent fourth-round pick for the Canadiens; he wasn't one of the top goalies in the draft, primarily due to his backup role with the Ramparts. That will change this season, as he will be the number-one goalie for Quebec due to William Rousseau being moved to the Rouyn-Noranda Huskies. This will give Miller full reign with the Ramparts to show what he has. He was 14-4 as a backup with a .911 save percentage (SV%) in 20 games. This rookie camp will be vital for him to prove they drafted a solid goaltender to help him develop for the upcoming season in the QMJHL and prepare him to be a starting goaltender. The Canadiens' goaltending pool is thin, with only Jakub Dobes and Jacob Fowler as solid contenders in Montreal's future. If Miller can have a solid rookie camp, he could give management another option.
The rookie camp and tournament should be fun, with many prospects to keep an eye on, but while watching guys like Beck, Roy, and Mailloux, don't forget the other players are working their butts off for that magical chance to play in the NHL.