Looking at the list of all-time scoring Swedish-born players, there are now four players currently playing who at the end of their days could challenge Sundin for the top spot.
Daniel Alfredsson officially retired from the NHL this season. He signed a one day contract with the Ottawa Senators to finish his career with the team that drafted him. Alfredsson finished as the second highest scoring Swede of all-time, behind former Toronto Maple Leafs captain Mats Sundin.
So, who are the players most likely to surpass these Swedish greats?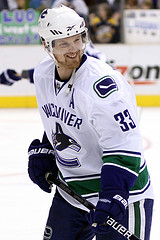 Henrik Sedin
Henrik is the closest of anyone on the list to reaching the top spot. The Vancouver Canucks captain has 880 career points, just five points behind Peter Forsberg for fourth amongst the top Sweden-born players. However, after he passes Foresberg, it will take some time if he is to reach third place on the list.
Nicklas Lidstrom holds the third overall spot with 1,142 points, which is 262 points more than Henrik currently has. Hank is on pace for 69 points this season which would have him finish the year with 911 points.
What could cause for concern with Henrik is that his production has been on the decline over the past few seasons. His point totals have dropped steadily since the 2009-10 season, when he won the Art Ross Trophy as the league's top point getter with 112 points.
However, this year will be a big improvement from his 50 point total from last season. So if the 34-year-old can get his totals up higher to where they had been before, he could be in the conversation as one of the top Swedes. It will likely come down to how many more years he has left in him.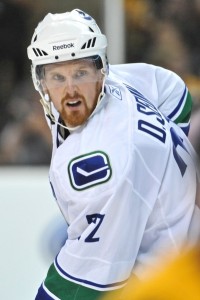 Daniel Sedin
Henrik's twin-brother Daniel sits three spots behind his brother and linemate for eighth spot on the list. Daniel has 844 points and is 12 points behind Tomas Sandstrom for seventh all-time. The second of the Sedins, has 39 points in 45 games this season and is on pace for a slightly better finish to the year than his brother, with 71 points.
A 71-point season would also see Daniel pass former Canucks captain Markus Naslund for sixth spot. Daniel and his brother not only look the same, but have also put up near identical numbers, meaning their trends in scoring have also been very similar.
Following Henrik's Art Ross Win, Daniel won one of his own the following season.  He had 41 goals and 104 points during the 2010-11 season, but since then his totals have also decreased. And like his brother Henrik, last season was especially low when he had just 47 points in 73 games.
So, sounding like a broken record, like his brother, this season will be a big bounce back from last year. He could very well climb the latter which is the Swedish scoring list, but how far he will reach will depend on how many more years he has under his belt.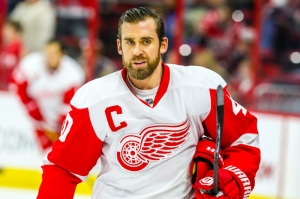 Henrik Zetterberg
The Detroit Red Wings captain currently sits 11th on the list with 764 points. The Njurunda native is leading the Wings in scoring this season with 44 points in 47 games. He has also been red-hot lately. Zetterberg has seven points in his last two games, including a three-goal, four-point performance against the Buffalo Sabres last Sunday.
Zetterberg is on pace for a 76-point season, which would see him move up one spot on the list to 10th overall, passing Maple Leafs great Borje Salming. Like others on the list, long-term injuries have also slowed Zetterberg down from reaching the top.
Last season the 34-year-old was limited to just 45 games with the Wings. But in the games he did play in, he managed 16 goals and 48 points. In a full 82 game season he would have been on pace for 87 points. The total would have already had Zetterberg pass Salming and on his way to passing Thomas Steen, who holds down the ninth spot.
Unlike the Sedins, Zetterberg looks to be staying more consistent at the age of 34. He is 122 points from leaping all the way up to fourth spot, so realistically two seasons of slightly over 60 points should do it. At his age he is still nearly a point per game player so if he can continue to produce at that pace, he could move into the upper echelon of Sweden-born players.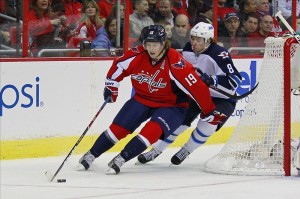 Nicklas Backstrom
Backstrom doesn't seem to get as much attention as he deserves playing alongside Alex Ovechkin, but he should. Ovechkin leads the Capitals this year with 27 goals, but Backstrom leads the team with 47 points in 46 games. And though the Great 8, stole the show winning the Rocket Richard Trophy last season with 51 goals, his Swedish counterpart finished tied with him with 79 points, the most on the Caps.
Backstrom currently has 541 career points in 541 career games. So simply put, if he can continue to tally a point per game, becoming the highest scoring Swede of all-time, will come down to playing 1,350 games. That would move him past Sundin's 1,349 points.
What gives Backstrom the edge over the other three names on the list is that he is the youngest at just 27 years of age (seven years on the others) and likely has more years left to play. He currently sits 20th amongst Sweden's top scorers.
With 14 more points he will pass Bengt-Ake Gustafsson for 19th place. And if he keeps up his pace for this season, which should net him 83 points, he would finish the year with 577 points, four points behind Fredrik Olausson, for 18th all-time.
No player ahead of Backstrom has played fewer games than the centreman. He suffered an injury during the 2011-12 season that limited him just 42 games, but still had 44 points. He was on pace for 85 points that season, which would have had him tally more than Ovechkin and also would have had him 38 points further up the list.
He may be overshadowed by a Russian superstar in Washington, but Backstrom has the potential to be one of the greatest Swedish-born players of all-time.
We will have to wait some time to likely see anyone pass Mats Sundin on the list, but is interesting to see that if someone does end up doing so, they might be playing in the league as we speak.