Believe it or not, the 2017 NHL Trade Deadline is of massive importance to the Toronto Maple Leafs.
In the midst of a comprehensive rebuild, the Leafs are and will be for the considerable future, focused on the addition of young talent to their organization. They are these players of immense skill at various positions that will provide Toronto with a foundation from which to chisel a competitive, Stanley Cup contending team.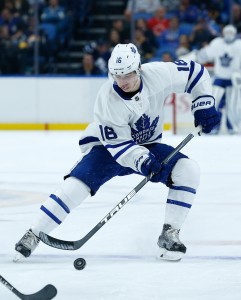 In recent history, the Leafs have done a fantastic job of supplementing their rebuild with elite young players. Of course, Auston Matthews was added to the mix at the 2016 NHL Entry Draft and projects to become the team's number one center for the foreseeable future.
In addition, the likes of Mitch Marner, William Nylander, Zach Hyman, Nikita Soshnikov, and Nikita Zaitsev have all emerged as pieces of extreme importance and will play critical roles in the club's future.
However, while the annual NHL Entry Draft is the primary method of acquiring young, potentially generational talent, there is one avenue which is vastly underappreciated when it comes to the rebuilding process in the NHL, and that is the annual Trade Deadline. Scheduled to take place on Feb. 28th, 2017, the deadline marks the final moment in a given NHL season at which any two teams can officially deal assets.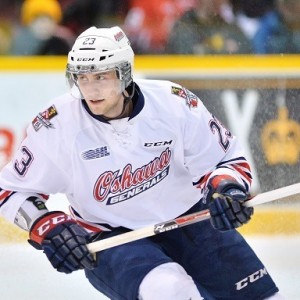 In years past, the Trade Deadline has seen massive amounts of talent and players head to new homes, and in Toronto, the situation has been no different. In the weeks preceding the 2016 deadline alone, the Leafs unloaded an incredible 12 players, the vast majority of which drawing Draft picks in return in order to – you guessed it – supplement their stock of young prospects through the NHL Draft.
In 2016-17, the Trade Deadline will be, once again, of monumental importance. Moving in the right direction early on in their rebuild, the Leafs' focus must remain on the success of the club long-term.
However, in order to do so, Toronto must approach the coming deadline the same way they have in past years despite their surprising success, and that is to look to trade veterans of value as well as those with expiring contracts. This mindset garnered the Leafs six draft picks, as well as a quality prospect in Tobias Lindberg a mere season ago.
Fortunately for the Leafs, they happen to retain a number of players who meet the above criteria.
So, let's take a quick look at four particular players who Toronto should look to trade either at, or prior to the 2017 NHL Trade Deadline. If the Leafs can deal one of, or all of the following players, the returns would do wonders in furthering Toronto's rebuild, if not accelerating it.
Tyler Bozak – Quality Center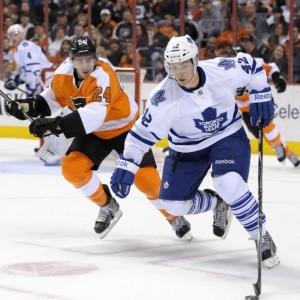 Although he has been solid in the 2016-17 season and a consistent offensive producer for the Leafs since his NHL debut in 2009, now may be the best time to trade Tyler Bozak.
At 30 years of age, Bozak is likely at or slightly past the peak of his playing career. His best season came in 2013-14 when he recorded 19 goals and 49 points in just 59 games played, by far his best point per game pace. Since, he has averaged roughly 50 points per season, a total fitting for a dependable second or third-line NHL centerman.
However, with Toronto already in possession of Matthews, and more young centers undoubtedly on the way, where does Bozak fit into the team's long-term plan?
Well, Nazem Kadri, who is under contract through the 2021-22 season, projects to develop into a sound second-line center. Further, all of Nylander, Marner and Hyman have experience and the ability to adapt to center, making Bozak's presence replaceable if Toronto decides to shift one of its young stars to the middle of the ice.
Heck, if the Leafs happen to finish low enough in the standings and win the Draft Lottery, they could add Nolan Patrick, who would slot in behind Matthews for years to come.
Perhaps the most genuine reason to deal Bozak at the coming deadline, aside from his uncertain role with the team long-term, is his value as an asset. As a proven scorer who is solid in the faceoff dot and prioritizes his defensive game, Bozak, who has one additional year remaining on his current deal at $4.2 million, could fetch the Leafs a substantial return in a potential deal.
.@MapleLeafs' Bozak is getting himself noticed. Is a trade on the horizon? #TMLtalk https://t.co/yIX6ra5TCj pic.twitter.com/Sm7afV9qpk

— TorontoStar (@TorontoStar) February 5, 2016
Would a first round pick be out of the question? Well, that's tough to say. However, if the Leafs could deal Bozak to a team in playoff contention, the return, given the right fit, could include a quality prospect in addition to a lower round pick, as the fact that Bozak is under control for an additional season would add tremendous value to his acquisition.
Leo Komarov – Complete Player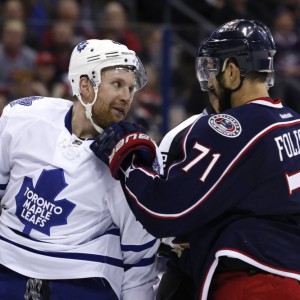 In early November, I wrote about the Leafs' situation with forward Leo Komarov, who finds himself in a  vastly similar scenario to that of Bozak. As a quality depth player whose versatility is difficult to come by in today's NHL, Komarov's contract is winding down, making him a prime candidate for a trade.
With one year remaining on his current deal, Komarov, like others, has seen his ice time decrease in 2016-17, a change due largely to the arrival of numerous young players of immense skill. However, the biggest difference in Komarov's game in 2016-17 has been his offensive output.
In 2015-16, Komarov over-achieved, scoring 19 goals and 36 points. Yet, in 2016-17, Komarov netted just three goals in his first 25 games played. Of course, Komarov's main role with the Leafs is not to produce offense, however, the ability had sky-rocketed his value as an all-around, complete player.
Although the ideal time to trade Komarov may have been at the 2016 Trade Deadline, the Narva, Estonia-native still retains solid value in a potential trade. Under contract through the 2017-18 season at a rate of $2.95 million, Komarov could play a significant role with a contending team if acquired, and would surely, like the rest of those on this list, draw a substantial return if dealt.
Roman Polak – Physical Defender
Trading Roman Polak at the annual Trade Deadline could become a routine assignment for the Leafs, who also dealt the veteran defender at the 2016 deadline.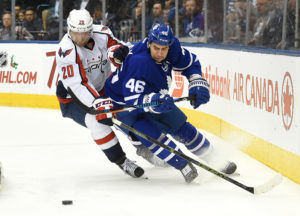 A strong, physical defender who plays a sound defensive game, Polak pairs his strength with solid mobility, which allows him to traverse the ice with ease considering his size. Given his 500+ games of NHL experience, not to mention his run to the Stanley Cup Final with the San Jose Sharks in 2015-16, Polak is a high-quality depth defender, and one whose asset and trade value fails to regress on an annual basis.
In terms of the Leafs' roster, Polak's role on the blue line is one which has been infringed upon by young, prospective defensemen in 2016-17. With Toronto emphasizing playing time for its younger players, especially those who could become critical members of the team's future, Polak's ice time has been restricted and even cut entirely by undeserved trips to the press box.
In fact, Polak is averaging roughly 17:00 per night, an amount down nearly three minutes from last season.
An intimidating force, Polak, understandably, has often been overlooked in favor of the likes of Connor Carrick, Frank Corrado and Martin Marincin to give them valuable experience and playing time.
Further adding to the case for trading Polak is his current contract status.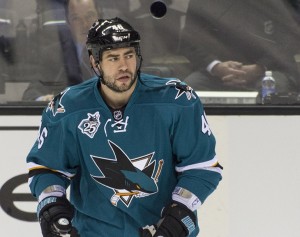 Poised to become an unrestricted free agent come the conclusion of the season, Polak's current deal is a cost-effective one, paying him a mere $2.25 million this season. It is a minimal price for a quality rental defenseman, and worth remembering the bounty which the Leafs secured from the Sharks for Polak's services in 2015-16, as well as those of Nick Spaling.
Toronto acquired two second-round picks, as well as Raffi Torres, in return for two players with expiring contracts, a deal which drew an immense return for the Leafs, and one which will allow them to – you guessed it –  strengthen their rebuild at the NHL Draft.
Given his restricted playing time in the 2016-17 season, could the Leafs fetch a second-round pick in exchange for Polak? Well, yes, quite possibly. However, if not, the Leafs could surely add yet another quality prospect to their organization.
Who knows, if traded, perhaps Polak will re-sign with the Leafs in the off-season for the second consecutive year.
Matt Hunwick – Agile Blueliner
In a very similar case to Polak, Matt Hunwick is another quality veteran defenseman who could draw a number of valuable offers come the 2017 Trade Deadline.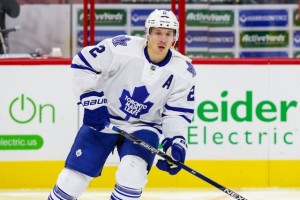 A versatile defender with good speed and defensive abilities, Hunwick originally came to Toronto in 2015-16 when he inked a two-year deal worth $1.2 million per year. Since his arrival, Hunwick has become a staple on the Leafs' blueline, and perhaps more importantly, a leader for the team both on and off the ice.
Named an assistant captain to begin his first season with the club, Hunwick has evolved into a consistent and steady defender, and one who can be counted on to give a solid effort on a nightly basis.
However, like Polak, Hunwick is set to become an unrestricted free agent at the conclusion of the 2016-17 campaign. With the Leafs emphasizing the development and presence of young defenders, and more importantly their playing time, Hunwick will likely become more valuable to the Leafs as an asset rather than a defender as the season progresses.
Andrew Nielsen makes it 3-2 with a minute and a half to go. Don't go away… his 5th of the season. pic.twitter.com/qa6JsiLOWq

— Jeff Veillette (@JeffVeillette) December 3, 2016
Arguably of similar value to Polak, Hunwick's presence in a trade could garner the Leafs a second or third round pick, depending on the market and its demand for depth veteran defensemen. Given Toronto's decent quantity of quality young defensive prospects, especially those playing in the AHL such as Travis Dermott and Andrew Nielsen, Hunwick's presence on the Leafs' blue line is surely coming to an unfortunate and abrupt end.
While he has proven to be everything the Leafs could have asked for, if not more, in his short time with the club, Hunwick's value in a potential trade remains far too high for Toronto not to seriously consider trading him.