With the NHL Trade Deadline a month away the Edmonton Oilers will have their first crack at shaping their roster for next season. The Oilers are quickly falling out of the playoff picture and General Manager Peter Chiarelli told the media coming into this year that this would be an evaluation year so he could see what the team really had and who was expendable.
The team is still in the playoff race with Connor McDavid and Nail Yakupov re-joining the team from the IR shortly. Unfortunately defenseman Oscar Klefbom (the team's leading defenseman) is out with a staph infection and that hurts the defense. Regardless how you slice it the simple view is that if the Pacific Division as a whole was stronger the Oilers wouldn't be anywhere close to a playoff spot at this point.
Edmonton needs to get whatever value they can to address the issues with the roster, mainly on defense where they need a bonafide No.1 defenseman, the teams biggest glaring need. The cap issues with all the bad contracts the previous regime either acquired or signed are going to work themselves out for the most part with deals to Nikita Nikitin, the remainder of the Ben Scrivens contract and Justin Schultz likely not being retained/not tendered a qualifying offer.
Here are five likely players that won't be wearing Oiler silks next fall when the team opens up it's inaugural season at Rogers Place.
---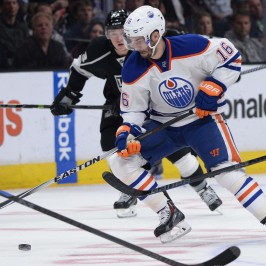 Teddy Purcell
Age: 30 | Contract Status: $4.50M / ** Pending UFA **
YTD Stats: 43 GP – 9 G – 16 A – 25 PTS – 17:22 TOI
Projection: 82 GP – 17 G – 31 A – 48 PTS – 17:22 TOI
---
All things considered the Oilers have been ravaged with injuries upfront and the constant juggling of the lines has led to some great opportunities for Purcell who is in a contract year. With all the young fire power the Oilers have in their system it's hard to see a future that has Purcell signing an extension this summer to stay in Edmonton.
Related: Edmonton Oilers Hold Surprisingly Valuable Trade Chip
The 30 year old pending UFA is on pace for a pretty decent year offensively if he stays healthy and could become an attractive rental piece. Look at teams looking for a No. 2/3 RW to have interest. If he is to stay with the Oilers however it'll be tied to the organizations position with Jordan Eberle and Nail Yakupov. The opportunity to currently play on the top line with Taylor Hall and Leon Draisaitl comes at a good time with scouts turning up their efforts prior to the Trade Deadline.
There are very few Oilers the team would want to give up that have more value than Purcell. Of all the players available he might fetch Edmonton the best return.
---
Anton Lander
Age: 24 | Contract Status: $987K / RFA 2017
YTD Stats: 42 GP – 0 G – 2 A – 2 PTS – 12:15 TOI
Projection: 81 GP – 0 G – 4 A – 4 PTS – 12:15 TOI
---
The Oilers got a mixed bag of results from Lander last season but had enough faith that under former interim head coach Todd Nelson that he'd finally turned the corner. Edmonton had plans for him all along to be a No.3/4 center but his performance thus far hasn't been promising. It might be time for the Oilers to move Lander who has been given plenty of opportunities with the organization's poor depth through the rebuilding process.
Related: Oilers: Letestu Will Push Lander For Minutes
The thing you can't take away from Lander is that he leads all centers on the Oilers with a 55.1 FOW% despite playing four and a half shifts per game less than the Oilers No.3 Mark Letestu. Lander however is playing the least amount of minutes among the Oilers centers at just 12:15 TOI. This is a completely different player than the guy who went on a tear scoring 20 points in 38 games last season. There are too many players on the Oilers that are question marks than sure things and that's not a recipe for success.
---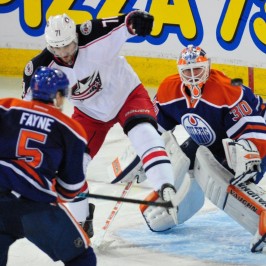 Mark Fayne
Age: 28 | Contract Status: $3.62M / UFA 2018
YTD Stats: 30 GP – 0 G – 1 A – 1 PTS – 16:22 TOI
Projection: 69 GP – 0 G – 2 A – 2 PTS – 16:22 TOI
---
When the Oilers signed Fayne during free agency to a $14.5M / 4 Year deal they were expecting to get a solid No. 3/4 defender to build into their future Top 4. He was just coming into his prime years as a 27 year old as a shutdown defenseman, but his two seasons in Edmonton thus far have been anything but prime.
Related: Mark Fayne, Eric Gryba and the Edmonton Oilers
Fayne is currently playing No.5/6 minutes for the Oilers and has been passed on the depth chart by the likes of Oscar Klefbom, Darnell Nurse, Brandon Davidson and even Eric Gryba. If the Oilers had a healthy blueline, Fayne might not even be on the game day roster at this point. He wasn't brought in to put up points but as a steady stay at home defenseman who could play a shutdown role. The biggest knock is his slow mobility causing him struggles to keep pace.
Fayne still has two more seasons left on his deal and the Oilers currently have negative value so if they wanted to move him they'd have to retain a portion of his salary.
---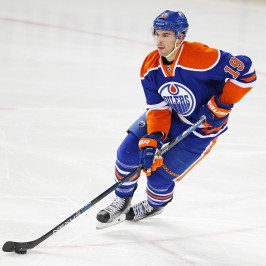 Justin Schultz
Age: 25 | Contract Status: $3.90M / ** Pending RFA **
YTD Stats: 29 GP – 2 G – 3 A – 5 PTS – 20:21 TOI
Projection: 68 GP – 5 G – 7 A – 12 PTS – 20:21 TOI
---
A few years ago the hockey world was bidding for the services of what everyone thought woud become an elite puck-moving defenseman and the cornerstone of the Oilers defense.
Fast forward a few years, injuries, defensive struggles, some serious consistency issues and now the Oilers have for better or worse a struggling No.5/6 defenseman with declining offensive production.
Related: Why Justin Schultz Won't Be Returning To Edmonton Next Season
A huge reason why Schultz likely won't return next year is that the Oilers would have to qualify Schultz with his current cap hit of $3.9M per year. Given the Oilers need to improve their defense in a serious way, allocating nearly $4M for what looks like a protected zone-start defenseman who's looking more and more like a powerplay utility player isn't going to help Edmonton take the next step.
It's time for the Oilers to either trade his pending RFA rights between the Trade Deadline and 2016 NHL Draft or don't tender a qualifying offer and let him turn UFA.
---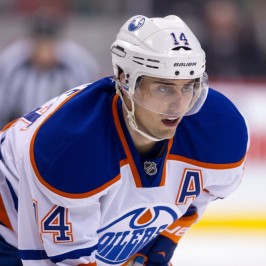 Jordan Eberle
Age: 25 | Contract Status: $6.00M / UFA 2019
YTD Stats: 30 GP – 10 G – 8 A – 18 PTS – 18:32 TOI
Projection: 69 GP – 23 G – 18 A – 41 PTS – 18:32 TOI
---
Eberle being on this list isn't going to make everyone happy but the fact of the matter is that you need to give up value to get value. The Nashville Predators and GM David Poile learned this the hard way in their search for a No.1 center when they landed Ryan Johansen from the Columbus Blue Jackets. Nashville had to give up Seth Jones, a future top-pairing defender.
Related: The Edmonton Oilers And Life Without Jordan Eberle
The same is going to be said about Edmonton in their never-ending search for a No.1 defenseman. They have to give up a piece of value and that means Ryan Nugent-Hopkins, Jordan Eberle, Taylor Hall, Nail Yakupov or Leon Draisaitl. If Eberle is truly shopped the Oilers will find a team that would be more likely to give up a top pairing defenseman with a package coming the other way built around Eberle.
It's an unpopular move but sometimes you have to break an egg to make an omelette.