In a busy three-game evening in the National Hockey League, the loop's two top teams faced off in Chacago.  The Montreal Canadiens came out on top, eking out a narrow 2-1 over the Black Hawks in a tight thriller.  In other Sunday night action, Toronto and New York skated to a 3-3 tie, while the Detroit Red Wings drubbed the hapless Boston Bruins 8-1 in Detroit.
Provost nets the winner
At a raucous Chicago Stadium the Canadiens increased their first-place lead over the Black Hawks to three points thanks to a third-period goal by Claude Provost.  The Montreal win snapped Chicago's team-record 13-game unbeaten string.
Provost's heroics came in the final frame with less than nine minutes to play.  The Habs' defensive ace, who this season has turned scorer, was killing a Montreal penalty in his usual role of shadow to Bobby Hull.   He picked up a loose puck on a bad Chicago line change, out-skated Hawk defenceman Matt Ravlich, to break in alone and deke Chicago goalkeeper Denis DeJordy  to score an unassisted goal.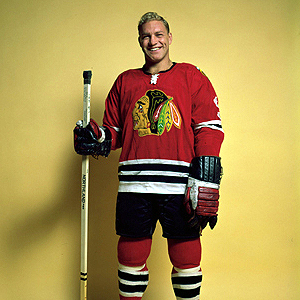 After a scoreless first period, the league's top shooter Bobby Hull celebrated his birthday with his 32nd goal of the campaign to put the home side up 1-0 just before the midway mark of the second stanza.  Hull whacked home a quick shot from about five feet after taking a nifty pass-out from behind the net by Chico Maki.
Montreal rookie Yvan Cournoyer tied it up about eight minutes later, taking advantage of a helpless DeJordy, who had just stopped two consecutive shots and was in no position to collect the third Montreal drive in succession.  The goal was Cournoyer's sixth of the year, and came while Montreal enjoyed a man advantage.
The exciting game was filled with oddities.  Eric Nesterenko, not normally known as a pugilistic sort, received a 10-minute misconduct for being assessed two fighting majors in the game. He had squared off with both John Ferguson (a decision he quite likely regrets today) and Dave Balon (against whom he fared much better).  With only two seconds left in the game, Stan Mikita was given a misconduct and a game misconduct for behaving badly during discussions with game officiating staff, mainly referee John Ashley, over a faceoff call.
The most remarkable occurrence came in the second period when Chicago rookie Dennis Hull fired a slap shot from the blue line.  The younger Hull's blast sailed well wide of the Montreal goal, striking the supposedly unbreakable glass behind the net.  The pane shattered into thousands of pieces, delaying proceedings for over 15 minutes while a replacement was installed.
Veteran, rookies shine for Leafs
One of the NHL's oldest players combined with a pair of the youngest to enable the Maple Leafs to steal a point from the New York Rangers at Madison Square Garden.  Johnny Bower, now allegedly at least 40 years old, put on a superb display of goaltending, while two youngsters called up for the game, Brit Selby from the Marlies and Peter Stemkowski from Rochester, contributed offensively and showed lots of promise.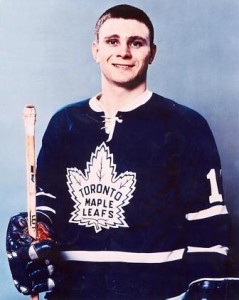 Stemkowski made a good play for Toronto's first goal. He beat former junior team mate Rod Seiling of the Rangers to make a pass to Red Kelly, whose shot was deflected in  by Jim Pappin.  The tall rangy centre who is having a great year in the American Hockey League, was, for the most part, the Leafs' best centre, playing mostly on the line with Kelly and Pappin.
Selby scored his first NHL goal early in the third period and gave the Leafs their only lead of the night.  Tim Horton, an offensive force lately, had the other Toronto marker.
Rod Gilbert, Earl Ingarfield and Jean Ratelle were the New York goal-getters.
The Leafs continued to be plagued by the injury bug.  This time it was centre Dave Keon, who left the game late in the third period.  Keon collided with Ranger forward Camille Henry, whose skate blade caught Keon on the left thigh.  Keon sustained a 10-stitch gash which will likely keep him out of Wednesday's game.
Rookie forward Ron Ellis is slated to be checked out by a Toronto neurosurgeon today.  He will be checked for possible spinal damage which might have been caused by the two concussions he suffered in the past 10 days.
Ullman, MacGregor power Wings
At Detroit, the Red Wings put on a powerful offensive display against the visiting Bruins.  Norm Ullman and Bruce MacGregor each tallied twice to pace the Wings.  Both of MacGregor's goals came in the first period, and along with Eddie Joyal's goal, gave Detroit an early 3-0 lead.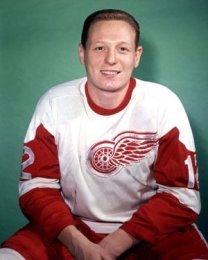 Other Detroit marksmen were Ted Lindsay, Alex Delvecchio and Ron Murphy.  Tommy Williams was the only Bruin to beat Wings netminder Roger Crozier.
A beleaguered Boston goalie Eddie Johnston faced 56 Detroit drives and really couldn't be faulted for the lopsided score. In fact, with the Wings pumping 22 shots at him in the first period, he should get credit for keeping the final count in single digits.
This weekend, Johnston has faced 102 shots over the two games he has played.  He may be looking for a good lawyer, as he has an excellent case if he wants to sue his mates for non-support.
Lindsay furious over fines
Tempestuous Ted Lindsay is proving during his comeback this season to once again be a thorn in the side of officials and NHL president Clarence Campbell.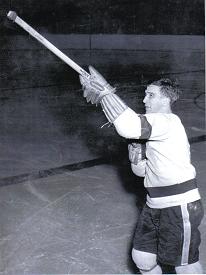 Late in Saturday's game against Toronto, Lindsay received a 10-minute misconduct, followed by a game misconduct, all assessed by referee Vern Buffey.  The penalties call for an automatic $75 fine and Lindsay says he is not going to pay the money to the league.
"I'm going to tell Sid (Wings' coach Abel) not to pay the money.  And I'm not going to sit for Campbell's kangaroo court either.  If they want to make something of it, they can do it in a regular court and I'll have my own lawyer."
Lindsay also accused Buffey of swearing at him. "I suppose his report won't say anything about that, but our players can back me up.  They heard him."
Lindsay also said that Campbell always brags about the high calibre of NHL officials.  To that, he says, "Well, they're nothing."
Canada finally wins
The Canadian national hockey team finally won a game against top international competition, its first in eight tries in the exhibition series against the Russians and Czechs.  Canada defeated Czechoslovakia 4-2 before over 7,000 fans in Winnipeg yesterday.
The keys to Canada's win were hard skating, crisp passing and a smothering defence.  Canadian scorers were Grant Moore, Aggie Kukulowicz, Gary Begg and Ross Parke.  Vaclav Nedomansky and Josef Golonka replied for the Czechs.
Canadian goaltender Ken Broderick made 31 saves and was full value for the win.  He was especially sharp in the final period when the visitors had 14 mostly quality shots at the Canadian goal.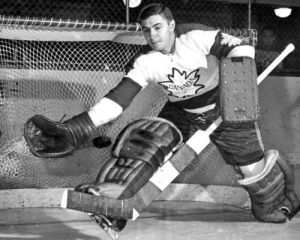 Retired police detective, involved in hockey at all levels for over 50 years. Member of Society for International Hockey Research and presently a video analyst for the leader in advanced hockey analytics (we work exclusively for 2 NHL clubs, and provide advice on an ad hoc basis to many other clients). Currently the Assistant General Manager for the Pelham Pirates of the Greater Ontario Junior Hockey League. Previously owned the Faceoff computer hockey simulation and also provided all player ratings for the EA Sports series of NHL computer games from the late 90's into the mid 2000's.