Christopher Ralph is a hockey writer with a focus on prospects and the entry draft, as well as the Leafs' correspondent here at THW.
"Full Potential" Prospect Profile:
Please "Click Here" for "Notes Up Front" and the "Legend" for various topics covered below, as well as a running live updated NHL 2009 Draft rankings.
6. Oliver Ekman-Larsson – Karlskrona, SWE – 6'2″ 176 lbs – Allsvenskan – Leksand – D
One-Timer: The secret is out. Readers don't even need The Hockey Spy to reveal this sky-rocketing gem! "OEL" has been called a poor-man's Nik Lidstrom. That's actually a compliment! Already possessing a pro-level shot, the fluid puck-moving defenseman might very well land in the Top 5 of this draft. "OEL" also has radar-like passing ability coming out of his own zone, making effortless pinpoint stretch passes.
NHL Player(s) Comparison: Niklas Kronwall,  Nik Lidstrom -lite,  Sergei Zubov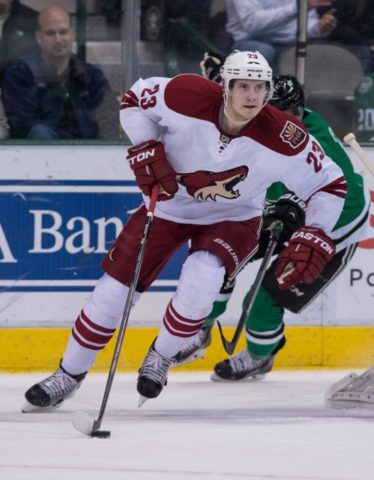 Bio/Profile/Interview Links:
http://www.defendingbigd.com/2009/6/13/908204/2009-nhl-draft-profile-oliver
http://www.hockeysfuture.com/articles/11165/2009_prospects_oliver_ekmanlarsson/
Scouting Combine Performance:
Gare noted "Oliver Eklund-Larsson, the Swedish defenceman whose stock climbed dramatically this season, BA BA", that is, below average with respect to upper and lower body physical development.
TSN staff reported OEL "was really skinny, but has a projectable frame with lots of room to grow.  At the same time he only managed half a dozen bench presses, so he'll need to get stronger."
NHL.com, interestingly, stated OEL finished second overall in the VO2 max aerobic fitness test, which measures how quickly a player can recover between shifts. He scored 68.7 milliliters per kilogram per minute. The average for the group was 56.8, up from 56.3 a year ago.
International Tournaments: OEL was a top-pairing blueliner for Sweden's WJC-U18 entry and registered an impressive 8 points in 6 games from the back end.
ETA = 2 to 3 years
Risk-Reward Analysis: Risk = 2/5   Reward = 5/5
NHL Potential: #1 offensive defenseman
Fantasy Hockey Potential: Offensive = 9/10   Defensive = 9/10
Other Rankings:
ISS: 9
CSB: 4-E
TSN: 10
THN:  13
Video Links: (Shown briefly – ranked #8)
Chris is THW's senior draft/prospect analyst and a Managing Editor. Watch for "The Next Ones" Prospect Profile series, exclusive rankings, mock drafts, as well as the annual THW NHL Entry Draft Guide. Follow @ChrisRalphYQ on Twitter as he infiltrates, dissects and analyzes all happenings of hockey prospects and the NHL entry draft. Email: cralph[at]thehockeywriters[dot]com