Every team has questions leading into a new season. Changes, turnover, contracts and signings mean a new era in many cases for NHL franchises. The Calgary Flames are not immune to such change and, as a result, have a few large question marks that we may see answered as the summer and season chugs along:
1) Who Will Be Calgary's Solid First-String Goaltender?
Las year, Calgary's netminding duo of Jonas Hiller and Karri Ramo were a huge disappointment. Ramo posted a mediocre 0.909 save percentage and 2.63 goals-against average, while Hiller posted marks of 0.879 and 3.51. It was clear their goaltending needed an upgrade.
Newly acquired Brian Elliott should get the opportunity to prove he's a bonafide No. 1. He posted a 23-8-2 record with 2.07 goals against average and .930 save percentage in 41 games with the Blues last season. He wants the job and the responsibility and is looking to cement himself in Calgary on a long-term contract.
"As a goalie, you want to be wanted. You want to have that opportunity," Elliott said on Wednesday during his introduction to the Calgary media. "I'm going to do my best to be the backbone of the team and try to be a leader and just do whatever I can to be the rock for the guys on the back end and let the guys do the rest of the work."
When Calgary acquired Elliott, they chatted first with his agent about the potential for an extension past this season. It shows that the Flames may not be just looking for a one-and-done goaltender, having considered the long-term play. Chad Johnson will be slotted in as the backup, for now.
2) What Will Johnny Gaudreau Get Paid?
General manager Brad Treliving has been hush-hush on the contract negotiations. Perhaps no news is good news, but Gaudreau will likely get between $6.5 and $7.5 million per season over a longer term contract. The player wants to stay and the team wants to keep him. Vladimir Tarasenko seems to be the comparison most people are using.
3) What Will Sean Monahan Get Paid?
Monahan won't get what Gaudreau gets, but he'll still be handsomely rewarded for three strong seasons. He is their No. 1 center of the future. The Flames will likely try to keep these two players' (Monahan and Gaudreau) combined salaries at or under $15 million per season. Think long-term and in the neighborhood of $6 million per season.
4) Will the Flames be Able to Fit Players in Around Their Stars?
Thanks to the hefty price tags that will come with signing Monahan and Gaudreau, the Flames will have to work to surround them with bonafide NHL players at reasonable salaries. They've attempted to do so with Troy Brouwer, but there is some debate about his salary and production in a first line role.
Calgary currently has $14.9 million in cap space, most of which will get eaten up by Gaudreau and Monahan. After those signings, they'll have 13 forwards under contract for the 2016-17 season. They won't have to sign anyone else, but that doesn't rule out the potential that a trade isn't an option. The real question, going into the season, is the roster as it stands good enough? There could yet be some minor shuffling to make contracts work or improve on the depth in certain positions.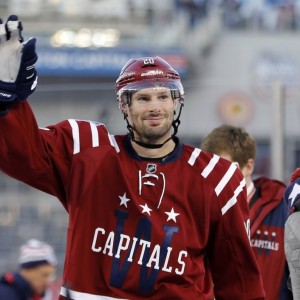 5) Who Will Play Right Wing on the Top Line?
Right now, it's Brouwer who gets top-line playing time. I'm not sure that's such a great idea thanks to Brouwer's underlying numbers and his history of dipping the production of his linemates backward, but it's where the Flames seem to be heading at this stage. Michael Frolik with 15 goals and 32 points in 64 games is likely option No. 2. He didn't play much time with Gaudreau or Monahan last season, spending most of his time with Mikael Backlund and Sam Bennett. He had good chemistry with both players and it might not be wise to take him off a line with one of those players to start the season.
The smart money is on Brouwer getting at least the first 10 games on that top line and then evaluating. If he doesn't pan out as well as he should, expect to see some changes. Brouwer won't be leaving Calgary by any means, but he may move up and down the lineup.
6) Who Rounds Out the Defense After the Big Three?
Mark Giordano, Dougie Hamilton and T.J Brodie are easily Calgary's top three defensive options. The trio was touted last summer in many cases as the envy of some NHL franchises for their strength at the blue line position. They are a powerhouse offensively, but; as Sonny Sachdeva points out, the true story is that the Flames were giving up far more chances than they were earning themselves. They were forced to block the third-most shots in the NHL and the Flames defense gave up the fourth-most shot attempts.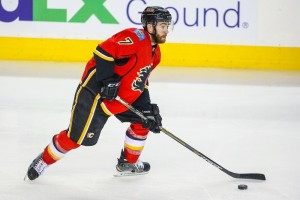 With a new coach in place, hopefully, a system is put into place that limits these dangerous chances against. After the big three, it appears to be Jyrki Jokipakka and an assortment of five/six/seven plugins. Dennis Wideman may be on his way out, if not already declining, Ladislav Smid's health is still a question and Deryk Engelland is clearly not top-four material.
The Flames will have to do a little plugging in to round out their top-four and this could be an issue for the Flames this season. The Flames will still be strong offensively from the blue line, but they aren't being touted as a top-five defensive squad coming into this season.
7) Who Else Is Available in Free Agency?
There are some bargains out there, but I don't see the Flames doing anything else until their situations with Gaudreau and Monahan are resolved. If shuffling needs to be done to make financial room, then there may be a player or two on the way out with a lesser contract and a likely lesser player coming in.
It appears as though the Flames are done. After adding Brouwer and completely reshifting their goaltending focus, there isn't much room to do more. A PTO may be the most logical option for the Flames at this point should they not be 100 percent comfortable with the team they have to start the season.
8) Who Will the Flames Protect in the Expansion Draft?
The three defensemen seem obvious, protecting Mark Giordano, Dougie Hamilton and TJ Brodie. At forward, Calgary has much more to lose, thus protecting as many forwards as possible is the ideal option. Locks are Monahan, Gaudreau and Sam Bennett. More than likely are Brouwer, Frolik, Backlund and Michael Ferland.
It could be Jokipakka, a strong prospect, but still an unproven commodity.  Jokipakka is an attractive option but there are other teams making strong defenseman available for claim. I don't see Calgary being in considerable pain after the expansion draft is completed. Who goes may have been on the way out anyways.
9) Which Prospect May Play This Season in the NHL?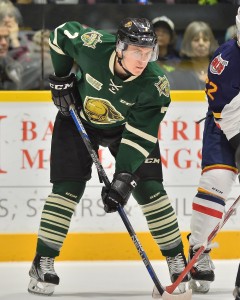 Matthew Tkachuk projects to be a top-line winger. The 18-year-old son of long-time NHL winger Keith Tkachuk is coming off a Memorial Cup win with the London Knights, where he posted 20 goals and 20 assists in only 18 Ontario Hockey League playoff games.
I think the Flames would like to start him outside the NHL and take their time with his progression. That said, he may be given some time on the top line. At the very least, the Flames may use their 10-game window before needing to make a decision and not risk burning off a year of his entry-level eligibility. Tkachuk could be that top-line winger Calgary needs to play with Gaudreau and Monahan and if he is, you may see him for most of the season. He could potentially be a Calder candidate if he sticks in the NHL and finds some chemistry on that line.
Jim Parsons is a senior THW freelance writer, part-time journalist and audio/video host who lives, eats, sleeps and breathes NHL news and rumors, while also writing features on the Edmonton Oilers. He's been a trusted source for five-plus years at The Hockey Writers, but more than that, he's on a mission to keep readers up to date with the latest NHL rumors and trade talk. Jim is a daily must for readers who want to be "in the know."
Other content contributions include: NHLtradetalk.com, The Sportster and hosting weekly video casts, THW News and Rumors Rundown, plus Oilers Overtime.
For interview requests or to provide content info, follow Jim on Twitter or his social media accounts. They appear under his photo on articles like this one.