With the NHL trade deadline coming in just 18 days I wanted to take a look back on last years trade deadline. With most trades you don't know who the winner is untill much after the trade was made. So here is a look at the Ducks trades that took place from Jan. 4th-Feb. 28th 2011. Some of the trades there are clear winners, some of the trades are a wash, but in any case it is always interesting to take a look back.
Jan. 4th- Nate Guenin from Columbus for Trevor smith: Who won? The Ducks win this one. Nate Guenin has done a decent job filling in when the Ducks have been down a man on defense playing a total of 10 games, and actually scoring the first goal of the season for the Ducks. Trevor Smith did not appear in a single game for Columbus which that alone makes the Ducks win this one.
Feb. 9th- Francois Beauchemin from Toronto for Joffrey Lupul, Jake Gardiner and a conditional 4th round pick: Who won? Toronto wins this one pretty easy. Lupul is having an incredible year with 56 points, in 54 games. As if that wasn't enough Toronto also received one of the top prospects in the Ducks organization in Jake Gardiner who is also having a great rookie season. One thing making this trade a little easier to take is the fact that Beauchemin is also having a good year for the Ducks, and re-signed with the team for another 3 years.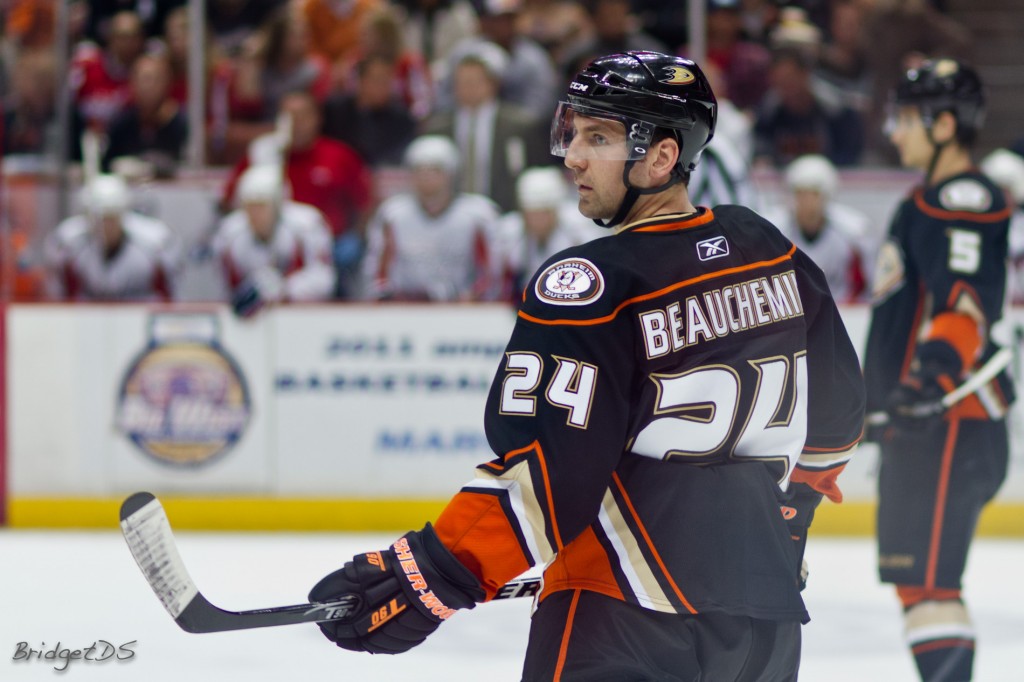 Feb. 15th- Aaron Voros to Toronto for a conditional 7th round pick (if Voros re-signed)- Who won? This one is a wash. Voros never played a game for Toronto, and the Ducks did not receive the draft pick because he was not re-signed.
Feb. 17th- Jarkko Ruutu from Ottawa for a 2011 6th round pick.- Who won? Another wash. Ruutu was brought in to add some grit, and a veteran presence for the playoffs. He didn't have as much impact as the Ducks had hoped and was used sparingly on the 4th line. Ottawa used the pick to take Max McCormick who plays for Ohio State University. If he does one day make the NHL Ottawa wins this one, but until then, it is a wash.
Feb. 17th- Paul Mara to Montreal for 2012 5th round pick- Who won? A wash again. Mara did a decent job in Montreal playing 20 games, but not enough to make a big impact. It is possible the Ducks can get someone of value with the 5th round pick, but until then it is a wash.
Feb. 24th- Dan Ellis from Tampa Bay for Curtis McElhinney- Who won? Ducks win this one. McElhinney, was playing poorly for the Ducks especially when Hiller first went down with vertigo. Ellis helped bring the Ducks back into the playoff picture going 8-3-1 for the Ducks last season. This year Ellis hasn't faired as well, and is currently out with an injured groin. Meanwhile McElhinney has spent most of this season in the AHL.
Feb. 27th- Brian McGrattan, and Sean Zimmerman from Boston for Stephane Chapute, and David Laliberte- Who won? Nashville. While Zimmerman, Chapute, and Laliberte never played in the NHL and likely never will. The Ducks lost McGrattan on waivers to Nashville, and he has done a good job as filling in as the teams enforcer.
Feb 28th- Brad Winchester from St. Louis for a 2012 3rd round pick- Who won? A wash. Winchester was brought in for much of the same reason that Ruutu was, but like Ruutu seemed to have little impact for the Ducks in the playoffs. Unlike the Ruutu trade though where the Ducks only gave up a 6th, in this trade the Ducks gave up a 3rd so this one has a better chance to turn out to be a win for St. Louis
Feb. 28th- Maxime Lapierre and McGregor Sharp to Vancouver for Joel Perrault and a 2012 3rd round pick- Who won? Vancouver wins this one. Lapierre has been doing what he does best in the agitator depth forward, and played a key role in Vancouver's run to the Stanley Cup Finals. Sharp, and Perrault are currently playing in Europe. Only compensation is the Ducks got a 3rd round pick back to make up for the one they lost in the Winchester trade.
In summary the Ducks made 9 trades last year. Most of little impact, but the biggest one so far is a loss. It will be interesting to see who will be traded in the next 18 days, but hopefully this year the Ducks fare better.